BOU AVENUE
GR666782 (Etherington-Baril Ridge)
---
On 10 December 2011, Dinah Kruze and Bob Spirko invited me to join them on a short hike up an unnamed ridge (GR666872) in the Highwood region of Alberta's Kananaskis Country. Bob had gotten the idea for this trip from Mike Potter's Ridgewalks in the Canadian Rockies where Potter named the ridge "Etherington-Baril Ridge". Starting from the trailhead at Etherington campground, we followed the snow-covered road along Etherington Creek until we reached the terminus of GR666872's south ridge. During winter months, snowmobile enthusiasts frequent this road, but despite seeing two of them take off before us at the trailhead, we did not encounter any other sledders on our approach. The initial climb up the ridge is a steep grunt, but fortunately, numerous rocky sections provide entertaining if not particularly challenging scrambling. More wearisome for us on this day was the belligerent wind which occasionally threatened to knock us off our feet. Once we reached low-angled slopes higher up, we enjoyed a more relaxed hike to the top. We retraced our steps for the return trip, and descending the steep, lower reaches was all the more trickier because of the slippery snow. Despite hearing snowmobile traffic throughout the day, we again failed to see any sledders on our way back to Dinah's car. We subsequently rounded out our short but rewarding day with a visit to a pizza place, a candy store, and a bakery in Black Diamond, Alberta. As Dinah would say, "It's all about the eating!"

Be sure to also check out Bob's trip report.

| | |
| --- | --- |
| | Bob and Dinah get started from the parking lot. |
| | Here is a view of GR666782 from the trailhead. |
| | Dinah and Bob leave the road and ascend the south end of the ridge. |
| | This is looking up the Etherington Creek valley toward Mount Etherington (far left) and Baril Peak (centre). |
| | Dinah climbs up the steep slope. |
| | Bob runs into a cliff. |
| | The footing is slippery on this snow-covered grassy slope. |
| | Bob continues up another rocky section of the ridge. |
| | This Krummholz attests to the strong winds that constantly scour this area. |
| | Higher up, Dinah hikes at a more relaxed angle. Mount Etherington and Baril Peak are still visible in the distance. |
| | Spindrift gets blown off Raspberry Ridge to the south. |
| | Bob is also buffeted by the wind on the open slopes. Mount Armstrong is visible behind him. |
| | Raspberry Ridge can be seen behind Dinah and Bob as they hike up the ridge. At far left on the horizon is Sentinel Peak. |
| | Bob and Dinah reach the 2121-metre high point. |
| | To the southeast are Mount Burke and Sentinel Peak. |
| | Here is a closer look at Mount MacLaren (left) to the west. |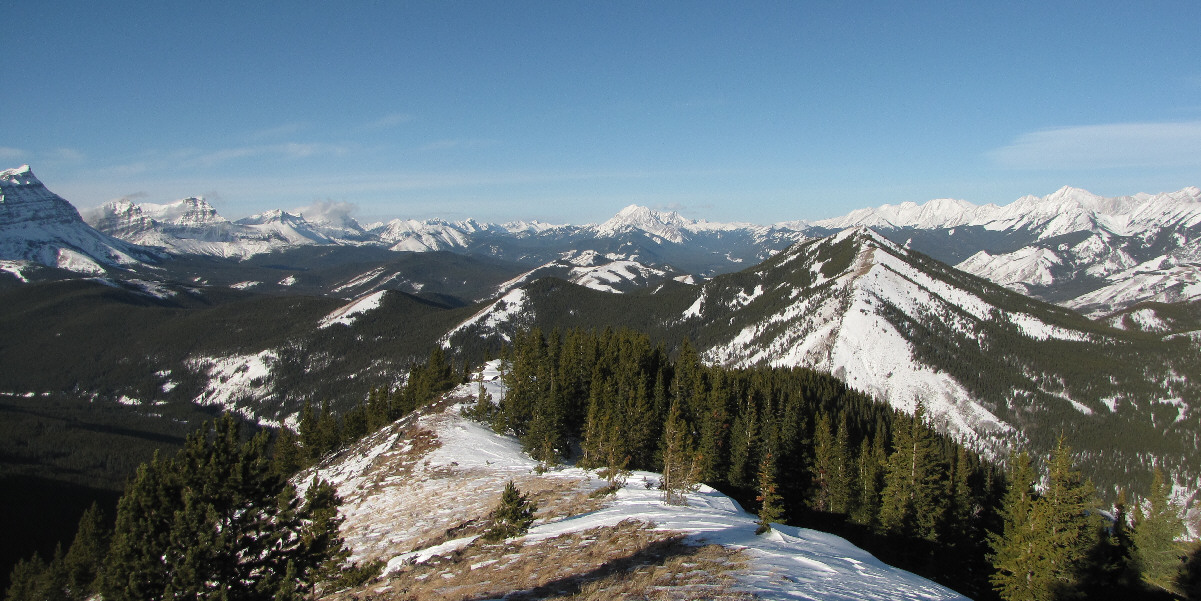 This is a panoramic view to the northwest.
| | |
| --- | --- |
| | Mount Head and Holy Cross Mountain can be seen to the north. |
| | Far to the west is Mount Bolton. |
| | Baril Peak sports an impressive east face. |
| | Dinah, Bob and Sonny huddle for a group photo near the top. |
| | Here is a last look at Etherington Creek valley from a cliff band on the ridge. |
| | This is the route as viewed in Google Earth. |