BOU AVENUE
Prairie Bluff
---
On 30 March 2013, I joined Dinah Kruze and Bob Spirko for an ascent of Prairie Bluff near Pincher Creek, Alberta. Dinah and Bob had previously climbed this minor peak via an access road before descending the southeast ridge. This time, our plan was to do the traverse in reverse. Starting from a gated turn-off, we worked our way over intervening terrain toward open slopes leading to Prairie Bluff's southeast ridge. Though steep in places, the open slopes posed no technical difficulties, and the southeast ridge itself was nothing more than a long but pleasant hike. A cool breeze at the summit prompted us to keep moving, and we descended a 4WD track that eventually leads to a well-graded access road. After following the road for a short distance, we left it to descend a drainage that we hoped would lead us back to our starting point. I became separated from Dinah and Bob at this point as they continued following another 4WD track while I aimed for an obvious gas well site. From the gas well site, I simply headed cross-country toward where I thought we had started from (I had neglected to bring my GPS on this trip). This proved to be more difficult than expected. There was still a lot of snow on the ground, and some of it had gone isothermal due to the warm temperatures. Besides post-holing through much snow, I also had to circumvent a surprisingly steep ravine before reaching the gravel road we drove in on. A rather mundane but snow-free walk along the road brought me back to our starting point almost at the same time as Dinah and Bob (round-trip time just over 5 hours).

Be sure to check out Bob's trip report here.

| | |
| --- | --- |
| | Bob and Dinah gear up at roadside. Prairie Bluff dominates the skyline. |
| | The deep snow is hard enough to walk on in the morning. |
| | Dinah climbs over a fence while Bob gives her a helping hand. |
| | Dinah and Bob head for the open slopes at the southeast end of Prairie Bluff. |
| | The terrain starts to get steeper. Drywood Mountain (far left) and Pincher Ridge are visible in the distance. |
| | Some pinnacles higher up look a bit daunting. |
| | Dinah climbs past some dead trees. |
| | Bob pauses beside some crags just below the ridge crest. |
| | Bob surveys the gentle southeast ridge of Prairie Bluff. |
| | Dinah and Bob work their way up the ridge. |
| | Dinah and Bob reach the 2240-metre summit of Prairie Bluff. |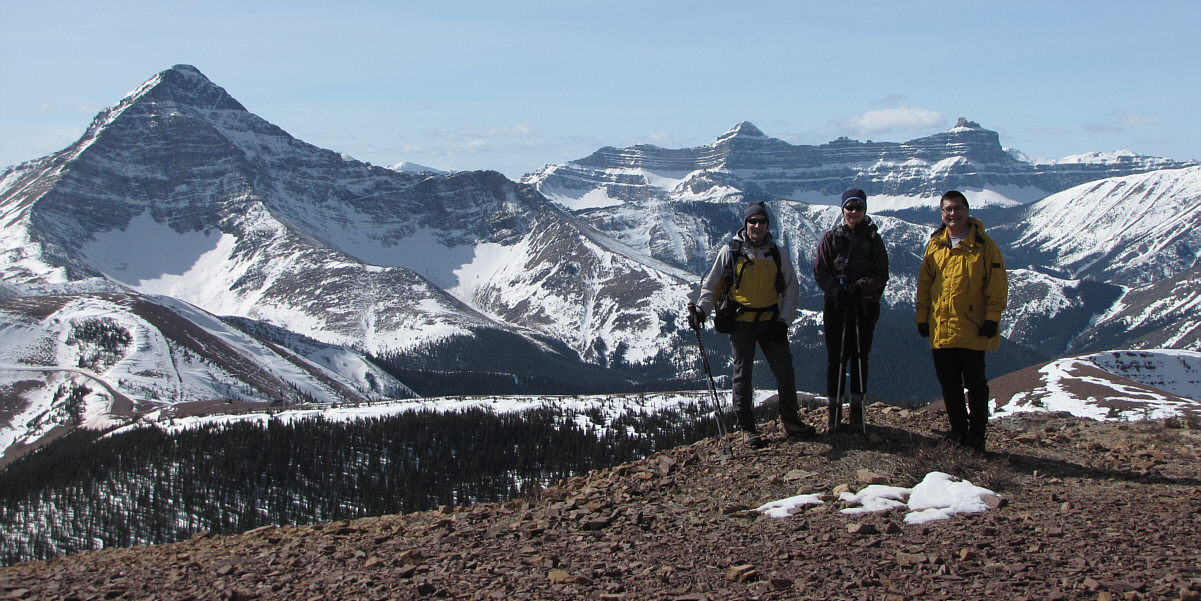 Bob, Dinah and Sonny stand in front of Victoria Peak (left), Windsor Peak and Castle Peak.
| | |
| --- | --- |
| | Sticking out like a sore thumb on the distant horizon is Montana's Chief Mountain. |
| | Victoria Peak dominates the view to the southwest. |
| | Here is a closer look at Windsor Peak and Castle Peak. |
| | To the northwest, the striking peak at right is Mount Darrah. |
| | Bob and Dinah head down the 4WD road on descent. |
| | This odd contraption can be found behind a fenced-off area near tree line. |
| | Here is a view of Prairie Bluff and its southeast ridge from the access road. |
| | Bob and Dinah continue down the access road with Victoria Peak in the background. |