BOU AVENUE
Limestone Mountain Lookout
---
On 5 April 2014, I invited Bob Spirko to join me for a snowshoe ascent of Limestone Mountain Lookout as described in Mike Potter's Fire Lookout Hikes in the Canadian Rockies. Normally, this short hike would hardly be worth the long drive from Calgary, Alberta, but as Dave MacDonald can attest, access to the trailhead can be tricky if not impossible during winter and spring. As such, I was not really counting on reaching the trailhead at all as we drove through a maze of gas exploration roads west of Sundre, Alberta (driving access waypoints can be downloaded here). Most of the roads were well-maintained, but as expected, we were forced to park well short of the normal starting point--in fact, 7 kilometres short and 400 metres lower! Had I been aware of those statistics, I may have considered pulling the plug before we set off up the road following some old snowshoe tracks. Interestingly enough, the tracks we were following stopped only a couple of kilometres up the road; the previous snowshoers had probably come to their senses and abandoned their trip early. In contrast, Bob and I pressed on and eventually joined up with snowmobile tracks from a side road. Bob was having some problems with snow balling up under his snowshoes, and considering that the snowmobile tracks were packed down enough to walk in, we soon ditched our snowshoes and continued up the road in just our boots. Though travel was generally easy, the lengthy walk and lack of views were energy-sapping, and with an increasingly overcast sky, our enthusiasm waned enough that we decided to turn around only a few hundred metres short of the communication towers at the normal starting point. Our return trip, though uneventful, was no less tiresome. Bob showed little interest in returning to Limestone Mountain on our drive home, but I was already considering another attempt in the near future.

| | |
| --- | --- |
| | A couple of wild horses graze near a gas well. |
| | Sonny has a new hood ornament for his car. |
| | Bob trudges up the snow-covered road. |
| | Bob catches his first glimpse of the top of Limestone Mountain which is the right-hand bump in the distance. |
| | This is where Bob and Sonny turned around for the day. The actual trailhead is at the antennas just above Bob's head. The summit of Limestone Mountain is also visible at right. |
With Bob vacationing in Las Vegas, Nevada, I returned alone for another go at Limestone Mountain on 13 April 2014. This time, I brought my AT skis in hopes of speeding up my travel along the road. I was also able to park a little further up the road and, as a result, shaved off some distance and elevation gain for the approach. A fresh dusting of snow in the intervening week had covered both snowshoe and snowmobile tracks but skinning up the road was quite pleasant. It took me about two hours to reach the communication towers at the normal start, and from there, I grinded it out for another hour and a half to reach the summit lookout. I removed my skins at the top, but it likely would have been better to leave them on. Although there were some short stretches of decent skiing on the return trip, the thin snow coverage on the open ridge made for some tricky ski conditions. I also had to carry my skis for the short but agonizing climb back up to the communication towers before resuming my descent on the road. Even returning on the road was not without some difficulty as I struggled up a couple of gentle but long uphill sections mainly because I was too lazy to put my skins back on. In retrospect, I probably would have fared better with cross-country skis or a combination of cross-country skis and snowshoes. Thankfully, I do not intend to go back and find out...ever.
| | |
| --- | --- |
| | Sonny skis (or skins) up the road. |
| | Here is a closer look at the top of Limestone Mountain from the same spot that Bob and Sonny had previously turned around. |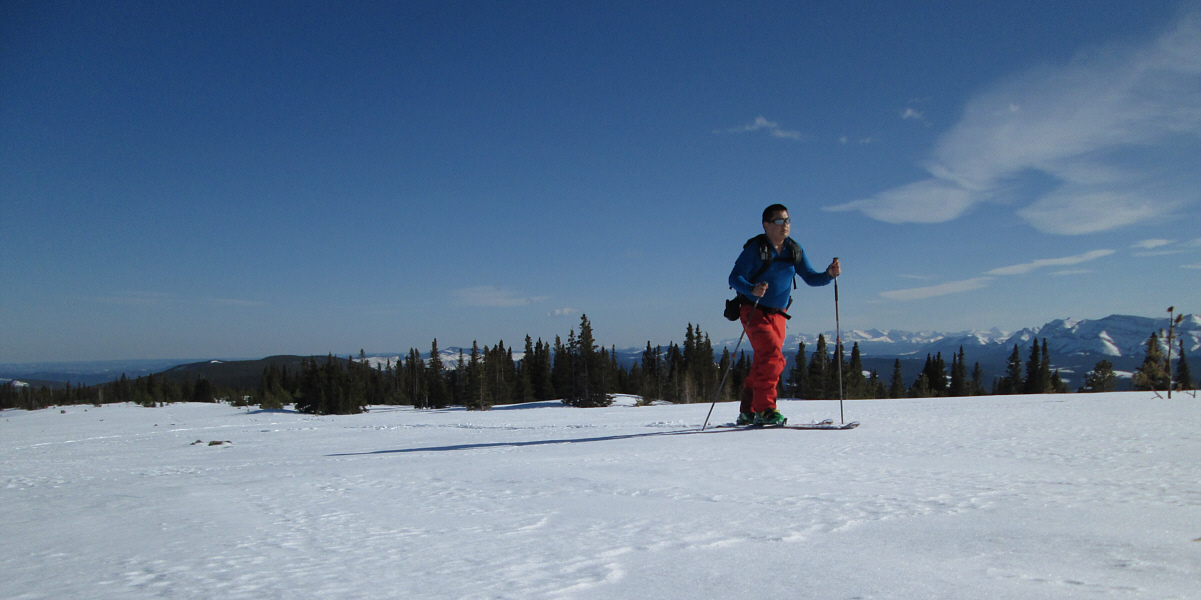 Sonny soldiers on despite some growing fatigue.
| | |
| --- | --- |
| | The summit is still far away in this view from the actual trailhead. |
| | Telephone poles point the way to the top of Limestone Mountain. |
| | Despite being on the windswept west side of the ridge, the road remarkably still holds a lot of snow. |
| | Here is the final stretch to the summit lookout. |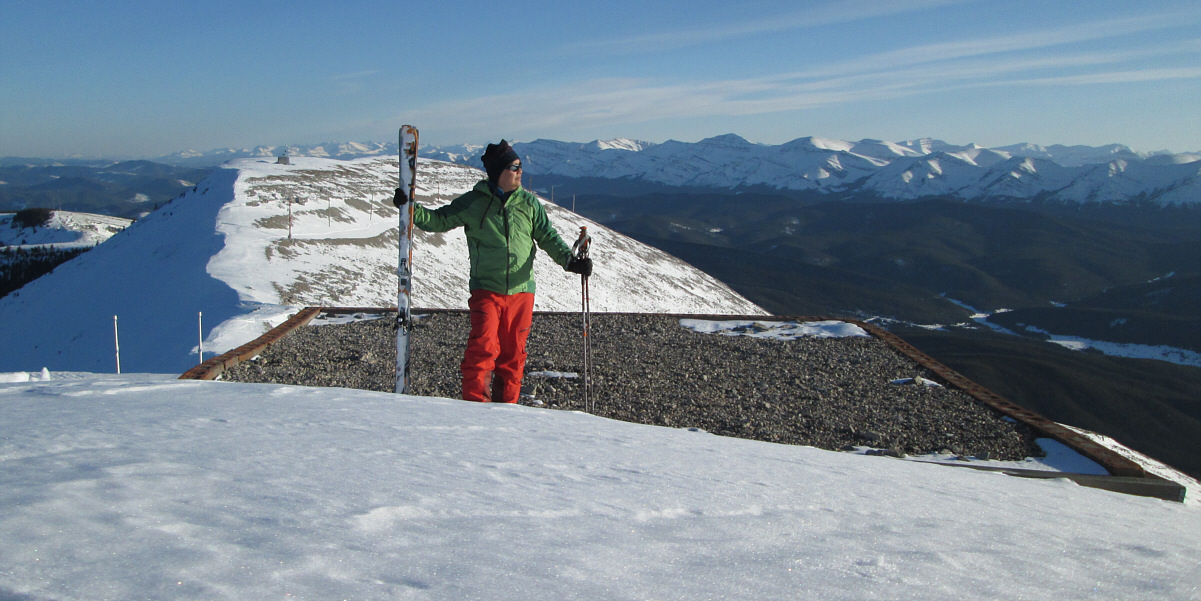 Sonny takes a breather on a helipad near the 2252-metre summit of Limestone Mountain.
The north ridge of Limestone Mountain invites further exploration for those with extra energy.
The summit's main antenna actually has smaller antennae sticking out of it.
The sun has set on another beautiful day.
Total Distance: ~17.2 kilometres
Round-Trip Time: 5 hours 49 minutes
Net Elevation Gain: 505 metres