BOU AVENUE
Macabee Ridge And Forked Ridge
---
On 20 December 2014, I joined Bob Spirko and Dinah Kruze for a loop hike on Macabee Ridge and Forked Ridge in the Sheep River valley of Alberta's Kananaskis Country. Both ridges are described in Gillean Daffern's Kananaskis Country Trail Guide, 4th Edition, Volume 4. The hardest part about this trip was finding a good place to park along the highway between the K-Country boundary and the Sandy McNabb campground access. Pullouts are virtually non-existent here, and after some driving back and forth, Bob finally parked his car on the shoulder at a spot where there was good visibility for passing traffic. Utilizing horse trails and portions of the Sandy McNabb ski trail system, we ascended the south end of Macabee Ridge and headed northward along the crest. After dropping a bit of elevation, we climbed up the Pine Ridge ski trail to a viewpoint with a dilapidated picnic table. From there, we left the trail and headed eastward, dropping some more elevation before regaining it to reach the high point of Forked Ridge. We stopped briefly for a quick bite to eat before continuing southward along the east arm of Forked Ridge. Emerging onto the highway about a kilometre east of where we started, we finished the rest of the loop on pavement. Admittedly, there was not a lot of inspiring scenery on this trip, but for something quick and relatively painless to do on the eve of the winter solstice, this romp through the woods filled the bill nicely.

Be sure to check out Bob's trip report here.

| | |
| --- | --- |
| | Dinah heads into the woods. |
| | Dinah and Bob ascend grassy slopes amid aspen trees. |
| | The south end of Macabee Ridge is fairly open. |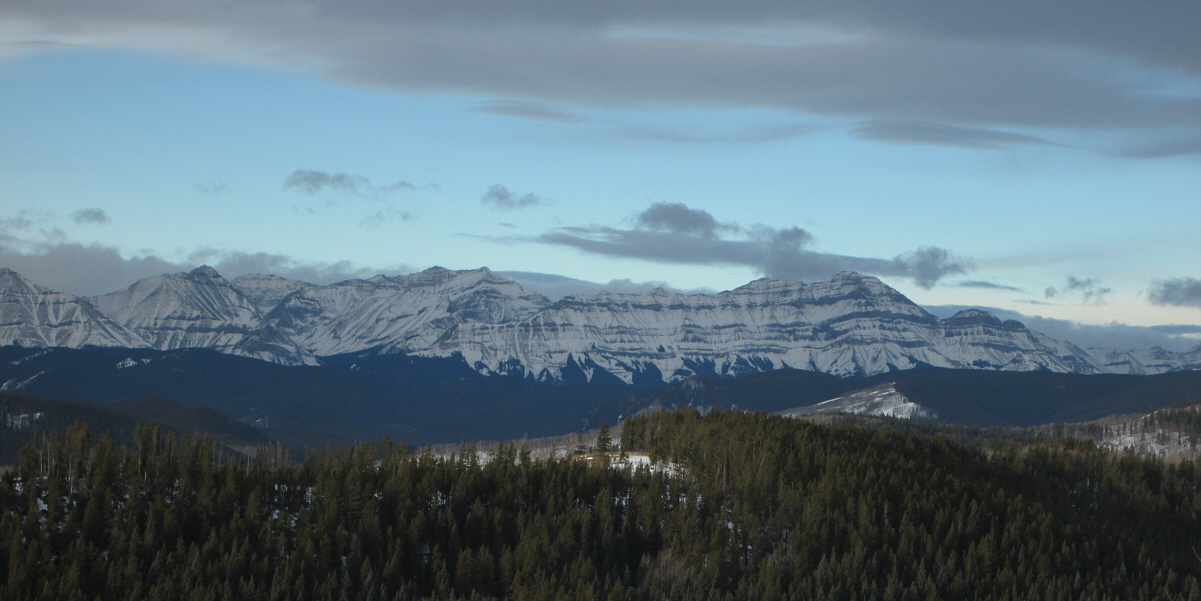 Mount Burns (left of centre) and Bluerock Mountain (right) are visible to the west from the south end of Macabee Ridge.
| | |
| --- | --- |
| | Dinah and Bob continue up Macabee Ridge. |
| | Somewhere behind Bob is the 1561-metre high point of Macabee Ridge. |
| | Bob and Dinah look northward from the viewpoint along the Pine Ridge ski trail. |
| | Bob and Dinah stand over what is probably the 1651-metre high point of Forked Ridge. |
| | Sonny takes a selfie on the high point of Forked Ridge with Dinah hanging over his shoulder. |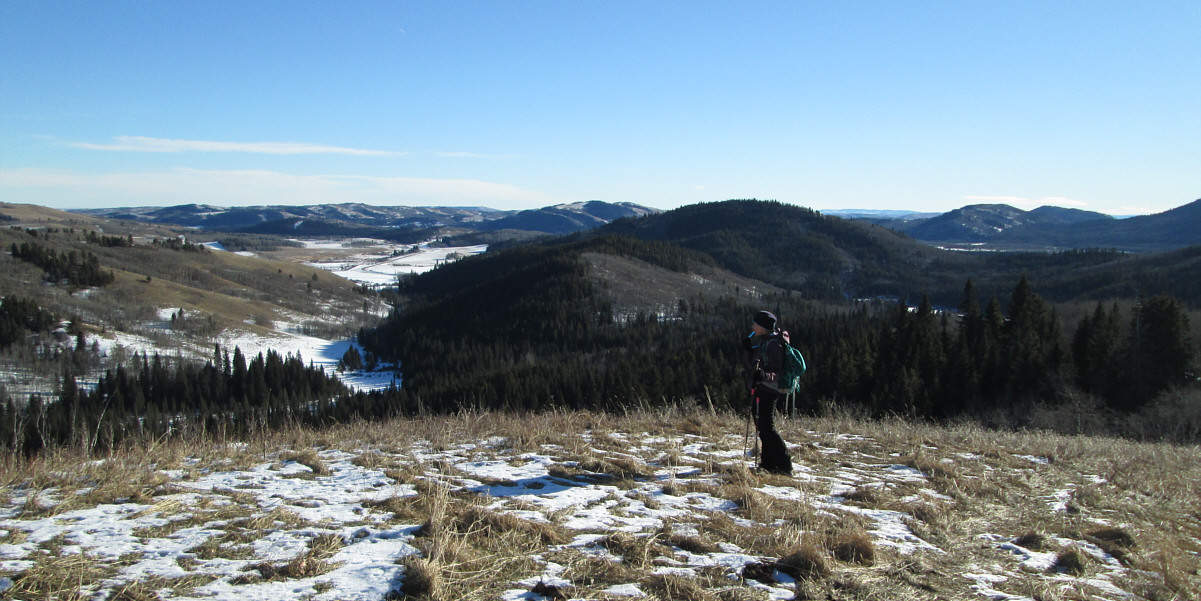 Dinah pauses for a drink of water near the south end of Forked Ridge's east arm. At distant far right is Okotoks Mountain.
Total Distance: 9.7 kilometres
Round-Trip Time: 3 hours 45 minutes
Net Elevation Gain: 203 metres