BOU AVENUE
Dawn Mountain And Moonraker Peak
---
After spending three relaxing days at Kicking Horse Mountain Resort near Golden, British Columbia, I finally hooked up with Josée Ménard and Fabrice Carrara (goldenscrambles.ca) on 28 June 2015 for a strenuous hike in their backyard playground. Having been thwarted on a previous attempt, they were keen on returning to climb Moonraker Peak and Dogtooth Peak on the eastern boundary of Glacier National Park. The trip would also entail climbing over Dawn Mountain which Josée and Fabrice climbed in 1998. Access would be from outside the park via Gorman Lake, an area that Josée and Fabrice are both very familiar with since they have climbed most of the peaks surrounding the lake. I knew very little about the area and its surrounding peaks, but with the great weather forecast, I was game for just about anything. This would turn out to be a good example of how ignorance is bliss!

I was a bit sleep-deprived when I met Josée and Fabrice at 5:22 AM in the parking lot at the junction of the road leading to Golden Golf Club which also happens to be where Josée works during the summer. I threw my pack, poles and ice axe into the back of Fabrice's truck but inadvertently forgot my GPS unit in my car. By backcountry standards, the road to the Gorman Lake trailhead is in pretty good shape although lots of side roads may cause some confusion. Thankfully, Fabrice knew the road well, and we arrived at the trailhead just as the sun was beginning to creep above the eastern horizon. Mosquitoes were already in a feeding frenzy, and we quickly geared up and started hiking up the trail. It took us an hour to reach Gorman Lake, and we continued on a good trail which runs briefly along the south shore before rising toward the basin southwest of the lake. The trail eventually peters out, but we kept climbing up loose rubble and then snow patches to reach the Gorman-Holt col.

From the col, we dropped down briefly into upper Holt Creek basin before climbing up to the north ridge of Dawn Mountain. Much of this ridge was guarded by a large snow cornice, but we were able to circumvent it albeit somewhat awkwardly. Once on the crest of the ridge, we descended slightly before easily scrambling up to the shoulder of Dawn Mountain. The broad summit is only a short distance away from this shoulder, but having already climbed Dawn Mountain, Josée opted to wait while Fabrice and I trudged the last few metres to the summit cairn. The panoramic view from the top of Dawn Mountain was exceptional on this day, but it was a bit daunting to see Dogtooth Peak and Moonraker Peak across the upper Canyon Creek basin. In my tired state, it was hard enough to consider losing about 500 metres of hard-won elevation only to have to gain it back and then some to reach the tops of the two distant peaks. Worse was knowing that we would have to do it a second time on the way back by dropping into the basin and climbing nearly to the top of Dawn Mountain again. Admittedly, I was tempted to just sit and relax on Dawn Mountain while Josée and Fabrice continued on, but it would have felt rude doing so. Instead, I followed Fabrice and Josée down into the basin, and we methodically worked our way up into the snow-filled cirque separating Dogtooth Peak from Moonraker Peak. We donned our crampons here and began climbing straight up the increasingly steep snow slope. Higher up, we opted to trudge up loose dirt and rocks while still wearing our crampons since the snow quality was deteriorating. Josée led all the way up, and both she and Fabrice appeared to be tireless. I, on the other hand, struggled to keep pace and constantly fell behind them. This would be a recurring theme for the rest of the trip.

When I finally joined Fabrice at the col between the two peaks, Josée was already near the top of Dogtooth Peak. Despite the easy walk-up from the col, Fabrice was quite content to forego tagging the summit of Dogtooth Peak, and I felt the same. It felt like heaven just to sit down and not move, and I was unsure if I would even be able to get up again. When Josée rejoined us at the col, we ditched our crampons and headed toward the summit block of Moonraker Peak. Getting up the final 100 metres was a bit of a challenge given the steep and very loose terrain, but Fabrice expertly led us to the top without any mishaps. Our elation at reaching the top of Moonraker Peak was tempered by the lateness of the day and the reality of having to retrace our steps all the way back to the Gorman Lake trailhead. We spent about half an hour on the summit before starting our descent.

We donned our crampons again at the col and descended awkwardly through the upper rocks and dirt. We made better progress once we regained the snow and were off the steepest parts of the cirque. Later, while taking an extended break beside a melt-water stream, I noticed that I had lost my Black Diamond Raven Pro ice axe. It had slipped off my pack somewhere in the cirque on my descent, but I was much too exhausted to climb back up and look for it. Ironically, I had not used my axe all day, so I chalked it up as an offering to the mountain gods in exchange for getting me safely back to Fabrice's truck! After re-hydrating and trying to choke down some food (we all had lost our appetites), we crossed the basin and started the tortuous climb back up Dawn Mountain. What a cruel ascent this was! Never has the phrase, "uphill both ways", been more aptly applied than to describe our journey. Physically, I was running on fumes and even began to cramp up a few times. Furthermore, foreshortening of the slope was mentally exasperating, and an eternity seemingly passed before I finally staggered up to the shoulder of Dawn Mountain again.

The sun had already dipped below the western horizon by the time we reached the snow cornice by-pass. This section proved to be trickier on our return trip due to the looseness of the terrain, but we managed to get off the north ridge safely and continue into the upper Holt Creek basin. The climb back up to the Gorman-Holt col was relatively easy, but we were subsequently forced to dig out our headlamps in order to make our way back down to Gorman Lake in growing darkness. Partly because of Josée's and Fabrice's familiarity with the area and partly through some trial and error, we somehow managed to find the shoreline trail in the dark. Of course, the GPS unit I left behind in my car would have greatly simplified things! Nevertheless, we were quite ecstatic to be finally walking on a trail again, and although the hike back to the trailhead seemed longer on the way out, we could at least put our minds on cruise-control and not have to worry about route-finding.

There was one more hitch when we arrived back at Fabrice's truck. Fabrice caught what appeared to be a marmot chewing on his truck's undercarriage. After chasing off the marmot, he found a piece of mysterious tubing which had obviously been chewed off from some part of the engine. Fabrice inspected his truck as best as he could to make sure that nothing critical had been compromised. On the drive back to my car, Fabrice's truck made an odd noise whenever he stepped on his accelerator, but otherwise, he managed to get us safely back to the main paved road. Given the late hour, Josée and Fabrice suggested that I should return to their place and stay the night before heading back to Calgary in the morning. Unfortunately, I had to work the next day, but more importantly, I had an early dental appointment that I was loath to miss. I declined their generous offer but reassured them that I would be okay to drive home.

After we parted ways, I gassed up my car in town and went to the 24-hour drive thru at McDonald's to pick up 3 double-cheeseburgers and 2 extra-large diet Cokes. I was all set! The drive home was long but uneventful, and I eventually walked into my apartment over 24 hours after I had awoken at the chalet at Kicking Horse Mountain Resort. After feeding my cats and having a much needed shower, I squeezed in about 1 hour of sleep before getting up again to go to my dental appointment followed by work. This must be what it means to live life to the fullest!

I want to thank Fabrice for driving and hope that the repairs to his truck are minor. I also want to thank both Josée and Fabrice for their outstanding companionship throughout this long trip. I could not have made it up both peaks and back without their expertise, their drive, and their understanding. Be sure to check out their trip report here.

| | |
| --- | --- |
| | Fabrice and Josée organize their gear at the trailhead. |
| | Josée crosses a partially submerged footbridge just before Gorman Lake. |
| | Gorman Lake is, in itself, a worthy hiking destination. |
| | Josée and Fabrice hike along the south shore of Gorman Lake. At left is Bokor Peak, and at right is Zombie Peak. |
| | Here is a look back at Gorman Lake from the rising trail. |
| | Josée scrambles up the loose slope. |
| | The firm snow allows easy climbing to the Gorman-Holt col. |
| | This is looking north toward the Gorman-Lang col with Zombie Peak on the right. |
| | The Gorman-Holt col grants a sweeping view of the upper Holt Creek basin. Holt Peak is at left while on the right is Dawn Mountain. |
| | Josée climbs up another snow slope. |
| | Fabrice and Josée hike under a snow cornice guarding the north ridge of Dawn Mountain. |
| | The rest of the ascent up Dawn Mountain is easy from here. |
| | From just below the summit of Dawn Mountain, Dogtooth Peak (left) and Moonraker Peak (right) finally come into view. |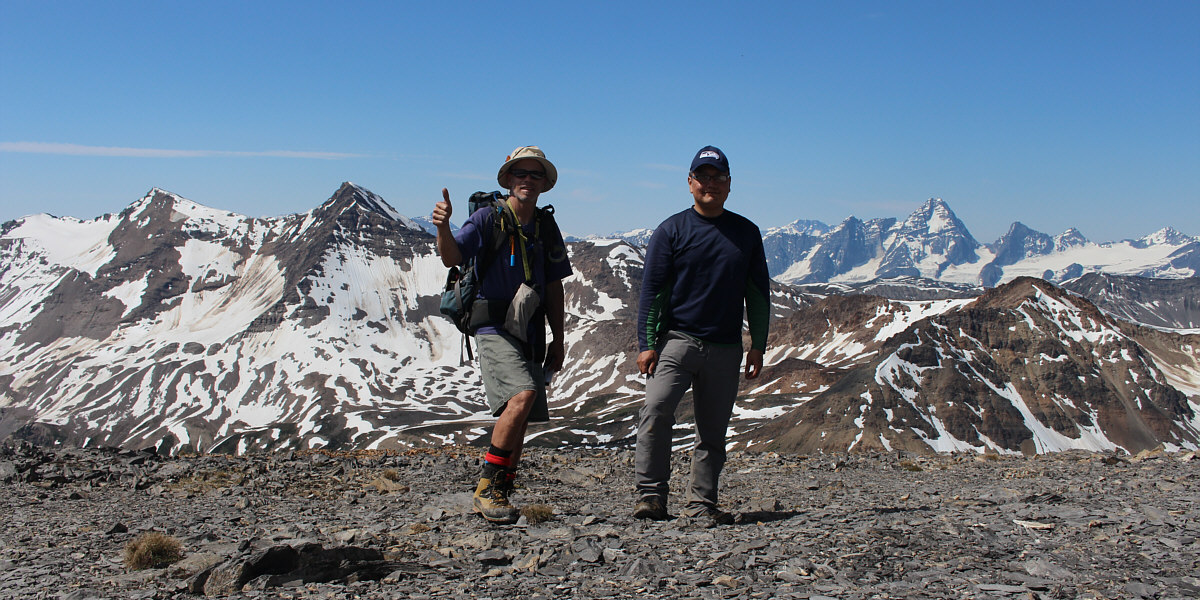 Fabrice and Sonny stand on the 2681-metre summit of Dawn Mountain (elevation courtesy of Peakbagger.com).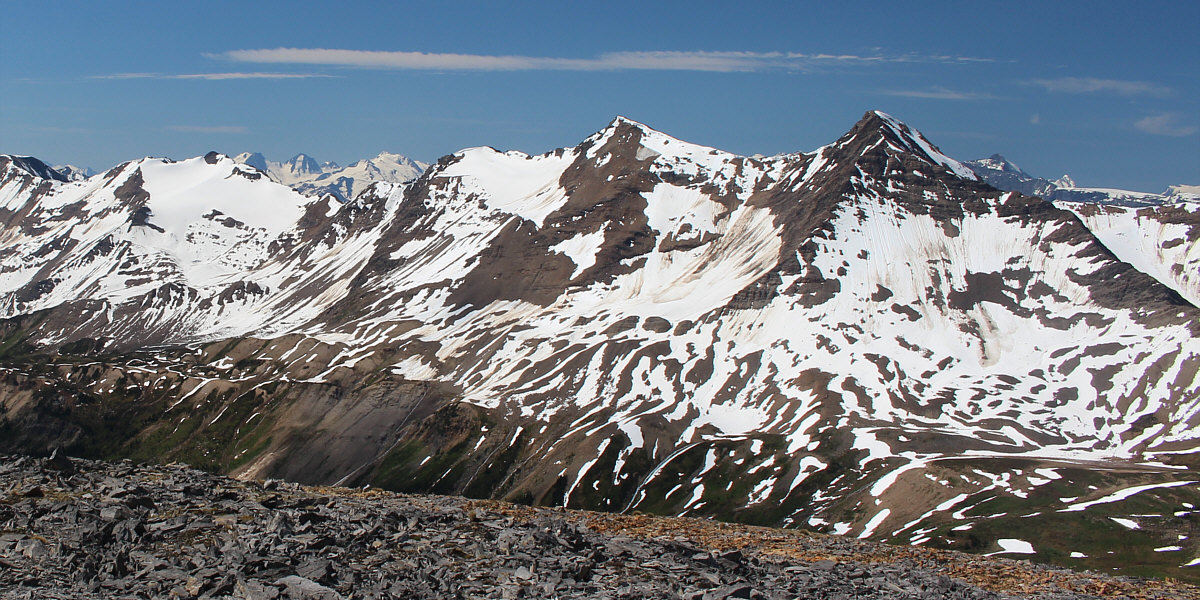 Dogtooth Peak and Moonraker Peak sit on the other side of the valley to the southwest.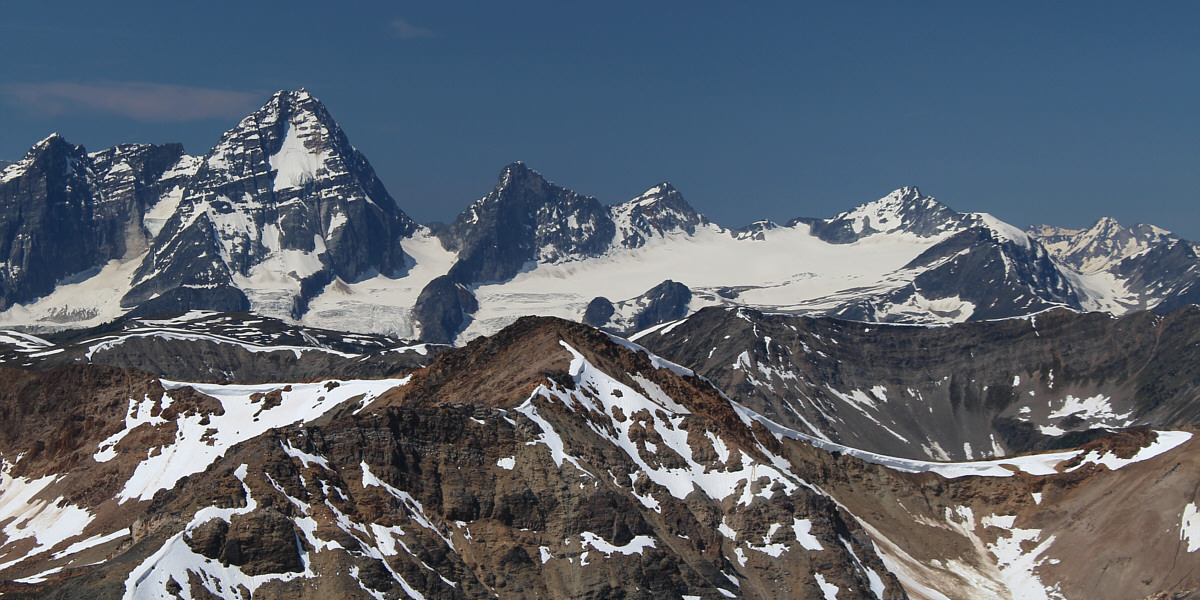 Visible to the west are (L to R) Mount Sir Donald, Uto Peak, Eagle Peak, and Avalanche Mountain. The large swath of ice is Avalanche Glacier.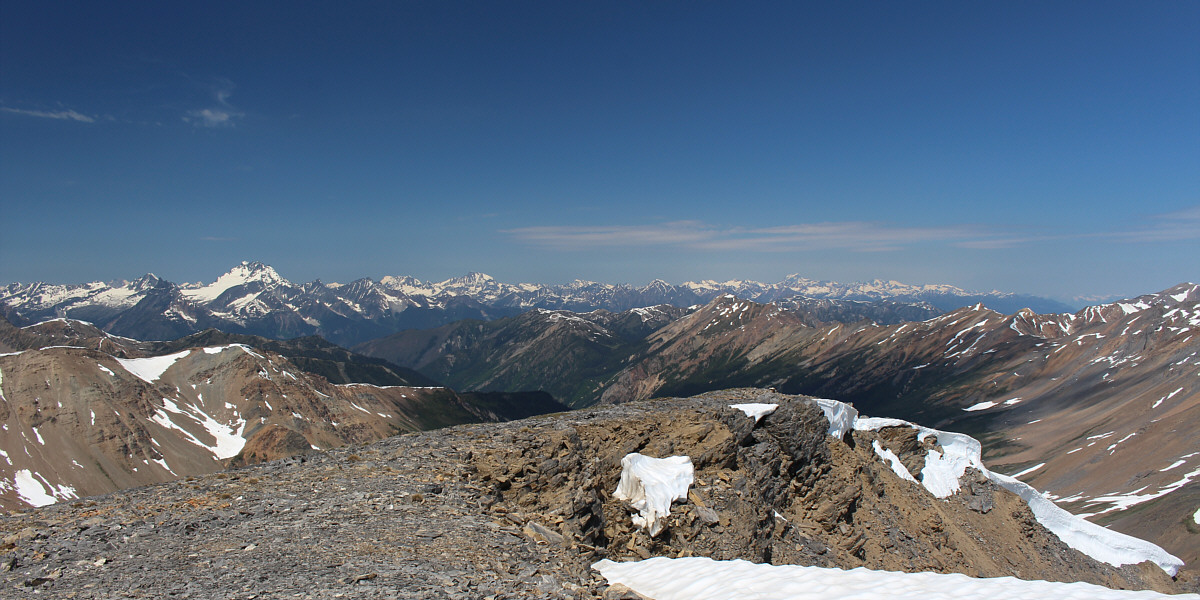 To the northwest, Mount Rogers (left) and Mount Sir Sanford (right) stand out from among the peaks on the horizon.
| | |
| --- | --- |
| | In this view to the north, Bokor Peak is at centre while the black horn of Zombie Peak stands out at right. In between the two and further away is Kingpin Peak. At lower far-right is Gorman-Holt col. |
| | Fabrice and Josée descend into the upper Canyon Creek basin. |
| | Josée keeps descending into the basin to avoid a lot of side-hill bashing. |
| | Josée heads toward the Dogtooth-Moonraker col. |
| | The terrain gets really steep higher up. |
| | Fabrice climbs up to the final summit block of Moonraker Peak. |
| | Fabrice takes the last few steps to the top while Josée muddles her way up the loose slope. |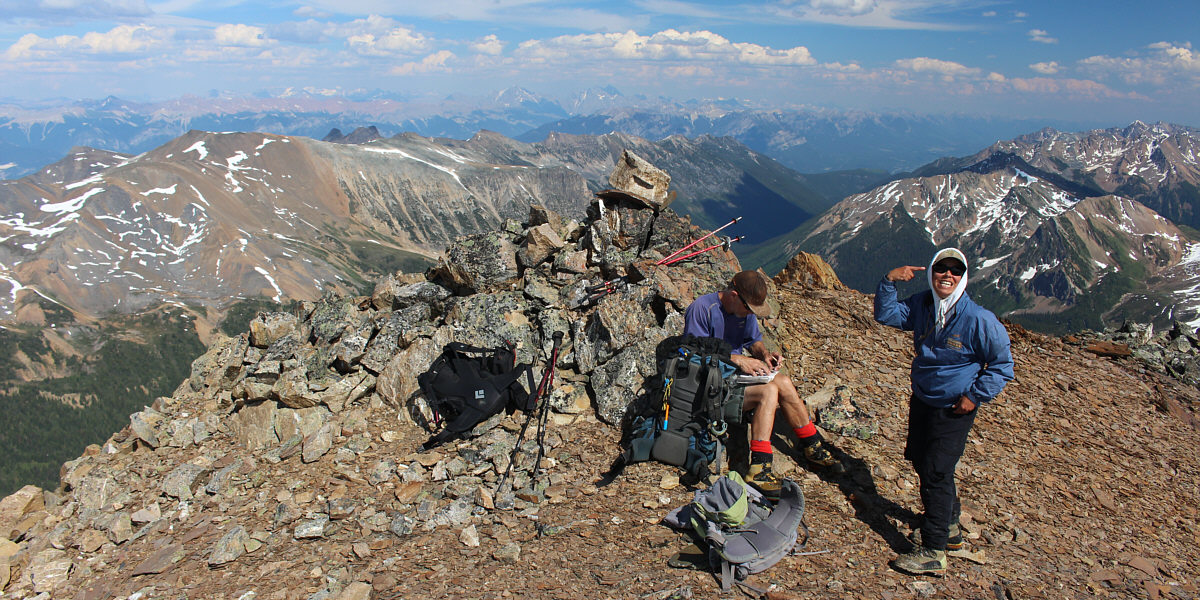 Fabrice and Josée reach the 2836-metre summit of Moonraker Peak (elevation courtesy of Peakbagger.com).
While Fabrice holds up the summit register canister, Sonny manages a smile to show how happy he is to bag a second peak for the day.
In this view to the northeast, Dawn Mountain is at far right.
To the south is Dogtooth Peak (right) which is a couple of metres higher than Moonraker Peak. Canyon Creek valley and Terminator Ridge are also visible at far left.
Josée needs some assistance from Fabrice to get up.
The sun disappears behind clouds on the horizon in this view from near the top of Dawn Mountain.
Total Distance: ~21.5 kilometres*
Round-Trip Time: 18 hours 20 minutes
Total Elevation Gain: ~2180 metres*

*Distance and elevation gain estimated using MapSource.