BOU AVENUE
Eagle Hill (A Day Out With Tehya)
---
With nice weather persisting for New Year's Day 2015, I hooked up with Dinah Kruze and Bob Spirko for a short hike in the front ranges of Alberta's Kananaskis Country. Since Dinah and Bob were dog-sitting for one of Dinah's sons, we chose a fairly simple objective--Eagle Hill in the Sibbald Flats area. Rafal (Raff) Kazmierczak had previously expressed an interest in joining us, but after sending him a text message the night before, I did not receive a reply until around 5:00 AM in the morning. He had just gotten home from a New Year's Eve party, but incredibly, he was still keen on tagging along for our short hike. Since an alpine start was not necessary, we arranged to meet at the Cochrane turnoff (Trans Canada Highway and Highway 22) at about 9:30 AM. When Dinah, Bob (plus the dog, Tehya) and I arrived to meet Raff, we were surprised to learn that So Nakagawa was also coming along. This was turning into quite the social gathering!

After gearing up at the trailhead, we used the approach along a snow-covered logging road in Seventy Buck Valley as described in Gillean Daffern's Kananaskis Country Trail Guide. Previous hikers had already broken trail for us, and travel was easy. After descending to an intersection with a cut line, we continued along the road which winds its way up the south side of Eagle Hill. The crux of the trip was climbing over the barbed-wire fence at the top which marks the boundary with Stoney Indian Reserve. Although the actual high point is shrouded in trees, the southwest side of Eagle Hill is open and affords some respectable views of distant mountains. We spent about 45 minutes at the top snapping photos, eating, and feeding treats to Tehya. Once we were all satisfied, we slipped back across the fence and retraced our steps back to our cars without incident. This trip amounted to little more than an extended dog walk, but it was still nice to be out in the fresh air socializing with like-minded friends and tagging our first summit (albeit a minor one) of 2015.

Be sure to check out Bob's trip report.
| | |
| --- | --- |
| | The group heads up a snow-covered logging road. |
| | Eagle Hill comes into view as the road descends into the valley. |
| | So is about to whack Bob and Dinah with his weird whacking stick! |
| | The group approaches the foot of the hill. |
| | The group pauses for a break partway up the hill. |
| | Because the summit of Eagle Hill (1734 metres) is covered with trees, the group poses for a photo at a nearby clearing. From L to R are Sonny, Dinah, Bob, Raff and So. |
| | Tehya stands guard on Eagle Hill. |
| | So, Dinah and Raff wait to pose for more photos. |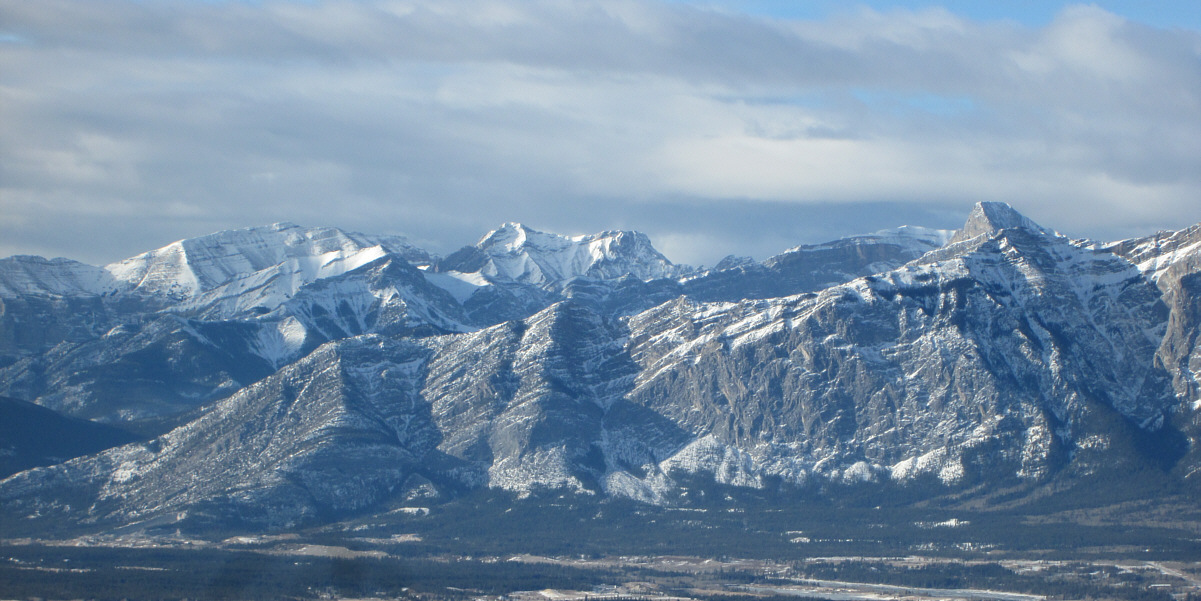 The view to the west includes Grotto Mountain (left) and Mount Fable (right).
The Three Sisters (left) and Mount Lawrence Grassi (right) are also visible to the west.
Sonny tries to hold Tehya still for a photo.
Sonny has better luck when he holds a doggy treat in his hand.
The group eats some snacks at the viewpoint.
While So and Raff appear to be content with their own food, Tehya gets spoiled by Dinah.
Raff climbs back over the barbed-wire fence on the way out.
Moose Mountain can be seen to the south as the group heads back down the trail.
Total Distance: 8.4 kilometres
Round-Trip Time: 3 hours 16 minutes
Net Elevation Gain: 261 metres