BOU AVENUE
Fairbanks Mountain
---
Dinah Kruze, Bob Spirko and I made plans to do a hike near Death Valley, California on 19 October 2015. Joining us was Las Vegas resident, Shin Goto, and we were all in good spirits as we drove through Pahrump, Nevada and crossed the state line. Despite Bob's meticulous planning, we were surprised to encounter a flooded section of highway just east of the town of Shoshone, California. My Honda CR-V made it through the shallow waters without any problems, but soon after, we found that the highway north of Shoshone was closed and barricaded. That effectively scuttled our original hiking plans near Death Valley, and we retreated to Shoshone to consider our options along with a growing number of motorists who were also caught off guard by the unreported road closure.

While Dinah and I browsed a local gas station/convenience store and ended up co-buying some lottery tickets, Bob went to the Shoshone Museum to inquire about possible hikes to do near town. After discussions with the museum proprietor, Bob suggested that we try and hike up one of the nearby hills. Leaving my car at the gas station/convenience store, we headed out of town on foot and made a bee line for a rugged-looking peak to the northwest. We came upon a trail but soon left it to hike up a draw leading to the base of the peak's southeast face. Although the draw continues up to a saddle, we left it and climbed straight up the face. This face looks complex from a distance, but once we started climbing up, the route turned out to be relatively straightforward. At the summit, we were surprised to find a register that had been placed earlier in the year by a local resident who appears to climb the peak quite regularly. The register refers to the peak by several names, but Bob and I liked "Fairbanks Mtn." the best.

We extended this short outing by hiking further along Fairbanks Mountain's southwest ridge before dropping down a gully into the desert flats. We completed a loop by picking up the aforementioned trail and hiking back into Shoshone. Unbeknownst to us at the time, this trail actually leads to Dublin Gulch which harbours some interesting cave dwellings. I hope to visit these the next time I am in the area.

Driving east out of Shoshone, we were slightly delayed as vehicles lined up to get across the flooded section of highway. Bob got out of my car to chat with a sheriff who was monitoring the traffic, and the sheriff suggested that we get across quickly because he was going to shut the road down soon. Bob got back in my car, and shortly after, we drove through the flooded section again without incident although the water appeared to be higher than earlier in the day.

Our final adventure of the day was to visit the infamous "Chicken Ranch" on the outskirts of Pahrump. We were all too demure to actually set foot inside the establishment, but in light of recent events surrounding former professional basketball player, Lamar Odom, we were all a bit curious about seeing an actual legal brothel. Now if only Dinah and I could have won the lottery...

Be sure to check out Bob's trip report.

| | |
| --- | --- |
| | Sonny, Dinah and Bob stand in front of some antiques at the Shoshone Museum. |
| | Highway closures have made Shoshone a busy hub of activity on this day. |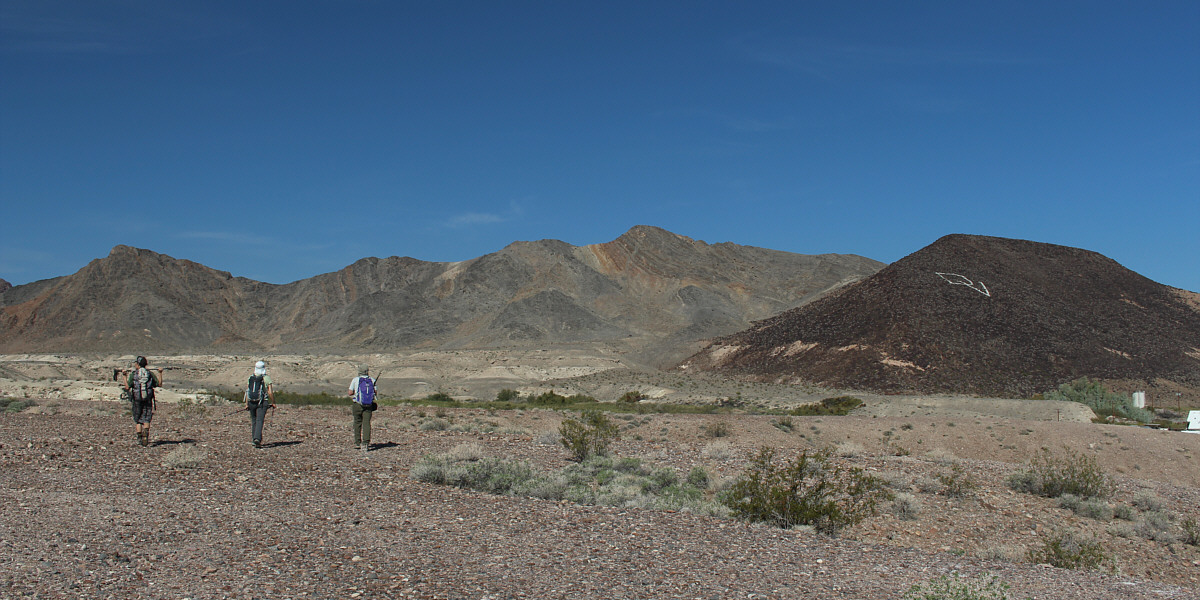 Shin, Dinah and Bob head toward Fairbanks Mountain (right of centre). Climbing the "DV Hill" on the right is apparently discouraged by locals.
This draw eventually curves to the right and provides easy access to Fairbanks Mountain.
Instead of going to a saddle and climbing the skyline ridge, the group heads directly up the southeast face of Fairbanks Mountain.
The group studies the remainder of the route up the southeast face of Fairbanks Mountain.
The scrambling here is easy and fun.
Sonny, Bob, Shin and Dinah pose on the 719-metre summit of Fairbanks Mountain.
Beyond the town of Shoshone, the Amargosa River has flooded across Highway 178. Also visible at left is the feature known as Castle In Clay.
Eagle Mountain stands out on the horizon to the north.
The group continues along the southwest ridge of Fairbanks Mountain.
Cliff bands force the group to descend off the ridge at this point. At left in the distance is the northern part of the Dublin Hills.
Bob and Dinah work their way down a steep gully.
Dinah and Shin head back toward the townsite. Castle In Clay is visible in the distance at left.
Fairbanks Mountain is visible in the distance at right as Dinah walks across the flats.
Bob descends into a wash.
An old boot is strangely embedded in a cairn.
Bob and Shin follow a marked trail back to Shoshone.
This sign sits in a small picnic area in town.
Dinah shows off the Powerball and Mega Millions tickets that she co-bought with Sonny from the Shoshone gas station/convenience store. Unfortunately, these would not be the winning tickets. Here is an interesting article about why the sale of lottery tickets is banned in some states like Nevada.
Traffic is delayed on the flooded section of Highway 178. Castle In Clay is visible at left.
Dinah and Bob ham it up outside the Chicken Ranch Brothel near Pahrump, Nevada. This is the closest legal brothel to Las Vegas.
Total Distance: 5.6 kilometres
Round-Trip Time: 3 hours 7 minutes
Net Elevation Gain: 233 metres