BOU AVENUE
Taiga Viewpoint
---
Taking advantage of some fine weather on 12 September 2015, I joined Dinah Kruze and Bob Spirko for a hike up Taiga Viewpoint as described in Gillean Daffern's Kananaskis Country Trail Guide. Located in British Columbia's Elk Lakes Provincial Park, Taiga Viewpoint is essentially a lowly outlier of Mount Fox, but given its strategic location above Elk Pass, it promises far-reaching views in nearly all directions. Starting from the Elk Pass trailhead within Alberta's Peter Lougheed Provincial Park, we hiked for about 5 kilometres along the wide trail to the provincial boundary at West Elk Pass. We turned west here and soon passed a junction with the trail leading to Fox Lake and Elk Lakes. Keeping straight, we crossed a meadow before climbing steeply up the trail to Frozen Lake. After a brief pause to admire the beautiful lake, we followed a well-worn path that climbs steadily up to a col separating Taiga Viewpoint from Mount Fox. This path is eroded in a few places and is quite loose and steep just before the col. From the col, we hiked up a short rubble slope to reach the top of Taiga Viewpoint where we stopped to take a well-deserved break.

For some reason, I have been cursed with losing a lot of personal gear in the mountains this year (lost an ice axe on Moonraker Mountain, a GPS unit on Mount Aberdeen, a trekking pole on Syncline Mountain, and a mini-tripod on Frosty Mountain). I continued that trend on Taiga Viewpoint when my insulated lunch box with a water bottle inside started to roll downhill after I set it down near the summit. Within seconds, both the lunch box and water bottle disappeared down the slope toward Frozen Lake. I descended a short distance to see if my lunch box got snagged on some rocks or trees, but it was nowhere in sight. I rejoined Dinah and Bob on the summit with the idea that I might be able to locate my lunch box if we returned to Frozen Lake.

As we were leaving the summit, we met a young woman named Kailen. After helping her take a few photographs, we ended up descending together and joined her friend, Helen, who was waiting at the col. It turns out that the two of them had seen my lunch box go flying by them on their way up, and they were so startled by the motion that they initially thought they had encountered a bear! After some lengthy discussions, we all agreed to descend Daffern's "shortcut" gully together instead of retracing our steps to Frozen Lake. I pined a little for my beloved lunch box which had accompanied me on so many trips to the mountains over the years; it was sadly the end of an era.

The descent down the shortcut gully was anything but trivial as we had to contend with loose terrain and even some bushwhacking. Despite doing more off-trail hiking than they had probably bargained for, Kailen and Helen were real troopers and endured the misery of the gully surprisingly well. Further down, we took to a debris-filled creek bed to avoid the steep side hills, and we eventually intersected the trail leading to Elk Lakes. In our zeal to keep descending, we actually went toward Elk Lakes momentarily before I realized we were heading in the wrong direction along the trail. Turning around, we had to regain about 120 metres of elevation to get to Fox Lake and subsequently the aforementioned trail junction. From there, we hiked back to the trailhead without further trouble.

Be sure to check out Bob's trip report.

| | |
| --- | --- |
| | Dinah and Bob stand beside a seemingly new provincial boundary marker beside the trail to Frozen Lake. |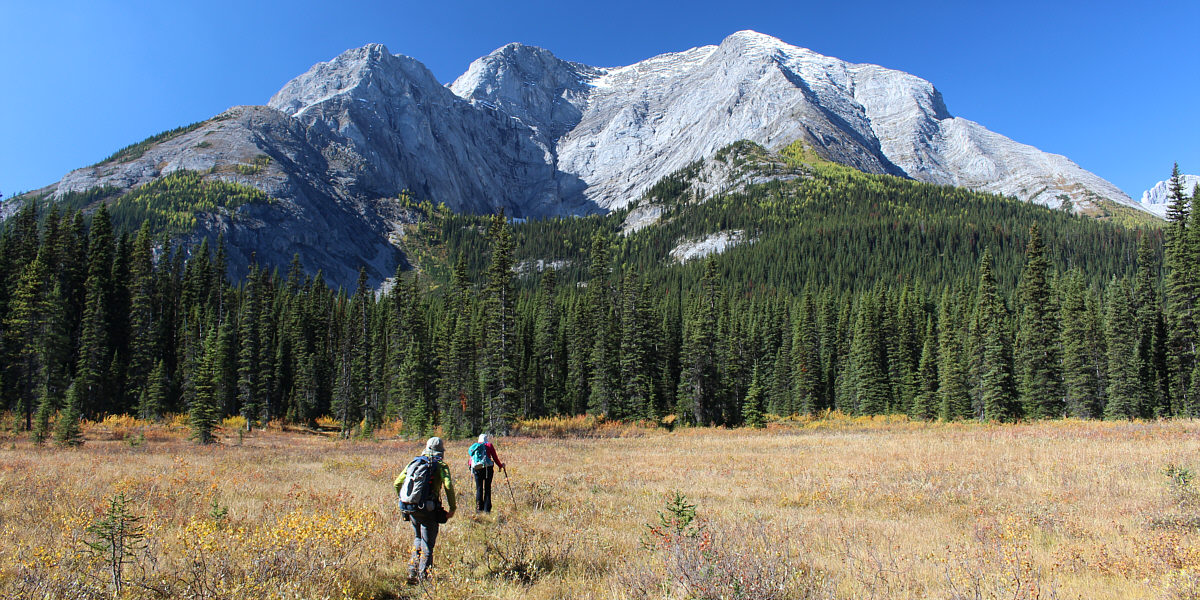 Bob and Dinah follow the trail across a meadow. Taiga Viewpoint is the low bump on the far left. On the right is Mount Fox.
Fox Lake is partially visible in this view from a bluff partway up the trail to Frozen Lake.
Dinah and Bob chat with another hiker at Frozen Lake.
Mount Fox forms an impressive amphitheatre above Frozen Lake.
Bob and Dinah scramble up the sketchy path that leads to Taiga Viewpoint.
Dinah and Bob hike up a short rubble slope below the top of Taiga Viewpoint.
Upper and Lower Kananaskis Lakes can be seen in the distance from the top of Taiga Viewpoint (2355 metres).
The Turret can be seen peeking over the northeast ridge of Mount Fox.
Sonny, Dinah and Bob pose near the top of Taiga Viewpoint.
Mount Pocaterra (left) and Mount Tyrwhitt (right) sit across Elk Pass from Fox Lake.
Lower Elk Lake captures the most attention in this view to the southeast.
A few larches above Frozen Lake have already turned colour.
Bob, Kailen, Helen and Dinah discuss the merits of going down Daffern's "shortcut" gully.
Kailen appears to be dancing down the gully.
The group runs into some trees partway down the gully.
Lower down the gully, the group takes to the creek bed to avoid the steep side slopes.
On the hike back to the trailhead, the group briefly pauses at the edge of the forest near Fox Lake.
Bob walks along the moist ground near Fox Lake. The sun is right above Taiga Viewpoint.
Total Distance: 18.4 kilometres
Round-Trip Time: 7 hours 51 minutes
Net Elevation Gain: 638 metres