BOU AVENUE
Vimy Peak
---
On 20 June 2015, Bob Spirko and I completed a bike and hike up Vimy Peak in Alberta's Waterton Lakes National Park. Although an off-trail scramble route is described in Andrew Nugara's More Scrambles in the Canadian Rockies, we elected to follow the less-direct but easy hiking trail which runs virtually all the way to the summit. Why make things more complicated? After a lengthy drive to the trailhead, we unloaded our bicycles from Bob's car and began gearing up for the trip. Bob is normally quite meticulous when he prepares for an outing like this, but on this day, he had been so preoccupied with all the bicycle gear that he had forgotten to bring his GPS unit. Then a few minutes after riding up the Wishbone trail, Bob realized that he had forgotten his hat in the car and turned around to retrieve it. Bob attributed his forgetfulness to the break in his usual hiking routine with the addition of all the bicycle gear, but I was starting to wonder if he would remember who I was by the time we reached the summit!

In any case, it had been awhile since either of us had done any actual mountain biking, and although the Wishbone trail is generally flat and smooth, it is mostly a very narrow single track which demands a bit of technical skill and a great deal of concentration. After riding for about 5 kilometres, we stopped to change into sandals that we had brought along in order to ford ankle-deep Sofa Creek. From there, we rode for about another 1.5 kilometres until we reached the Vimy Peak trail junction. We hid our bicycles in the bushes nearby and proceeded on foot up the Vimy Peak trail. Although there are occasional clearings and even a waterfall along the way, the trail to the summit is somewhat monotonous for much of its length. Even Bob, who is normally indefatigable, felt his energy lagging, and partway up, we both agreed to stop for a quick bite in hopes of recharging ourselves. We eventually pushed onward beyond the last trees, and the ever improving views helped to alleviate our fatigue. The trail deteriorates just below the summit ridge, but we had no trouble scrambling up the last few metres of easy terrain.

The views from the summit did not disappoint, and we spent a good hour there relaxing, taking photographs, and being "entertained" by a family of fearless golden-mantled ground squirrels. Once we had had enough of the squirrels and their antics, Bob and I retraced our steps back down the mountain. Except for running into a lone hiker still on his way up, our descent down the trail was unremarkable. When we arrived back at the trail junction, we spotted a group of four hikers who had started from the trailhead at about the same time as us at the beginning of the day. By the time I had retrieved my bicycle from the bushes, the group had mysteriously disappeared, presumably heading back to the trailhead. Sure enough, Bob and I passed them shortly after starting our ride back, but they would soon catch up to us as we forded Sofa Creek for a second time. Bob and I ended up chatting at length with this group of flora and fauna enthusiasts, each of whom turned out to be from a different city or town in southern Alberta. At one point during our conversation, one of the four pulled out a manual the size of a telephone book in order to identify a plant beside the creek. I facetiously suggested that they should consider carrying an iPad which led to a discussion about the current state of electronic taxonomy. As fun as it was to socialize with this group, Bob and I eventually returned to the business of riding back to the trailhead.

The remainder of the ride was fast and exhilarating which served to remind me how much I actually miss mountain biking. Back at the trailhead, we were engaged by a gentleman who had also ascended Vimy Peak but had left much earlier in the day and had done so completely on foot. Furthermore, he had gone on to visit Crypt Lake before catching a boat across Upper Waterton Lake and hitchhiking back to the Wishbone trailhead. After such a long solo outing, he seemed very eager to chat with Bob and me, fellow peak-baggers who could relate to and appreciate what he had accomplished. During our lengthy conversation though, we were slowly being attacked by tent caterpillars which were everywhere on the ground and seemingly drawn to us wherever we moved. It felt like something out of a horror movie although I am still debating which was creepier--the caterpillars or the peak-bagger who would not stop talking to us! Bob and I eventually tore ourselves away and started our long drive home to conclude a most satisfying outing.

Be sure to check out Bob's trip report.

| | |
| --- | --- |
| | Bob rides past the trailhead sign. |
| | The Wishbone trail is mostly a narrow single track which runs across open, flat grassland such as this. |
| | Bob easily fords Sofa Creek. |
| | Bob rides by a small, fenced-off area with Vimy Peak in the background. |
| | The vegetation is thick along some parts of the trail. |
| | Bob ditches his bicycle at the junction with Vimy Peak trail. |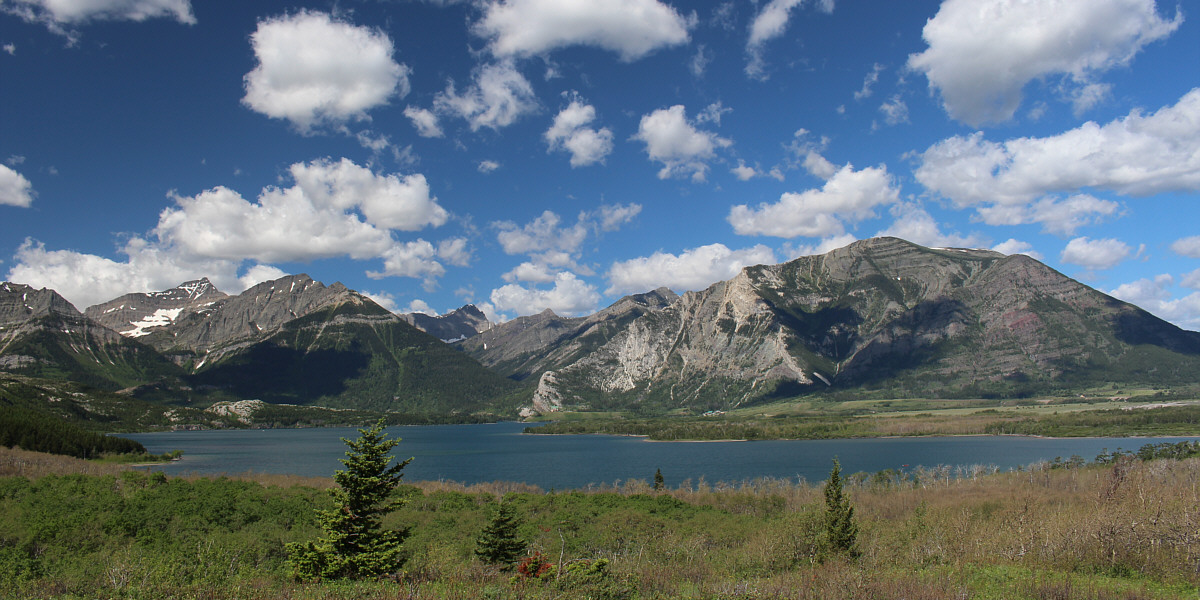 An opening along the trail grants this view of Mount Crandell (right) across Middle Waterton Lake.
A western wood lily blooms in the forest.
Bob ascends the trail alongside a babbling brook.
Bob hikes beyond the last trees not far below the summit ridge.
Bob carefully traverses a lingering snow patch. The striking form of Chief Mountain appears in the distance just left of centre.
Bob takes the last few steps before the summit.
Bob and Sonny stand on the 2382-metre summit of Vimy Peak.
Here is another look at Bob standing beside the summit wind break.
The view to the northwest includes Middle Waterton Lake, Mount Crandell, and Mount Blakiston (far left on horizon).
A golden-mantled ground squirrel appears to mimic Bob at the summit.
Upper Waterton Lake is partially visible to the west. Mount Richards is at centre while Mount Alderson is the high peak to the right. Numerous big peaks in Montana's Glacier National Park are visible from left to centre on the horizon.
Mount Boswell dominates the view to the south. Also visible in the distance at left is Mount Cleveland.
Vimy Ridge stretches away to the south. Crypt Lake is visible at right.
Sofa Mountain and Chief Mountain round out the view to the southeast.
Bob holds up the summit register and its distinct canister. The register was placed here just the previous year.
Here is a closer look at one of several golden-mantled ground squirrels which inhabit the summit of Vimy Peak.
A golden-mantled ground squirrel licks the straps of Sonny's trekking poles.
Bob begins his descent. Chief Mountain sticks up like a sore thumb on the horizon.
Bob takes advantage of a snow patch to glissade down this gully.
Bob retrieves his bicycle and gears up for the ride back to the trailhead.
Bob easily fords Sofa Creek for a second time.
Bob arrives back at the trailhead. Although it is not readily apparent in this photo, the parking area is teeming with tent caterpillars.
Total Distance: 26.8 kilometres
Round-Trip Time: 8 hours 17 minutes
Net Elevation Gain: 1095 metres