BOU AVENUE
Mount Barwell
---
On 14 May 2016, I paid a visit to Mount Barwell in the MacLean Creek off-highway vehicle region of Alberta's Kananaskis Country. Rocky Mountain Books (RMB) was holding a 'meet the authors' event in Calgary that day, and I was hoping to squeeze in a short trip before attending the event. Using information from Gillean Daffern's blog and in light of recent snowfall, I decided to bring my bicycle and stick to the gas well road for a no-nonsense approach. Despite being clear, the road was still slightly wet and muddy from snow melt, and I had a difficult time getting good traction with my bicycle especially while going uphill. Consequently, I ended up pushing my bicycle for much of the way up the road. The road ends at the second of two gas wells on the east ridge of Mount Barwell. I ditched my bicycle here and continued on foot along a trail that heads into forest. Despite being covered by ankle-deep fresh snow, the trail was still easy to follow, and I had no difficulty whatsoever hiking to the mostly viewless summit of Mount Barwell. On my way down, I ran into four dirt bikers who seemed undeterred by the snow. In fact, they pretty much cleared the trail for me most of the way back to where I left my bicycle. While the gas well road was tough to ride up, I had no such problems going downhill. In fact, I had to stop once or twice to rest my hands and cool my brakes. Including the stops, it only took 15 minutes to go from the second gas well back to my car. As such, I made it back to Calgary in time for the tail end of the RMB event where I was able to tell Ms. Daffern herself about my day's adventure.

| | |
| --- | --- |
| | Sonny rides on the gas well road just beyond the locked gate at the start. |
| | Sonny resorts to pushing his bike up the relentlessly steep road. |
| | The road goes past a sour gas well. |
| | Here is a close-up of a sign on the fence surrounding the sour gas well. |
| | The road ends at a second gas well. A trail continues into the forest at the far end of the fence. |
| | The trail is easy to follow despite being covered by fresh snow. |
| | The sign at this trail junction is inexplicably a stencil. |
| | An open knob along the ridge grants this semi-open view of the top of Mount Barwell. |
| | Sonny reaches the summit of Mount Barwell (1906 metres). |
| | Moose Mountain can be seen through a small opening in the trees. |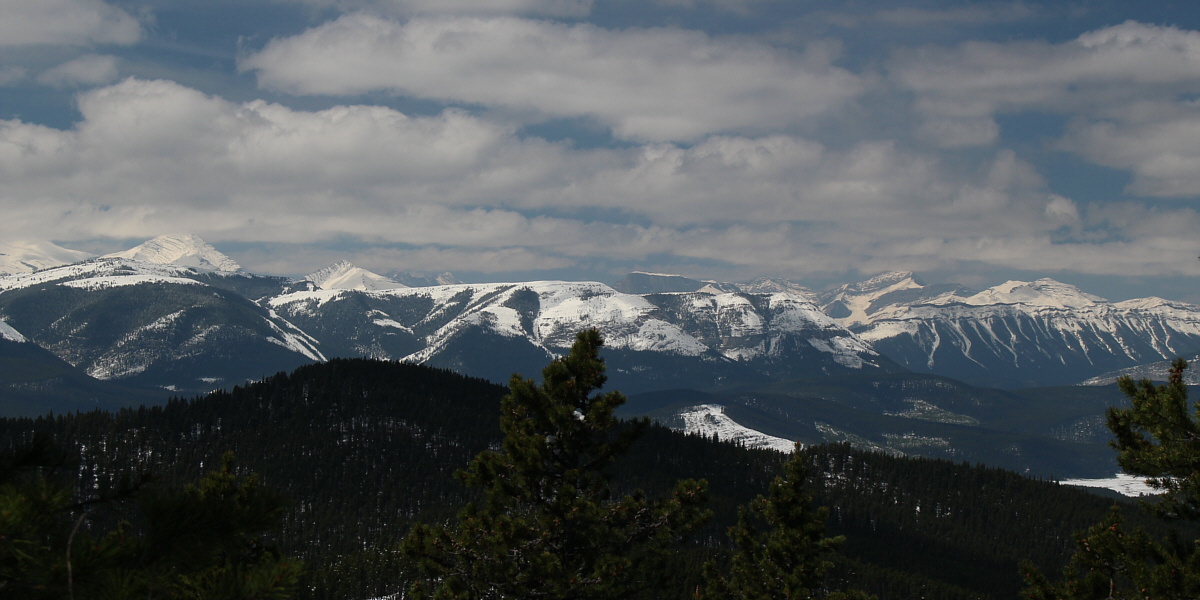 Numerous familiar peaks can be seen to the west including Mount Glasgow, Mount Romulus, Mount Remus, Fisher Peak and Mount Fullerton.
A dirt biker grinds up the trail.
Sonny begins his fast descent down the road.
Total Distance: 12.4 kilometres
Round-Trip Time: 3 hours 33 minutes
Net Elevation Gain: 490 metres