BOU AVENUE
Elk Lake
---
On 13 February 2016, I accompanied Zosia Zgolak for a ski tour to Elk Lake in Alberta's Banff National Park. Zosia organized this trip through the Alpine Club of Canada (ACC) at the last minute when her plans to attend the annual Canadian Birkebeiner Ski Festival fell through (the event was cancelled due to poor ski conditions). Perhaps not surprisingly, given that it was a long weekend and most people had already made other plans, nobody else signed up to come along, but Zosia made me fill out a waiver of liability regardless since this was still considered an official ACC trip (my first ever albeit as a guest). Following the trail descriptions for "Forty Mile Creek" and "Elk Lake Summit" in Chic Scott's Ski Trails in the Canadian Rockies, we started off from the Mount Norquay ski resort and quickly descended to the bottom of the Mystic Chairlift where we found the signed trailhead. An unsigned trail junction a short way in caused some confusion for us since we had not read Scott's trail descriptions carefully enough, but we correctly stayed left on what appeared to be the main trail and eventually dropped down to the bridge over Forty Mile Creek. After crossing the creek, we climbed steeply at first before settling into a long and steady ascent up the valley to Elk Lake Summit backcountry campground.

Upon reaching the campground, we had to search a bit before we found the trail leading to Elk Lake. The trail seemingly disappeared at one point, and while Zosia was quite adept at breaking her own trail through the forest, I was floundering badly in the ever deepening powder. Seeing how much I was struggling, Zosia suggested that we turn around, but for some mind-boggling reason, I was not yet ready to give up. Returning to the point where we lost the trail, I climbed up a short slope that we had dismissed earlier, and sure enough, I found the trail again. This trail climbs gradually over an intervening ridge before dropping down to Elk Lake. Zosia broke trail, seemingly effortlessly, most of the way to the lake and through ever increasing powder. Even with the trail broken, I still alarmingly sank up to my hips in a few spots with my skis on! Extricating myself from the deep snow was an awkward and exhausting ordeal each time I took a spill, and I began to question the wisdom of not turning around when Zosia had suggested it. I felt some relief when we finally reached snow-covered Elk Lake, but I was already concerned about the prospect of climbing back up to the ridge crest, not to mention the lengthy and challenging ski to get back to Mount Norquay ski resort.

After a very brief stop at the lake, we commenced our return journey, and right off the bat, I had a lot of difficulty getting traction with my skis in the deep powder. Applying another coat of grip wax did little to help, and I was starting to feel quite frustrated. Since she had climbing skins on her skis, Zosia offered to switch one of her skis with one of mine. Her skinned ski provided me a little better grip, but it did little to prevent me from sinking and wallowing in the deep powder. Her shorter ski did provide a bit better maneuverability though, and with some determined effort, I was eventually able to side-step my way up out of my self-created pit of doom. When we returned to the crest of the ridge, I gratefully returned Zosiaís skinned ski, and we both continued the descent to the campground. I had a couple more spills along this stretch, but by now, I was becoming an expert face-planter and basically at peace with the snow! When we returned to the campground, we were surprised to see some additional tracks in the snow that indicated that someone else had followed us here on skis but had turned around before reaching the lake. Pansies!

The ski out was long and, at times, quite enjoyable although I never got comfortable enough to let my skis ride out. Part of the problem was that it was always tough to anticipate what was around the next corner or bend, and the tendency was to cautiously slow down even when it was not really warranted. As we approached the bridge over Forty Mile Creek, snow conditions had worsened since the morning which made the steep descent to the creek very tricky. While Zosia managed to expertly ski down this section, my skierís pride quickly evaporated after a couple of painful wipeouts, and I had no qualms about taking off my skis and walking down. The remainder of the ski back to the resort was mostly uphill but generally easy.

In retrospect, this trip turned out to be one of the longest and most challenging ski tours I have ever done. Seasoned skiers like Zosia would probably laugh at the accomplishment, but I am proud to have made it all the way to Elk Lake and back on my skinny skis. Thanks go out to Zosia for inviting me on this adventure, for breaking trail most of the way, and for being a very patient and supportive ski companion especially when I was stuck in that pit of doom back at the lake!

Zosia sets off from the day lodge at Mount Norquay ski resort.
Zosia expertly snowplows down the steep trail just before the bridge over Forty Mile Creek.
Zosia arrives at the junction with the trail to Cascade Amphitheatre.
Sonny skis though a winter wonderland.

Photo courtesy of Zosia Zgolak

Part of the Mount Brewster massif appears as the trees begin to thin out along the trail.
Zosia stops to check her map after arriving at Elk Lake Summit backcountry campground.
Even with the trail broken by Zosia, Sonny struggles to stay afloat in the deep powder.

Photo courtesy of Zosia Zgolak

Sonny does a face plant after trying to ski under a tree.

Photo courtesy of Zosia Zgolak

Sonny and Zosia are elated to finally reach Elk Lake.

Photo courtesy of Zosia Zgolak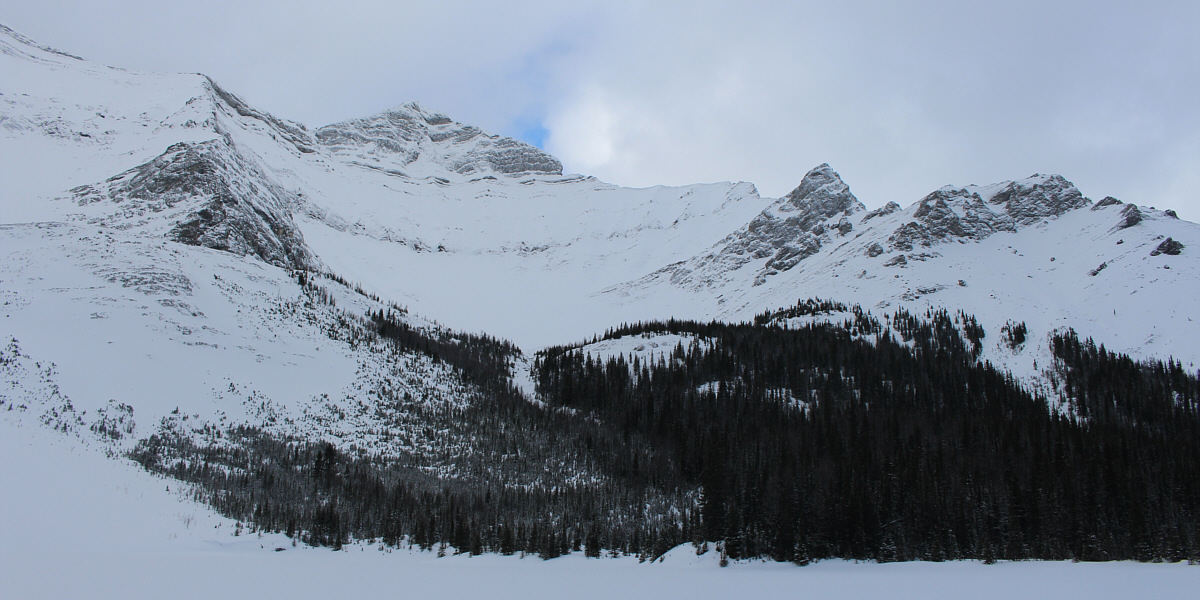 Elk Lake is nestled below a large cirque on the north side of the Mount Brewster massif.
Sonny snaps a selfie of himself and Zosia just before they start the long journey home from Elk Lake.
Zosia leaves the campground and begins the long ski down the valley.
After a long and challenging day of skiing, Sonny looks none the worse for wear as he crosses the bridge over Forty Mile Creek.

Photo courtesy of Zosia Zgolak

Zosia climbs back up the steepest part of the trail near Forty Mile Creek on the return trip.
Total Distance: 28.0 kilometres
Round-Trip Time: 10 hours
Net Elevation Gain: 446 metres
Total Elevation Gain: 926 metres