BOU AVENUE
Mount Grinnell
---
Taking advantage of free entry into Montana's Glacier National Park on 24 September 2016 (Public Lands Day), Zosia Zgolak and I headed to the Many Glacier area to climb Mount Grinnell. J. Gordon Edwards describes four different ascent routes for Mount Grinnell in A Climber's Guide to Glacier National Park, and I was most interested in the two routes which utilize the popular trail to Grinnell Glacier Overlook. With a somewhat unsettled weather forecast, I figured that we could at least go visit Grinnell Glacier if the summit was not in the cards on this day.

After camping the previous night outside the park, we got up early and drove to the trailhead for Grinnell Glacier Overlook to eat breakfast and get ready for our hike. During breakfast, we met a gentleman by the name of Kendall Thompson who was in the midst of a long solo road trip from California. This was his first visit to Glacier National Park, and perhaps feeling some apprehension about hiking alone in bear country, he asked if he could tag along with us at least as far as Grinnell Glacier Overlook. Zosia and I welcomed his company, and after we finished breakfast, we all set off together along the well-maintained trail.

Early in our hike, we passed the starting point for one of the two routes I was considering. This route entails a steep scramble up to Grinnell Point, the picturesque eastern outlier of Mount Grinnell, followed by a complicated traverse to the true summit. After a very brief discussion, Zosia and I both agreed to forego this route since we were not yet in the mood to leave the nice trail and perhaps because it would have been a little rude to abandon our American guest so soon. The rest of the hike to Grinnell Glacier Overlook was immensely enjoyable. The trail climbs very gently, and the scenery was remarkable even under mostly cloudy skies.

We parted ways with Kendall after visiting Grinnell Glacier Overlook. Although he was hiking back to the trailhead by himself, Zosia and I could already see lots of other hikers coming up behind us, and we were confident that Kendall would have plenty of company on the trail to help keep bears away.

Turning our attention to Mount Grinnell, Zosia and I backtracked about half a kilometre to a grassy meadow near some benches and a couple of outhouses. We left the trail here and began traversing across the southeastern slopes of Mount Grinnell. Clouds obscured much of the upper mountain, but we could still catch glimpses of rugged cliffs above us. The idea of this route is to traverse far enough eastward until the rugged cliffs above give way to "easy slopes" as described by Edwards. Zosia and I aimed for an obvious long line of krummholz before turning upslope and ascending into the clouds. We were soon scrambling up Class 3 terrain which was hardly what I would classify as "easy", and the limited visibility certainly made route-finding more complicated. We were probably off-route when we gained the crest of the northeast ridge, but from there, we had no trouble reaching the summit.

After taking an extended break at the summit, Zosia and I descended the southwest ridge of Mount Grinnell before dropping down ankle-breaking rubble slopes into the basin to the west. Some careful route-finding is necessary here to safely descend some hidden cliff bands and to avoid bushwhacking through thickets of krummholz, but we managed to stay out of trouble by generally keeping to skier's left. At the bottom of the basin, we worked our way along a rocky creek bed before picking up the trail coming down from Swiftcurrent Pass. Zosia and I barely got settled into our long walk back to the trailhead when we nearly crashed into a sizeable black bear standing quietly in the middle of the trail. After staring at us for a few seconds, the bear ambled off the trail and disappeared into the nearby bushes. We had no more close encounters after that, but we did spot another black bear later on albeit on the far side of one of the lakes in the valley.

Upon returning to the trailhead for Grinnell Glacier Overlook, Zosia and I noticed that Kendall's vehicle was gone, and we assumed that he had made it back safely. We subsequently ate supper at the trailhead before driving back to Alberta to camp elsewhere for the night.

Autumn colours are evident at the trailhead. Morning sunlight illuminates Grinnell Point in the background.
Grinnell Point rises above the southwest end of Swiftcurrent Lake.
Above Grinnell Lake is the ridge known as Angel Wing.
The trail to Grinnell Glacier Overlook traverses under some spectacular cliffs.
Sonny approaches the top of the headwall guarding Upper Grinnell Lake.

Photo courtesy of Zosia Zgolak

The top of the headwall is a good place to survey the approach valley to the east. From nearest to farthest are Grinnell Lake, Lake Josephine and Lake Sherburne.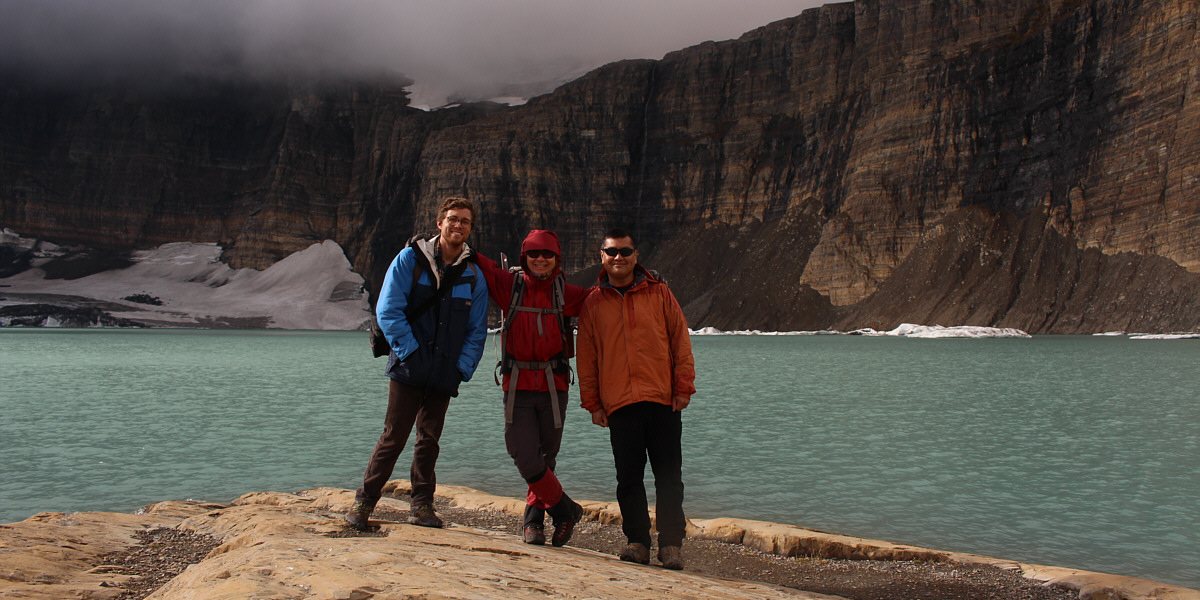 Kendall, Zosia and Sonny stand on the shores of Upper Grinnell Lake.
Clouds nearly obscure Grinnell Glacier at the south end of the lake.
Zosia heads back down the trail to begin her ascent of Mount Grinnell via the southeast slopes.
The route traverses across the open southeast slopes of Mount Grinnell before heading up alongside the line of krummholz just right of centre.
Clouds roll over the cliffs above Grinnell Glacier and Upper Grinnell Lake. Mount Gould is barely visible at far left.
With the connecting ridge to Grinnell Point in sight, Zosia begins climbing in earnest up Mount Grinnell.
As Zosia climbs higher, she enters Class 3 terrain.
Some of the scrambling on the upper mountain can be challenging.
Zosia gains the crest of the northeast ridge not far from the summit.
Sonny and Zosia stand on the summit of Mount Grinnell (2692 metres).
The clouds clear up a little to reveal part of the Swiftcurrent Glacier below.
A rainbow appears over Swiftcurrent Creek valley.
Sonny walks out onto a ledge overhanging the abyss.

Photo courtesy of Zosia Zgolak

The descent route (bottom centre) to Swiftcurrent Creek valley looks innocuous enough from above.
Zosia picks her way down the west side of the basin. The top of Swiftcurrent Mountain is almost visible above.
The complexity of the terrain below the west side of Mount Grinnell is revealed from this vantage point.
A large black bear moves off the trail after nearly being run over by Zosia and Sonny.
The north face of Mount Grinnell rises high above Bullhead Lake.
Total Distance: 23.4 kilometres
Total Time: 10 hours 50 minutes
Net Elevation Gain: 1197 metres