BOU AVENUE
Mount Hoffman And Missinglink Mountain
---
With the impending annual closure of Highway 546, So Nakagawa, Simon Rolland, Zosia Zgolak and I visited the Sheep River valley on 27 November 2016 to climb Mount Hoffman and Missinglink Mountain.

Following Bob Spirko's route description, we started the ascent of Mount Hoffman from Indian Oils day use area and immediately crossed the newly constructed bridge over Sheep River. Turning left after the bridge, we followed the road for about 1.5 kilometres before turning right onto a side road leading to the north ridge of Mount Hoffman. Higher up, the road narrows to a trail which is steep in a few spots but otherwise easy to follow all the way to the open north ridge. While the plod to the summit was easy enough, overcast skies and a brisk wind gave us little incentive to hang around, and we promptly retraced our steps back to the trailhead without fanfare.
| | |
| --- | --- |
| | So, Zosia and Simon marvel at the newly constructed bridge over Sheep River. |
| | The group breaks out of the trees onto the north ridge of Mount Hoffman. |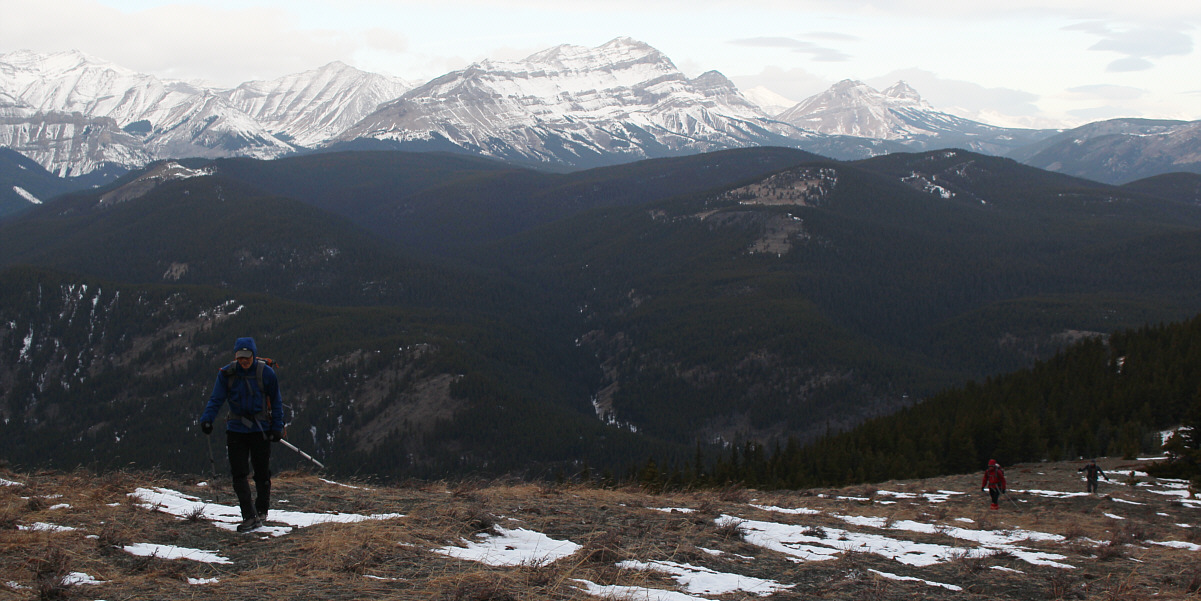 Hiking up the north ridge, So is followed by Zosia and Simon. At centre is Bluerock Mountain.
| | |
| --- | --- |
| | Sonny, Zosia, Simon and So stand on the summit of Mount Hoffman (2013 metres). |
| | To the southwest is the peak known unofficially as Shunga-la-she (right of centre). |
| | Gibraltar Mountain's unmistakable form is visible to the west. |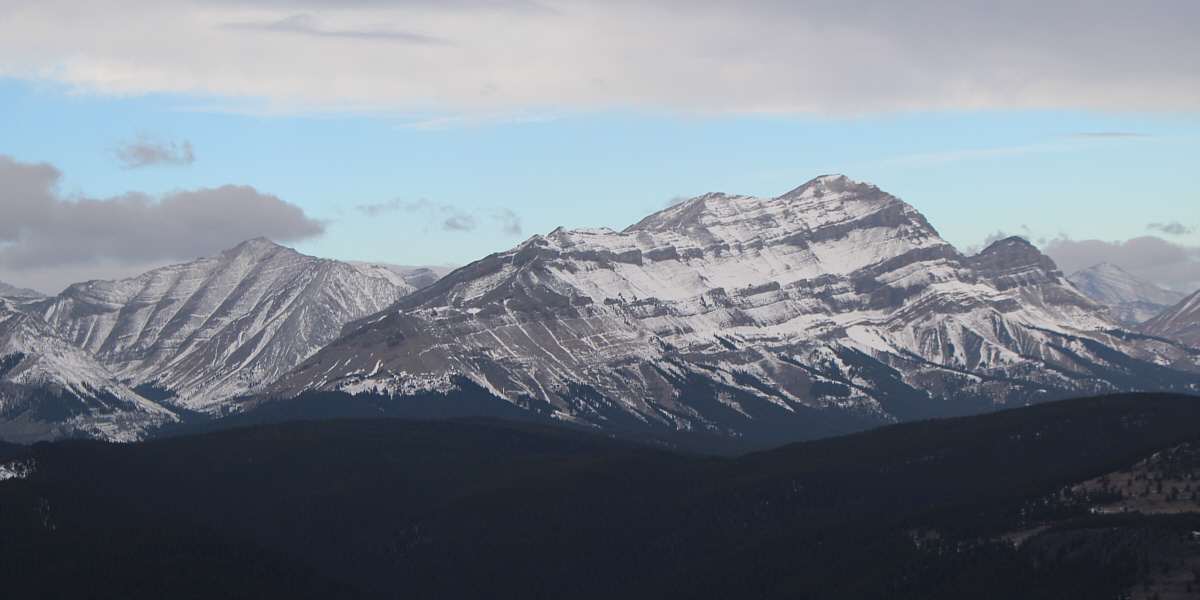 Here is a closer look at Bluerock Mountain.
Total Distance: 8.4 kilometres
Round-Trip Time: 2 hours 36 minutes
Net Elevation Gain: 454 metres
The climb up Mount Hoffman was so short that we decided to tack on an extra ascent of nearby Missinglink Mountain. We again followed Bob Spirko's route description and started from a pullout along Gorge Creek Trail about one kilometre west of its junction with Highway 546. A brief hike through some aspen trees was followed by a steep pull up a big grassy slope. After this initial grunt, we settled into a pleasant hike up the undulating south ridge of Missinglink Mountain. Although some sections of the ridge are forested, there are enough openings with views along the way to keep things from getting dull. The summit was marked by an inukshuk, and we were fortunate to enjoy some sunny skies here even though the wind was still strong enough to make it uncomfortable to linger. On descent, we wandered a bit away from our original ascent route and had to endure some bushwhacking to get back on track, but otherwise, the return trip was about as eventful as the one for Mount Hoffman.
| | |
| --- | --- |
| | So heads for the open slope behind the stand of aspen trees. |
| | The group grinds its way up the steep grassy slope. |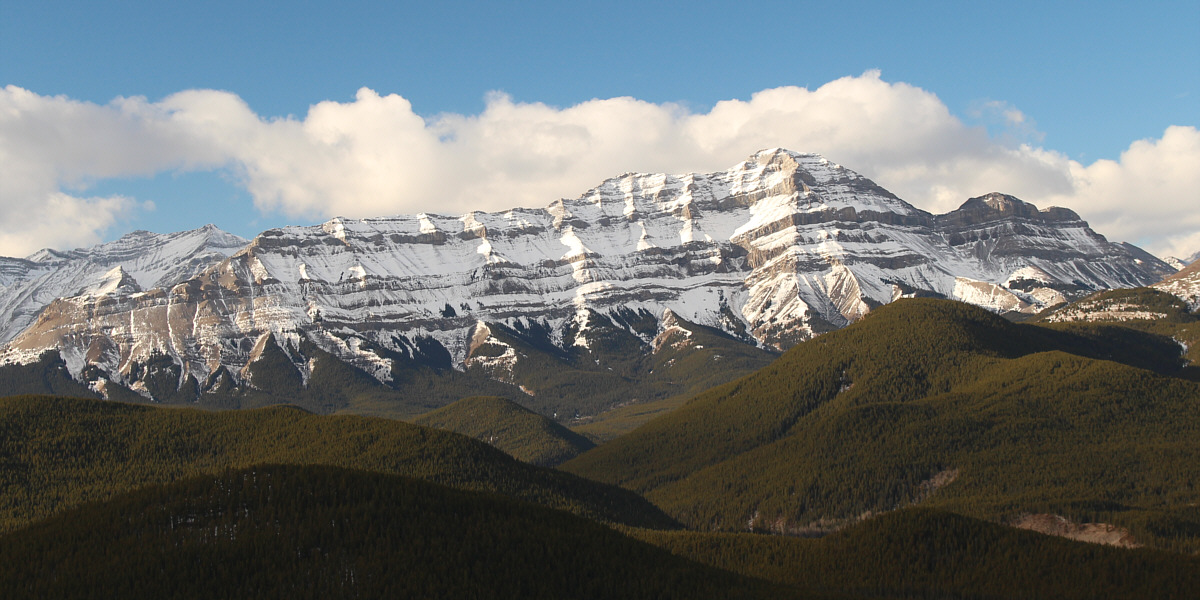 The afternoon sun lights up Bluerock Mountain.
In this view to the southwest, Mount Hoffman is the forested mound on the left.
Zosia enjoys the view from the top of the bluffs along Missinglink Mountain's south ridge.
Simon and So stand atop another set of cliffs along the south ridge.
The summit is just beyond the bare patch ahead. Visible at distant left is Volcano Ridge.
The group is almost at the summit. In the distance at left is Allsmoke Mountain.
Sonny, Zosia, So and Simon stand near the summit of Missinglink Mountain (1932 metres).
Total Distance: 6.9 kilometres
Round-Trip Time: 3 hours 8 minutes
Net Elevation Gain: 401 metres