BOU AVENUE
Iyarhe Ipan
---
With plans to attend a slideshow party later in the day on 20 November 2016, Zosia Zgolak and I chose to do a short hike up Iyarhe Ipan near Elbow Falls in Alberta's Kananaskis Country. Drawing our inspiration from Bob Spirko's trip report, we started the day by fording the Elbow River a little upstream of Elbow Falls. The river was surprisingly fast and deep, and we had to search a bit to find a reasonable place to cross. Once across the main river, we easily rock-hopped across a smaller channel and then began climbing up the forested slope on the far side. We followed bits of trail and the odd flagging tape up the slope, and although snow made some steeper sections quite slippery, we generally had few issues gaining the rocky summit ridge. The actual high point of Iyarhe Ipan is disappointingly covered with trees, but there are enough open spots along the ridge with respectable views to still make the ascent worthwhile. After a short break at the top, we promptly retraced our steps back down the ridge. We ended the trip with another chilly splash across the Elbow River.
Sonny wades across a side channel near Elbow River.

Photo courtesy of Zosia Zgolak

Zosia enters the deepest part of Elbow River.
Bits of game trail lead Zosia up the forested slope.
The route stays in the trees to the left of the cliffs.
Zosia gains the summit ridge of Iyarhe Ipan.
Zosia treads carefully around a tree at a mildly exposed section along the ridge.
Zosia approaches a large cairn on the summit ridge.
Zosia and Sonny stand on the summit of Iyarhe Ipan (1951 metres).
Downtown Calgary is visible about 54 kilometres away to the northeast.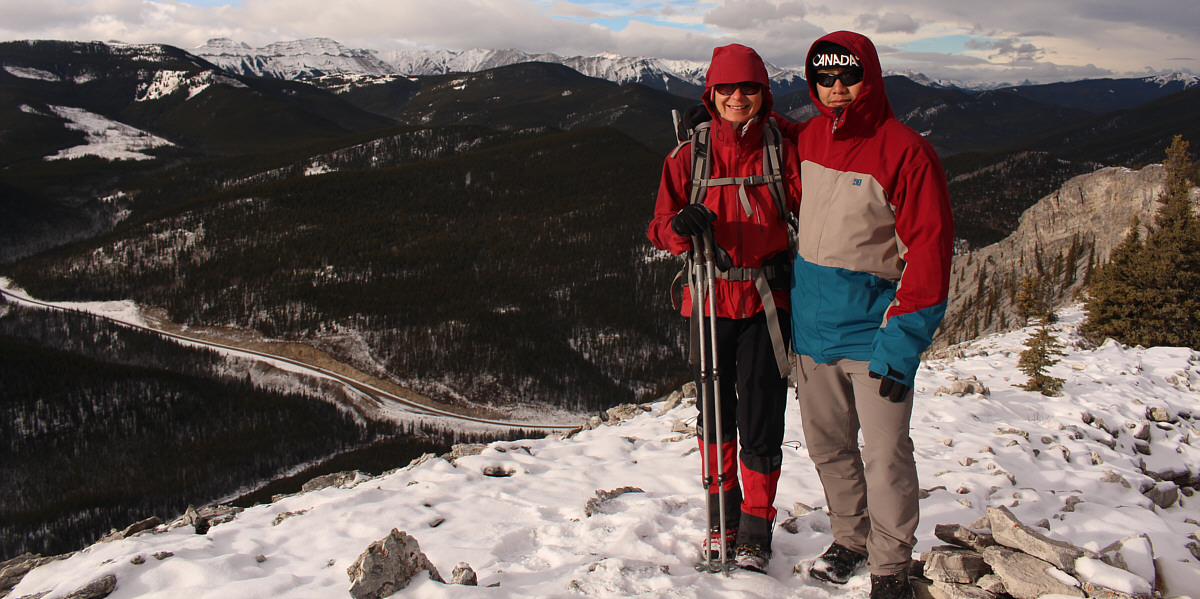 Zosia and Sonny pose for a nicer "summit shot" further down the ridge.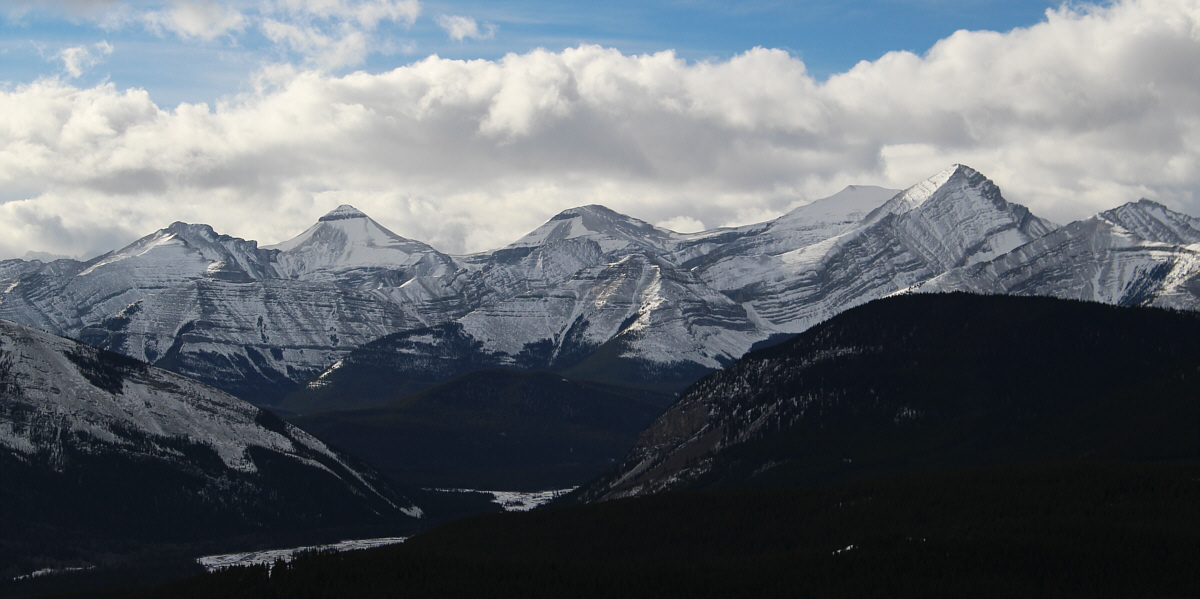 To the southwest are Banded Peak, Outlaw Peak, Mount Cornwall and Mount Glasgow.
| | |
| --- | --- |
| | Zosia carefully makes her way down the summit ridge. At right is Prairie Mountain. |
| | Algae can be seen at the margins of this quiet side channel near Elbow River. |
| | Zosia re-crosses Elbow River. |