BOU AVENUE
Lake Of The Horns
---
On 14 July 2016, the last day of our visit to the headwaters of McPhail Creek in Alberta's Kananaskis Country, Zosia Zgolak and I hiked up the steep trail to Lake Of The Horns as described in Gillean Daffern's Kananaskis Country Trail Guide. The only hiccup of the trip occurred just below the headwall when we inadvertently turned onto a spur trail heading north. Once we realized our mistake, we backtracked to the spot where we went wrong and continued climbing up the headwall without further problems.

Zosia and I took a lengthy break on the shores of the lake before returning to our camp and packing up for the long hike out. The Highwood River seemed slightly higher on this day, and we opted to cross at a wider but shallower spot further downstream. Otherwise, our hike out was generally uneventful.

Despite the unsettled weather, Zosia and I amazingly met all of her planned hiking objectives for this 3-day trip. I continue to be impressed with Zosia's zeal for outdoor recreation, and I am curious about what is in store for our next adventure together.

| | |
| --- | --- |
| | Mount Muir is reflected in a beaver pond near the campsite. |
| | Lake Of The Horns is guarded by a steep headwall. |
| | Zosia approaches the headwall below Mount McPhail's north face. |
| | Zosia scrambles up a steep rock band. |
| | Zosia climbs up the "finale of white slabs" as described by Daffern. |
| | Zosia stands beside the outlet stream for Lake Of The Horns. Behind her is Hill Of The Flowers. |
| | The north face of Mount McPhail towers above Lake Of The Horns. |
| | Sonny and Zosia stand together on the shores of Lake Of The Horns. |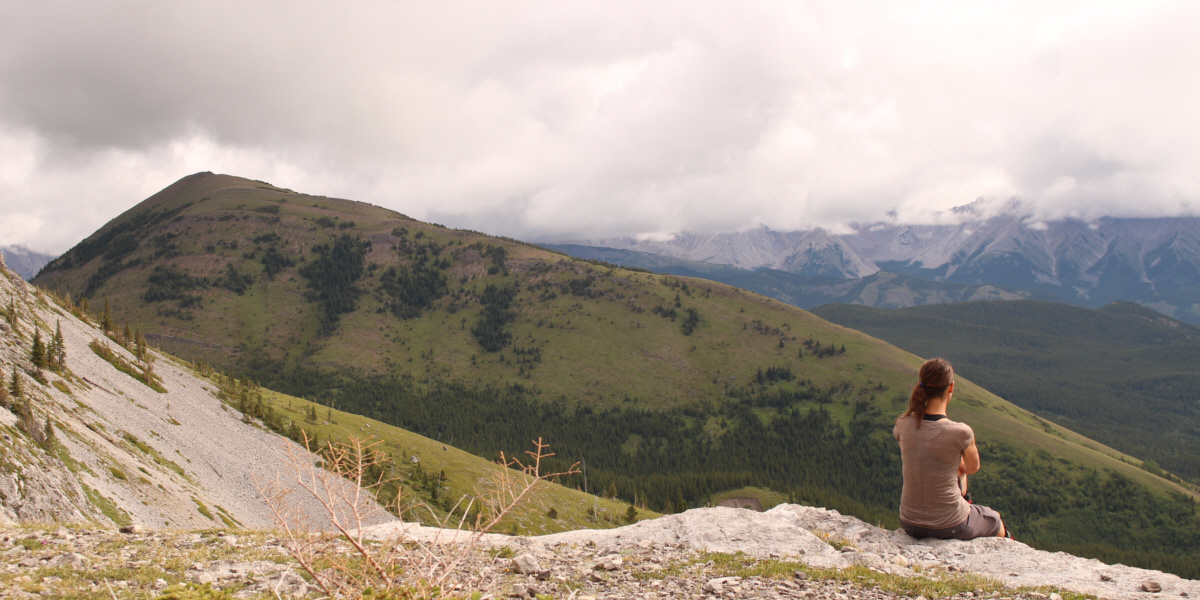 Zosia enjoys the view of Hill Of The Flowers from the top of the headwall.
It is always a little sad to strike camp and head for home.
A bee is seemingly asleep on a false dandelion.
Rainy weather seems to bring out a lot of boreal toads.
Sonny enjoys all the wildflowers as he hikes out along the trail.

Photo courtesy of Zosia Zgolak

Here is a last look at Mount McPhail (left).
Because of higher water levels, Zosia re-crosses the Highwood River at a point further downstream.
Sonny follows Zosia's route across the Highwood River.

Photo courtesy of Zosia Zgolak

Total Distance: 16.7 kilometres
Round-Trip Time LAKE OF THE HORNS from CAMP: 2 hours 31 minutes
Total Time CAMP to CAR: 3 hours 15 minutes
Net Elevation Gain: 389 metres