BOU AVENUE
Morro Peak
---
Kicking off a 4-day visit to Alberta's Jasper National Park, Kathleen Gallagher, Zosia Zgolak and I hiked up Morro Peak on 7 April 2016. After a long but scenic drive from Calgary, we stopped briefly at the Parks Canada info centre in Jasper to check conditions before heading to the northern terminus of the Overlander Trail (from the north entrance into Jasper, drive about 18 kilometres eastbound on Highway 16). Two separate trailheads here in close proximity are a potential source of confusion, but taking no chances, we chose to start from the official trailhead which is marked by an obvious sign board. We hiked along the Overlander Trail briefly before turning up the signed Morro Peak trail. This trail climbs moderately up the west ridge of the peak before finishing up on the south side of the summit. We had absolutely no route-finding issues throughout and even scrambled off-trail for a bit near the top just to make things interesting. After a lengthy stay at the summit, we retraced our steps all the way back to the Overlander Trail without any problems. With some extra time to kill, we hiked south for about 650 metres along the Overlander Trail to a scenic viewpoint before turning around. We also hiked to the unofficial trailhead for extra variety and were pleasantly surprised to see a herd of bighorn sheep milling about beside the highway. A short walk along the highway had us back at the official trailhead, and we subsequently returned to Jasper to check into our accommodations at the Bon Homme View. Our evening was highlighted by a fantastic Mexican dinner complete with live music at Cafe Mondo which capped off a most auspicious start for our 4-day visit.

| | |
| --- | --- |
| | Zosia and Kathleen check out the sign board at the trailhead. |
| | A clearing along the Overlander Trail grants this view of Morro Peak. The easiest route ascends the right skyline ridge. |
| | Roche de Smet sits to the north across Athabasca River valley. |
| | Zosia and Kathleen spot the sign for the turnoff to Morro Peak. |
| | Pyramid Mountain peeks over the top of the Palisades to the southwest. |
| | Kathleen stops to put some moleskin on her heels with Zosia assisting. |
| | The upper cliffs come into view as Kathleen and Zosia continue to climb. |
| | Gargoyle Mountain is visible to the north across some smooth slabs on Morro Peak. |
| | Zosia shows off her scrambling skills. |
| | Kathleen follows Zosia up the slabs. |
| | Kathleen, Zosia and Sonny stand on the 1676-metre summit of Morro Peak. Behind them is Hawk Mountain. |
| | This broken urn sits in another cairn away from the summit. |
| | Here is an unobstructed view of Hawk Mountain. |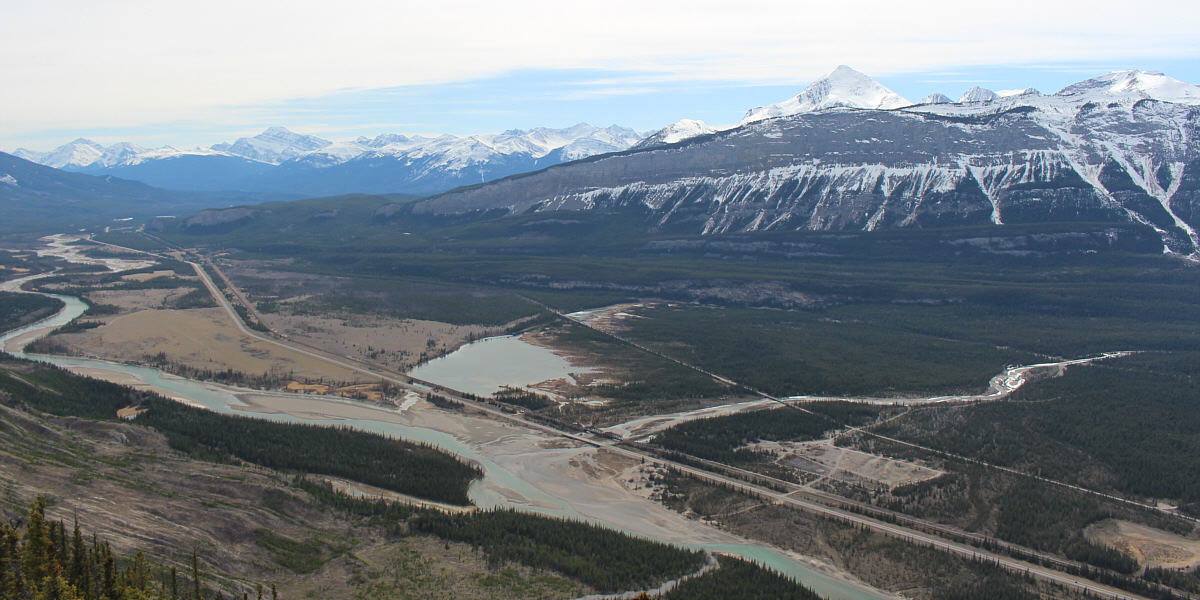 The view to the south includes Mount Edith Cavell (left), Pyramid Mountain (right) and the confluence of Snaring River and Athabasca River.
Here is a closer look at the north face of Pyramid Mountain.
Kathleen tries to hold Zosia back from jumping over a cliff.
Here is a more comprehensive view of Morro Peak's southwest face from the Overlander Trail.
A bighorn sheep looks down on its mates from the cliff face.
Kathleen and Zosia knock sombreros at Cafe Mondo.
Total Distance: 8.5 kilometres
Round-Trip Time: 5 hours 20 minutes
Total Elevation Gain: 698 metres