BOU AVENUE
Pollock Mountain And Piegan Mountain
---
I originally made other scrambling plans for 13 August 2016, but when I found out that Zora Knezevic, Dinah Kruze and Bob Spirko were heading to Montana's Glacier National Park, I could not resist inviting myself to join them! Their plan was to climb Piegan Mountain using the route described in A Climber's Guide to Glacier National Park by J. Gordon Edwards. Ascending Pollock Mountain on the same trip was also a possibility since the two peaks share the same approach.

Given the sunny weekend weather, the park was, not surprisingly, very busy on this day, and we barely found a spot to park at Lunch Creek trailhead. It did not take long to leave the crowds behind as we hiked up the east bank of Lunch Creek. A good trail led us up past a headwall which guards a vast upper basin. The upper basin is nearly surrounded by seemingly impassable cliffs, but Dinah and I both noticed that it looked feasible to circumvent them far to climber's right. Banking that information, we continued to the back of the basin where we were able to access an obvious gully running all the way up to the saddle between Pollock Mountain and Piegan Mountain. We climbed partway up the gully before ascending a beaten path to climber's right of the gully. We took a lunch break at the saddle before going up the southeast ridge of Mount Pollock to check out the Southeast Couloir Route described by Edwards. The cliffs here look quite daunting, and Zora and Dinah decided to hang back while Bob and I went to take a closer look at the couloir. Although it was snow-free, the couloir was steep enough to dissuade Bob from continuing up. Bob and Dinah were both recovering from a recent bout of bronchitis, and he did not feel he had enough energy to confidently tackle the Class 3 couloir. While Bob rejoined Zora and Dinah to continue on to Piegan Mountain, I climbed up the couloir and had no problems reaching the summit of Pollock Mountain. After completing my usual summit chores, I descended the couloir and crossed the saddle to tackle the northwest ridge of Piegan Mountain.

Be sure to check out Bob's trip report.

| | |
| --- | --- |
| | Zora gears up beside Sonny's car at the trailhead for Lunch Creek. The summit block of Pollock Mountain is visible at upper right. |
| | A headwall guards the upper basin of Lunch Creek. |
| | The group approaches the upper falls of Lunch Creek. |
| | Zora heads to the back of the upper basin. |
| | Some bighorn sheep graze nervously in the upper basin. |
| | This is looking back down the upper basin. Notable peaks in the distance include Heavy Runner Mountain, Mount Jackson, and Reynolds Mountain. |
| | Bob enters a wide gully which leads to the saddle between Pollock Mountain and Piegan Mountain. |
| | Bob encounters wet rocks and steeper terrain to the left of the snow patch and gully. |
| | Mount Siyeh looks impressive from the saddle between Pollock Mountain and Piegan Mountain. |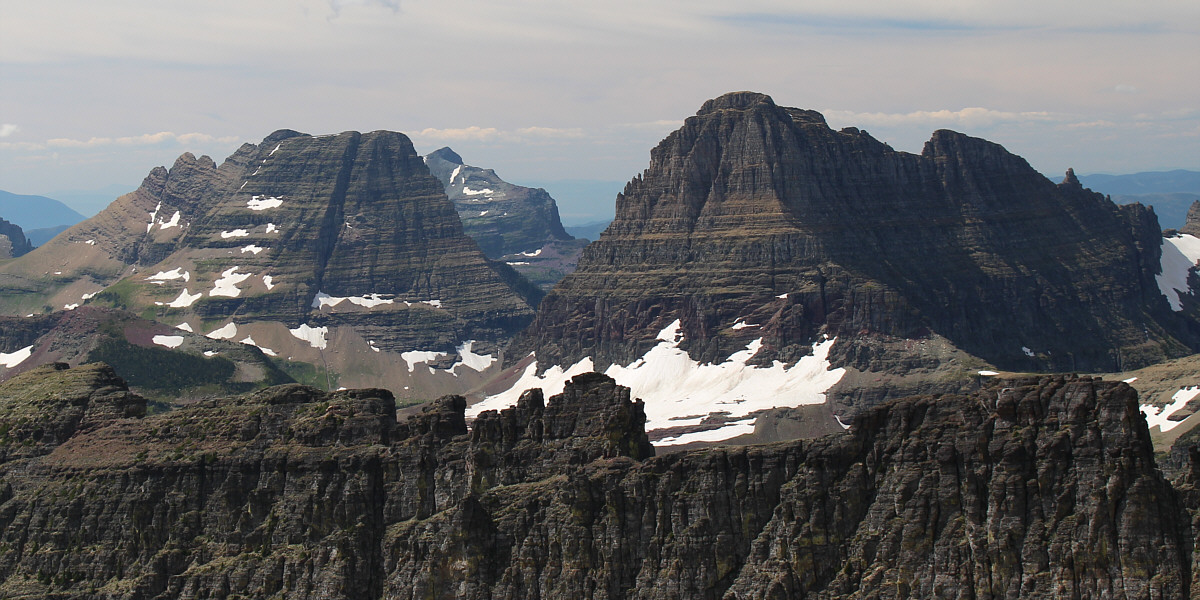 Bearhat Mountain and Clements Mountain are visible beyond the rugged southwest ridge of Pollock Mountain.
| | |
| --- | --- |
| | Dinah approaches the southeast ridge of Pollock Mountain. |
| | This is looking up the Class 3 southeast couloir. |
| | Sonny gives a thumbs up on the summit of Pollock Mountain (2802 metres). |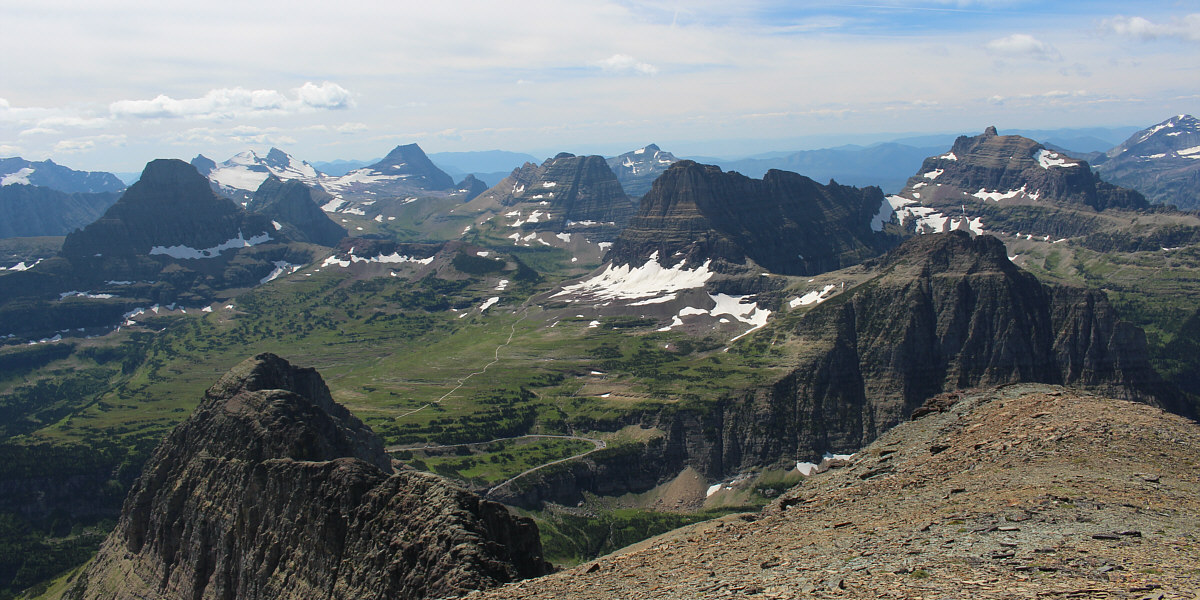 The meadows of Logan Pass are surrounded by peaks such as Reynolds Mountain (far left), Clements Mountain (right of centre) and Mount Oberlin (right foreground).
| | |
| --- | --- |
| | Bishops Cap and Mount Gould are to the north. Also visible on the horizon just left of Mount Gould is Mount Cleveland. |
| | Apikuni Mountain is at left behind Lake Josephine and Swiftcurrent Lake to the northeast. |
| | A trail can be seen running over Piegan Pass below. At right is Mount Siyeh, and at left is Allen Mountain. |
| | Piegan Mountain partially blocks Going-to-the-Sun Mountain to the southeast. At left is Matahpi Peak. |
| | This is looking down the southeast couloir from the top. Note the cairns at the bottom of the photograph. |
Although the northwest ridge of Piegan Mountain also looks daunting from a distance, most of it is easy to moderate scrambling although I briefly took a detour to climber's left to have some fun on some Class 4 terrain. I arrived at the summit of Piegan Mountain to find Zora, Dinah and Bob waiting patiently for me there. They had ascended a Class 2 rubble slope to climber's right of the northwest ridge, and this would be the same slope we would use for our descent. Remembering the cliffs that we saw from below, we angled far to skier's left as we descended to the upper basin. As it turned out, we did not go quite far enough and still had to down-climb some easy cliff bands, but these did not present any serious problems for us. Once we were back in the upper basin, we picked up our approach trail and descended the headwall before hiking back to the trailhead. Ironically, the maze of trails in the short stretch of low trees near the trailhead proved to be more of a route-finding challenge than anything else we encountered higher up, but with some trial and error, we finally made it back to the road.

On our drive home, my 2015 Honda CR-V's battery light came on, and the air conditioner stopped working. With a lot of luck, I managed to drive my car all the way back to Dinah's and Bob's house before the electrical systems failed completely leaving me stranded in their driveway. Zora was kind enough to give me a lift home from there, and the next day, Bob was very helpful in shuttling me back and forth from my place so that I could arrange for my car to be towed for repairs. My disappointing car troubles aside, the ascent of Pollock Mountain and Piegan Mountain made for yet another enjoyable day in Glacier National Park, and I am eager to return once my car is repaired.

| | |
| --- | --- |
| | Piegan Mountain can be climbed by tackling the northwest ridge head on or slogging up rubble further to the right. |
| | This is looking back at Pollock Mountain from the northwest ridge of Piegan Mountain. |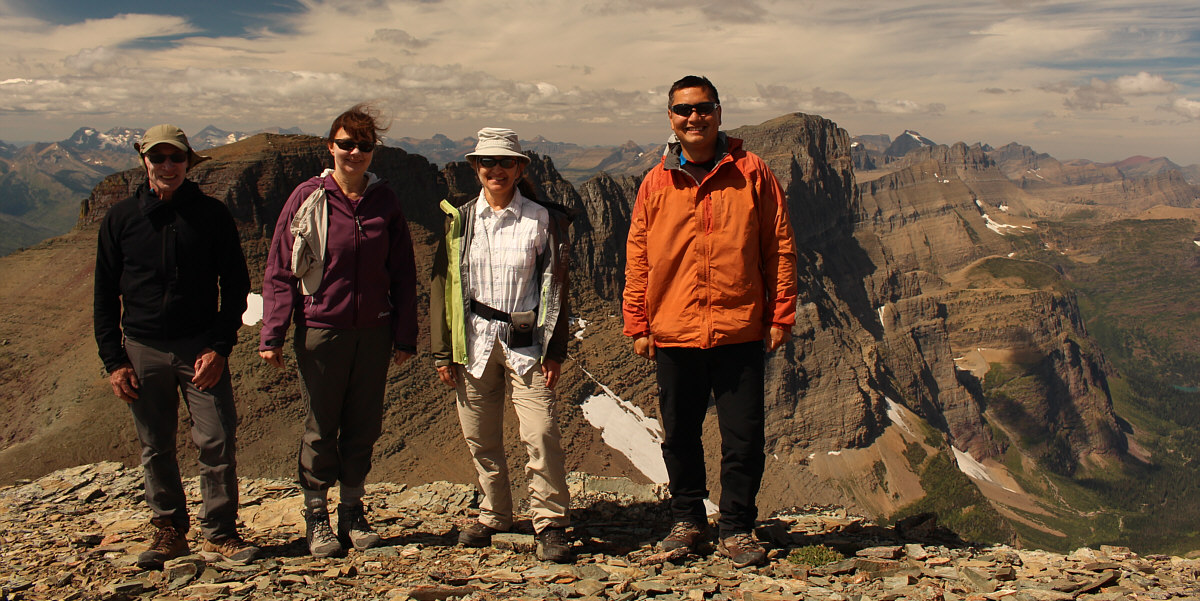 Bob, Dinah, Zora and Sonny stand on the summit of Piegan Mountain (2800 metres*).
* Taken from my eTrex 30x. Piegan Mountain is officially listed on most maps and publications as 2810 metres.
Pollock Mountain, Bishops Cap and Mount Gould stretch out to the northwest.
Mount Siyeh is hard to ignore to the east. Its namesake pass is also visible to the right.
Piegan Glacier is tucked away on the east side of its namesake peak. Across the valley are Matahpi Peak and Going-to-the-Sun Mountain.
Dinah and Zora descend rubble on the southwest face of Piegan Mountain.
Zora and Dinah scramble down some easy cliff bands.
The upper falls of Lunch Creek is worth another look.
Total Distance: 7.9 kilometres
Total Time: 6 hours 3 minutes
Total Elevation Gain: 1050+ metres