BOU AVENUE
Ridge 147230 (Burstall Pass Peak)
---
Located south of Burstall Pass in Alberta's Peter Lougheed Provincial Park, Ridge 147230, so named by Gillean Daffern in her Kananaskis Country Trail Guide, is probably better known as Burstall Pass Peak. Frankly, I find both names a bit unwieldy and would prefer something more lilting like Mount Hoth or Starkiller Ridge! In any case, I was invited by Rafal (Raff) Kazmierczak to join him, Nadia Maarouf and Matt Hobbs for an ascent of this ridge on 9 January 2016. While Raff and Nadia brought their AT skis for this trip, Matt had no luck renting AT gear and settled on using Nordic skis with plans to switch to snowshoes somewhere along the way. I was eager to get more practice on my own AT skis, but after some consideration, I decided to imitate Matt and bring my skinny skis and snowshoes as well. Matt and I would miss out on some great powder skiing in the vicinity of South Burstall Pass, but I figured that that would be a small price to pay to avoid the drudgery of slogging along the lengthy flat stretches of the approach trail with cumbersome AT gear.

Matt and I met Raff and Nadia at the trailhead just before sunrise, and the frosty temperatures made me question why I even got out of bed that morning. Once we got going though, we warmed up nicely and made good progress to the open flats below the headwall that leads to the upper valley. While Raff and Nadia continued to skin up the headwall, the narrow trail proved to be too difficult for Matt and me to herringbone, and we resorted to carrying or dragging our skis and walking up the trail. We certainly did not get any points for style, but Matt and I got up the headwall nonetheless! After catching up to Raff and Nadia in the upper valley, Matt and I resumed skiing, and the four of us made our way southward along an open flat stretch before entering trees and climbing again near the head of the valley. Not seeing any advantage in struggling further uphill with our skinny skis, Matt and I ditched them and donned our snowshoes for the remainder of the ascent.

We eventually cleared the last trees and entered a veritable winter wonderland of open rolling snow slopes. Being the strongest climbers in our group, Matt and Raff did a masterful job of breaking trail and picking out a gentle line of ascent to South Burstall Pass. Just before the pass, we turned westward and began climbing more steeply up to a false summit below Ridge 147230. The avalanche danger was rated low on this day, but the steep slope below the false summit still gave us pause to consider its potential hazards. From the false summit, it is a short drop followed by a quick climb to reach the summit of Ridge 147230.

Mist continually danced over us throughout our summit stay, but we were afforded some amazing views nonetheless. Matt had been the first to reach the summit, and by the time the rest of us joined him for a group photograph, he was starting to feel cold. He promptly began his descent, and I followed suit shortly after. Matt and I effectively parted company here with Raff and Nadia, and we eventually retraced our steps back to our ditched skis. Skiing back to the top of the headwall, we again picked up our skis to walk down the steep trail. We resumed skiing upon reaching the flats at the bottom and continued out to the trailhead. The last several kilometres of our ski out were rather frustrating since it was hard to sustain any momentum on the flat trail. In fact, it felt like we were skiing uphill most of the way back! Matt and I would later learn that Raff and Nadia had made it back to the trailhead about an hour after us. I can only imagine what curses they may have uttered while coming out the same wretched trail.

Be sure to check out Matt's trip report.
| | |
| --- | --- |
| | As the group sets out from the trailhead, the first rays of the morning sunshine strike the top of Mount Birdwood. |
| | The open flats of Burstall Creek offer this view of Commonwealth Peak (right) and Pig's Tail (left). |
| | Nadia and Raff ski across the flats. Snow Peak is visible at right. |
| | Clouds sweep over the shoulder of Snow Peak as Nadia enters the upper valley. |
| | The south ridge of Mount Birdwood is commonly known as Lizzie's Ridge. |
| | The terrain starts to open up in front of Matt. Raff can be seen further ahead. Ridge 147230 is also visible at upper right. |
| | Nadia follows Matt up an open slope. |
| | Visible behind Nadia are (L to R) Mount Smuts, Mount Birdwood, Pig's Tail, and Commonwealth Peak. |
| | The group works its way up a wide draw. |
| | The mist finally clears up enough to reveal Mount Sir Douglas. |
| | Raff leads the way up a gentle slope near South Burstall Pass. |
| | Nadia continues to skin uphill with a majestic backdrop behind her. |
| | Matt and Raff begin climbing in earnest up Ridge 147230. |
| | The slope begins to get steep as Raff and Matt continue to climb higher. |
| | Whistling Rock Ridge is visible to the east across South Burstall Pass. |
| | After dropping briefly from a false summit, Matt is nearly at the top of the main ridge. |
| | Mist persists on the summit of Ridge 147230. |
| | Raff comes up to join Matt at the summit. |
| | The mist begins to dissipate to reveal the Spray River Valley below and Mount Assiniboine on the horizon at right. |
| | Matt and Raff stare in awe at the surrounding scenery atop Ridge 147230. |
| | Nadia takes the last few steps before the summit as Mount Sir Douglas re-emerges from the mist. |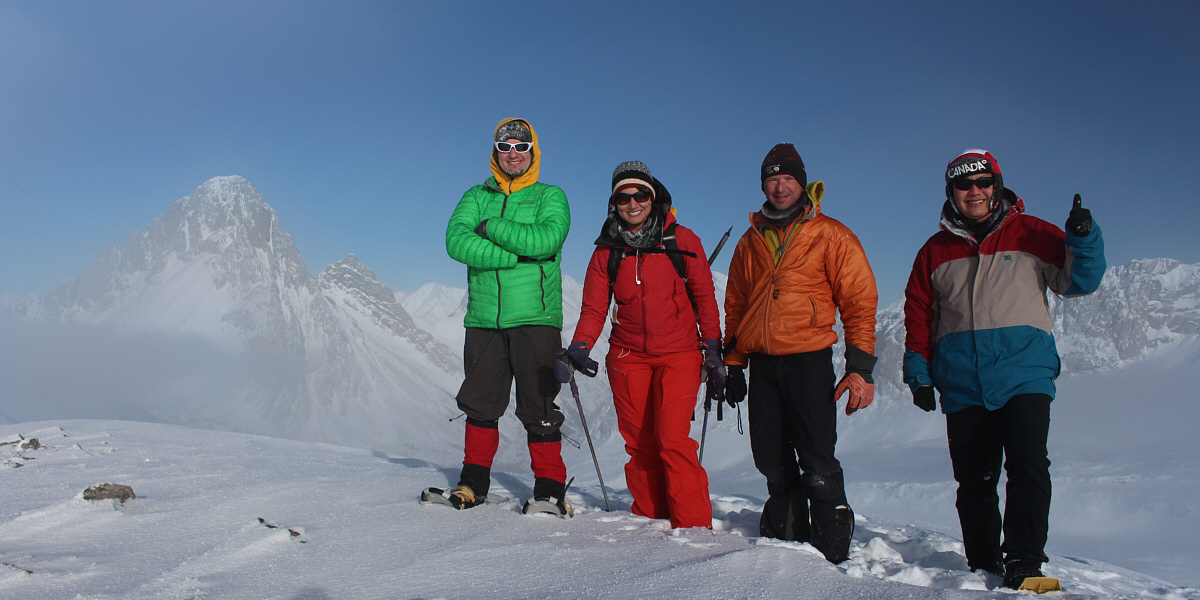 Standing on the summit of Ridge 147230 (2589 metres) are Matt, Nadia, Raff and Sonny.
| | |
| --- | --- |
| | South Burstall Pass is an area of sublime beauty on this day. |
| | Raff and Nadia are barely perceptible on the ridge at left. |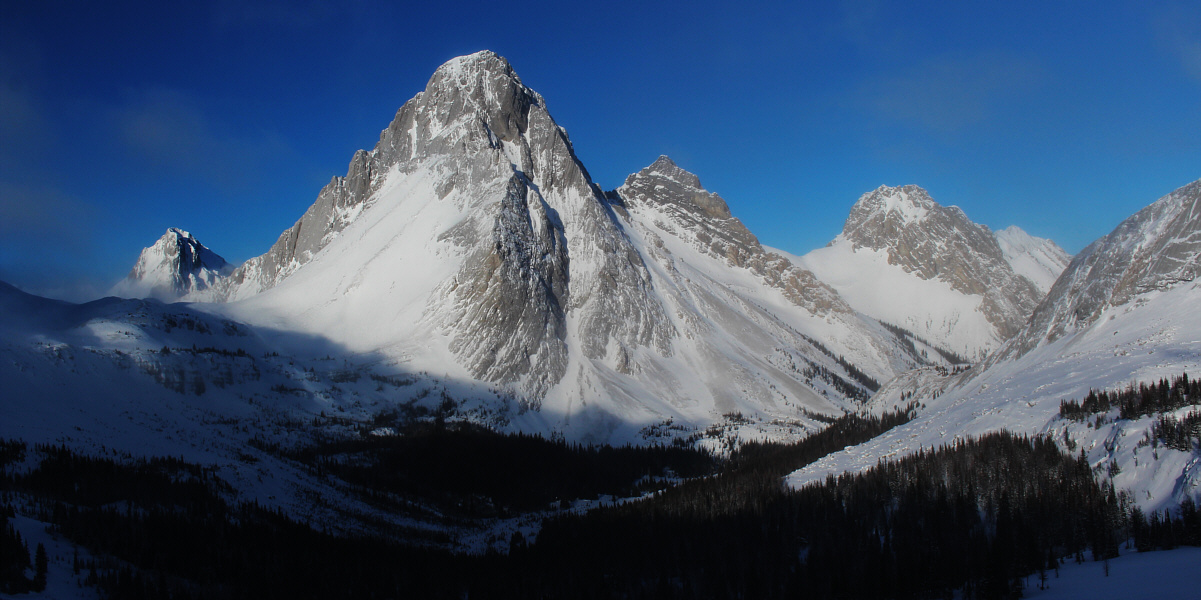 L to R, Mount Smuts, Mount Birdwood, Pig's Tail and Commonwealth Peak all deserve another look.
Matt is happy to pack up his snowshoes and transition back to skiing.
Matt looks pretty serious when he is skiing.
Commonwealth Peak looks resplendent late in the day.
Mount Robertson is partially illuminated by the late day sun.
Total Distance: 18.9 kilometres
Round-Trip Time: 7 hours 52 minutes
Net Elevation Gain: 694 metres