BOU AVENUE
Carry Ridge
---
Since I had to be back in town for a commitment in the evening on 6 May 2017, Marta Wojnarowska, Zosia Zgolak and I planned for a short hike in the foothills of Kananaskis Country just west of Turner Valley, Alberta. Surprisingly at the last second, we were joined by Marta's husband, Chester Fitchett. Chester virtually stopped going to the mountains a few years ago because of back problems, but I was encouraged to see him come out with us on this day. Inspired by a trip report from Bob Spirko that Zosia had selected but which I had neglected to read beforehand, we hiked up what turned out to be Carry Ridge even though I was not aware of the name at the time. This hike, as I would later find out, is also described in the latest edition of Gillean Daffern's Kananaskis Trail Guide.

Starting from the K-Country sign beside the highway, we headed north on the trail along the boundary fence, and after dropping down to cross a boggy area, we followed a wet and muddy horse trail up the west fork of Heel Creek. We eventually worked our way up onto the crest of Carry Ridge and hiked as far as a grassy viewpoint about 1.3 kilometres north of the ridge's high point. After taking a break for lunch, we retraced our steps over the high point and then carried on to the south end of Carry Ridge where we inadvertently entered a horse paddock belonging to nearby Anchor D Ranch. A horse wrangler in the area politely informed us that we were on private land, but she mainly wanted to warn us about the unpredictability of the many horses within the paddock. After apologizing for our intrusion, we quietly made our way back to the highway along a muddy road before returning to my car at the K-Country sign.

Marta and Zosia head to the start of the trail behind the K-Country sign.
Marta and Chester drop down a steep path beside the K-Country boundary. Carry Ridge is visible on the horizon.
Chester, Marta and Zosia cross a boggy section to pick up a trail heading to the right over the ridge ahead (south end of Muley Ridge).

Marta climbs onto the crest of Carry Ridge.

Marta, Chester and Zosia hike over the high point (1540 metres) of Carry Ridge.
Zosia pauses to admire the views on the northern half of Carry Ridge. Left of centre on the horizon is Square (Mesa) Butte.
Marta, Chester and Sonny stop for lunch.

Photo courtesy of Zosia Zgolak

Zosia retraces her steps along the crest of Carry Ridge.
The group continues along the southern half of Carry Ridge.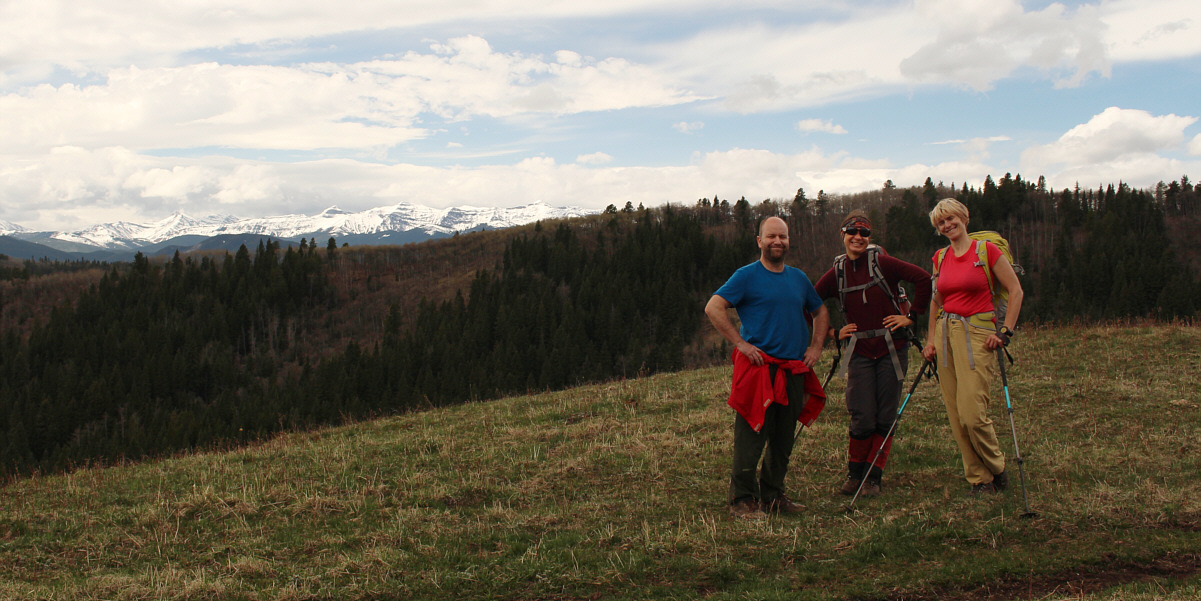 Some snowy mountains to the west come into view as Chester, Zosia and Marta pause for a photo on Carry Ridge.
Numerous horses congregate near the south end of Carry Ridge which is within the horse paddock belonging to Anchor D Ranch.
Total Distance: 9.7 kilometres
Round-Trip Time: 4 hours 5 minutes
Net Elevation Gain: 150 metres