BOU AVENUE
City Of Rocks National Reserve
---
On 19 October 2017, Zosia Zgolak and I visited City of Rocks National Reserve located near the Utah border in southern Idaho. The reserve is renowned for the many impressive rock formations and spires that are concentrated in a relatively small area, and as such, City of Rocks is an appealing destination for rock climbers. While Zosia and I had no intentions of doing any technical climbing, we made use of the many climbers' approach trails to explore the area.

We started the day by driving into City of Rocks from the west and stopping to eat breakfast at a campsite beside Bath Rock. We subsequently made an attempt to scramble up the back side of Bath Rock but backed off when the route became uncomfortably steep. Had we a little more enthusiasm and bravery, I think we could have made it up, but I did not feel that the reward of bagging a rocky knob justified the risk of a potentially nasty scrape or worse. Instead, we drove a little further along the road and then walked a short distance to visit Window Arch, one of the reserve's most accessible attractions.

After having our fill of thrills on Window Arch, we drove to yet another trailhead and commenced a much longer hike into the heart of the reserve. We visited several rock formations with colourful names such as Flaming Rock, Lost Arrow, Stripe Rock and Box Top Rock. We got as far as North Fork Circle Creek where we took a short lunch break before turning around and completing a loop back to our starting point. Satisfied with our visit, we exited City of Rocks to the east.

| | |
| --- | --- |
| | Zosia watches the sunrise over Smoky Mountain from a bluff near Bath Rock. |
| | The morning sun nicely illuminates Bath Rock. |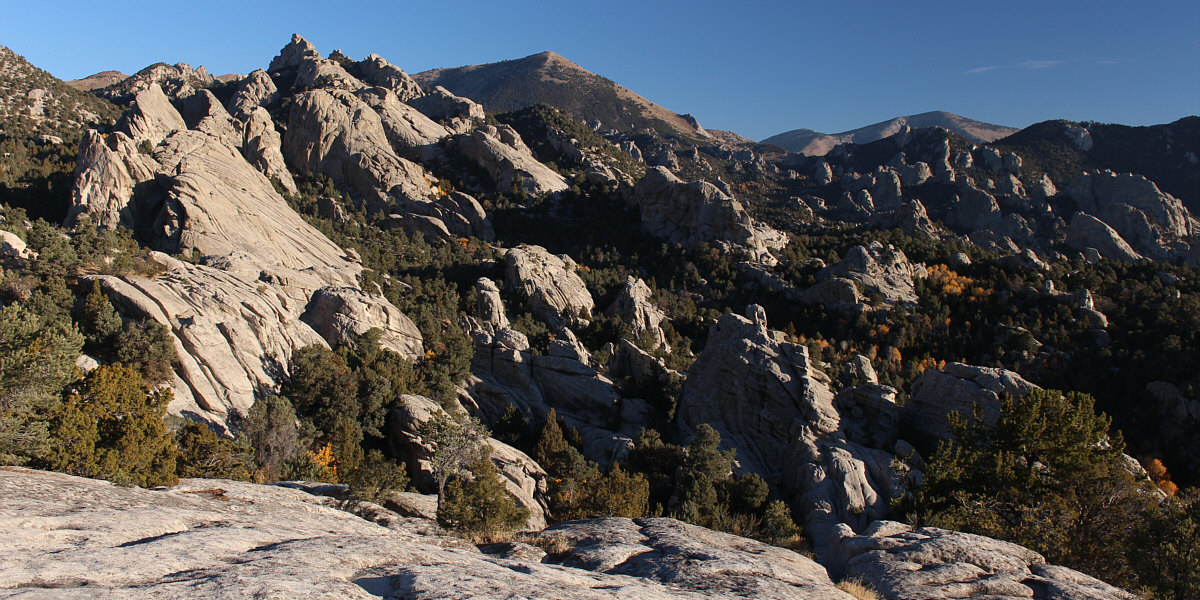 Here is a comprehensive view of City of Rocks with Graham Peak (centre) and Cache Peak (right) in the background.
Window Arch is a short walk from the road.
Zosia balances atop Window Arch.
Zosia finds a cozy place to relax along Flaming Rock Trail.
There is a steep drop on the other side of this hole in Flaming Rock.

Photo courtesy of Zosia Zgolak

Fall colours abound in City of Rocks on this day.
Sonny approaches Lost Arrow.

Photo courtesy of Zosia Zgolak

This is looking up the south side of Lost Arrow.
Zosia approaches Stripe Rock (right of centre).
The trail along North Fork Circle Creek passes these pinnacles and eventually loops back to the road.
Zosia does her best impression of Box Top Rock.
Some rock climbers are in action on Flaming Rock. This is a sport climbing route known as Raindance and is rated as 5.7.
Total Distance: 8.6 kilometres
Round-Trip Time: 3 hour 50 minutes
Total Elevation Gain: 342 metres