BOU AVENUE
Diamond T Loop And Lyon Mountain (Wintergreen)
---
Hoping to just get some fresh air despite a lousy weather forecast, Aga Sokolowska, Marta Wojnarowska, Zosia Zgolak and I headed to Station Flats in the Elbow Valley region of Alberta's Kananaskis Country on 23 April 2017 to hike Diamond T Loop. The hike is described in Gillean Daffern's Kananaskis Country Trail Guide, and we decided to do it in a counter-clockwise fashion. Despite wet and muddy trail conditions and a general lack of views throughout the loop, the snow-clad trees and pleasant company still made for a very enjoyable hike.

| | |
| --- | --- |
| | Despite the lack of views throughout the Diamond T Loop, the snow-clad trees are quite scenic in themselves. |
| | Zosia is looking pretty formidable with that snowball in her hand. |
| | Aga and Marta reach the top of a tree-covered knoll (GR609406; 1528 metres) encircled by Diamond T Loop. |
When we returned to our cars, the weather seemed to improve, and at the last minute, we decided to go for a second hike at the now-defunct Wintergreen ski resort near Bragg Creek. Zosia and I had previously considered bringing our AT gear to ski here, but for one reason or another, that plan never came to fruition. If we could not ski the old resort, we were at least determined to hike it. It is worth noting that there are plans in place to redevelop the land for mostly residential purposes. Parking just outside the gate to the Wintergreen Golf & Country Club, we walked up the open hillside west of the golf course and generally gravitated toward any remnants of the ski resort that we could find. While most of the resort's chairlifts are now long gone, the Wildcat Quad Chair near the north side of the resort was still there, and we spent some time checking out the ruins of the upper chairlift station. From there, we hiked up to the high point of the ski resort which at one time was known as "Lyon Mountain" in reference to its founder, Robert Lyon. After enjoying the surprisingly pleasant views, we descended the ski hill and returned to our cars without incident.
| | |
| --- | --- |
| | The sign at the bottom of the now-defunct Wintergreen ski resort is apparently hard to read. |
| | Zosia, Aga and Marta ascend the easy ski run known as "Mule Deer". Although the ski resort has been closed since 2003, natural reclamation of most of the ski runs has been slow. |
| | The Wildcat Quad Chair is still largely intact. |
| | The inside of the lift station is a bit of a mess with lots of broken glass and various debris strewn about. |
| | Marta, Zosia and Aga ride the Wildcat Quad Chair. |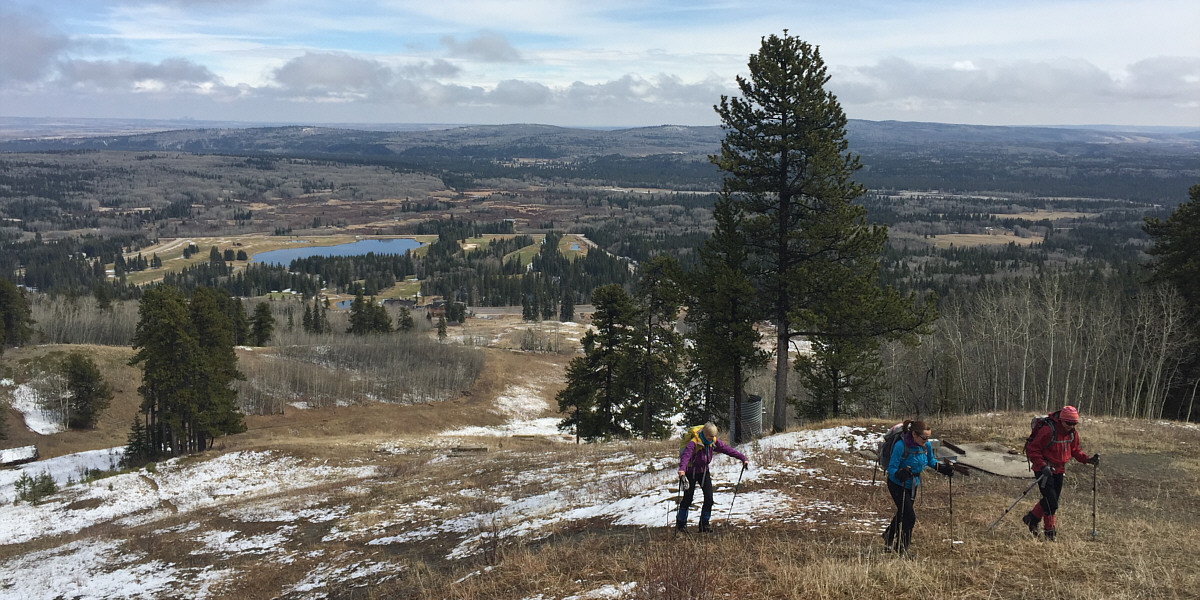 Marta, Aga and Zosia continue hiking uphill. Wintergreen Golf & Country Club is visible at left.
| | |
| --- | --- |
| | The Polish girls take a break at the top of "Lyon Mountain" (1493 metres). |
| | Here is a summit selfie with Sonny, Zosia, Aga and Marta. |
| | Aga and Marta descend the easy ski run known as "Whitetail". |