BOU AVENUE
Packer's Pass Peak
---
Zosia Zgolak and I headed out to Lake Louise Ski Resort in Alberta's Banff National Park on 29 April 2017 with intentions of climbing up Whitehorn Mountain. Neither of us had ever skinned up the resort's front-side runs, and a quick search of the resort's website had revealed nothing that explicitly prohibits or restricts such activity. With this in mind, we started skinning up towards the easy-rated "Wiwaxy" ski run, but only a few minutes into our climb, a ski patroller engaged us and told us that we were not allowed to travel uphill due to safety concerns. He suggested that we go visit Wolverine Valley via the usual ski-out to Temple Lodge, and rather than argue with him about the illogic of allowing uphill travel on the much narrower ski-out but not on the much wider "Wiwaxy" ski run, Zosia and I obediently turned around and made our way to the ski-out.

While the ski-out was generally a bit icy, it was in far better shape than expected and was completely skiable. When we reached the ski runs coming down from the Larch area though, we were surprised to see a rope across the ski-out with a sign saying that it was closed. Technically, the ski patroller had inadvertently directed us to a closed run within the ski area boundary! Having already visited Wolverine Valley earlier this year, Zosia and I decided to ignore the less-than-credible ski patroller's suggestion, and instead, we considered skiing to Hidden Bowl up behind Halfway Hut. However, we were so impressed with snow conditions that we pushed on over Boulder Pass and eventually ascended the gentle west slopes of Packers Pass Peak without too much trouble.

Skiing down from the top of the peak should have been a real treat with the excellent snow coverage, but a crusty layer kept grabbing my skis and made it tough to complete turns. Zosia and I fared much better on the gentle lower slopes leading back to Ptarmigan Lake, and after a short climb without skins back over Boulder Pass, we settled into a long and somewhat tedious ski back to Temple Lodge. Rather than descend the "closed" ski-out, we opted to ride the Ptarmigan chairlift and then ski down the front-side runs of the ski resort which ironically included "Wiwaxy". No one was checking for lift tickets to get on the Ptarmigan chairlift, and after the inauspicious start to our trip, I felt a measure of redemption in getting a free ride and some extra downhill skiing at the end of the day.

Ptarmigan Peak is nearly shrouded in clouds as Zosia makes her way up the trail to Boulder Pass.
Packer's Pass Peak is visible at centre through Boulder Pass.
Sonny skis past some snow-covered rocks just before Boulder Pass.

Photo courtesy of Zosia Zgolak

Fossil Mountain (centre) is the bigger neighbour of Packer's Pass Peak (left).

The snow on Ptarmigan Lake looks pristine on this day. At centre is Brachiopod Mountain while the north end of Heather Ridge is to the right.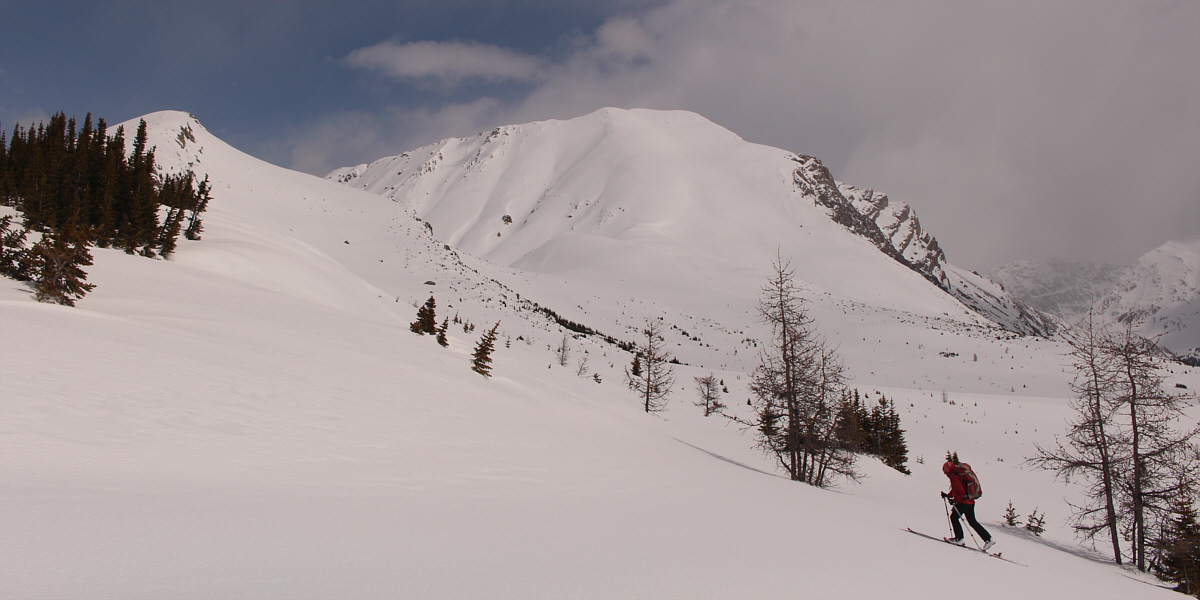 Zosia climbs up the southwest ridge of Packer's Pass Peak (left) with Fossil Mountain looming large in the background.
The ridge begins to steepen as Zosia climbs higher.
Redoubt Mountain provides a stunning backdrop behind Sonny.

Photo courtesy of Zosia Zgolak

Zosia climbs up the last slope before the summit.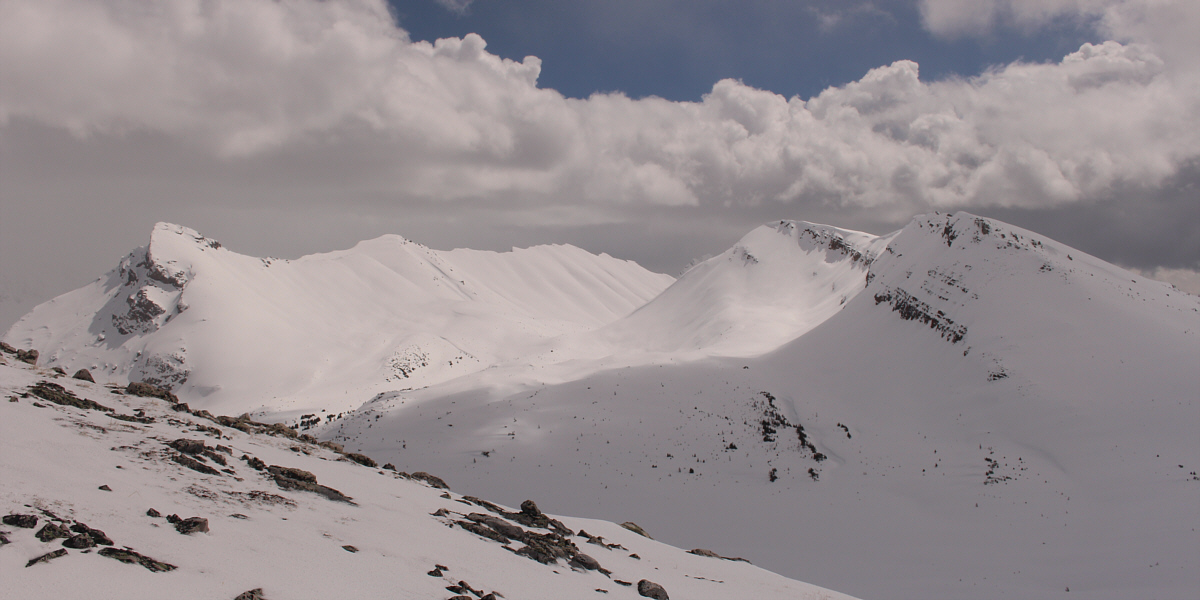 The clouds part briefly to allow the sun to shine on Brachiopod Mountain (far left), Anthozoan Mountain (centre) and Heather Ridge (right).
Sonny and Zosia huddle together on the summit of Packer's Pass Peak (2589 metres) during a brief snow squall.
A ptarmigan wanders among some rocks sticking out of the snow.

Photo courtesy of Zosia Zgolak

Here is a closer look at the southwest face of Fossil Mountain from the top of Packer's Pass Peak.
Heather Ridge is still blessed with sunshine to the south.
The top of Ptarmigan Peak is partly shrouded in clouds.
Beyond the summit cornice is the Wall of Jericho.
Zosia is dwarfed by Redoubt Mountain as she skis back to Ptarmigan Lake.
Zosia climbs back over Boulder Pass on her way back to the ski resort.
After riding the Ptarmigan chairlift, Zosia descends the front side of the ski resort.
Sonny enjoys the corn snow and sunshine on the upper mountain.

Photo courtesy of Zosia Zgolak

Zosia (bottom left of centre) descends the final slope to the base area of the ski resort. Some familiar peaks near Lake Louise are visible in the distance.
Total Distance: 23.9 kilometres
Round-Trip Time: 8 hours
Net Elevation Gain: 1009 metres