BOU AVENUE
Palliser Trail (Upper Spray Valley)
---
On 20 February 2017, Zosia Zgolak and I skied into Upper Spray Valley of Alberta's Banff National Park via Palliser trail as described in Gillean Daffern's Kananaskis Country Ski Trails (out of print). Starting from the Mount Shark trailhead, we skied the main thoroughfare (Watridge Lake trail) which cuts through the Nordic ski trail network and eventually descends steeply to Spray River. After crossing the bridge over Spray River, we turned onto a faint, snow-covered track (Palliser trail) heading southward. We were able to follow this track until it disappeared in an open meadow further upstream. Route-finding was a bit tricky here without any old tracks to follow in the snow, and we had to rely on my GPS to find the correct route into Upper Spray Valley. Beyond the confluence with Currie Creek, we climbed over an annoying little hill before cruising into the wide open flats of Upper Spray Valley. While the skiing was generally easy here, long stretches of open water (Spray River) presented some route-finding challenges. Nevertheless, we managed to avoid getting our feet and skis wet, and we eventually made it to Palliser warden cabin where we stopped for a well-deserved break.

While it would have been nice to wander further up the open valley, lack of time and energy prompted us to start our return journey. Route-finding was not an issue since we were retracing our own tracks, but the ski back to the trailhead felt more strenuous probably because of the numerous uphill sections we had to climb up including the big one between the Spray River bridge and the Nordic ski trail network (we picked up our skis here and did the "walk of shame" as Matt Hobbs lovingly calls it). By the time we glided back to the trailhead, we were both pretty tired but happy to have finished such an interesting ski tour.

Tent Ridge stands high above the Mount Shark ski trails.
Sonny glides along the main approach trail. Behind him is Mount Engadine.

Photo courtesy of Zosia Zgolak

Zosia crosses the bridge over Spray River.

Zosia breaks trail in the Spray River Valley.

Zosia crosses Spray River on a snow bridge.
Zosia approaches the junction with the trail leading to White Man Pass. Ahead is Mount Warre.
Snow Peak (left) looks very prominent from Upper Spray Valley.

Sonny happily follows Zosia's tracks in the open flats of Upper Spray Valley.

Photo courtesy of Zosia Zgolak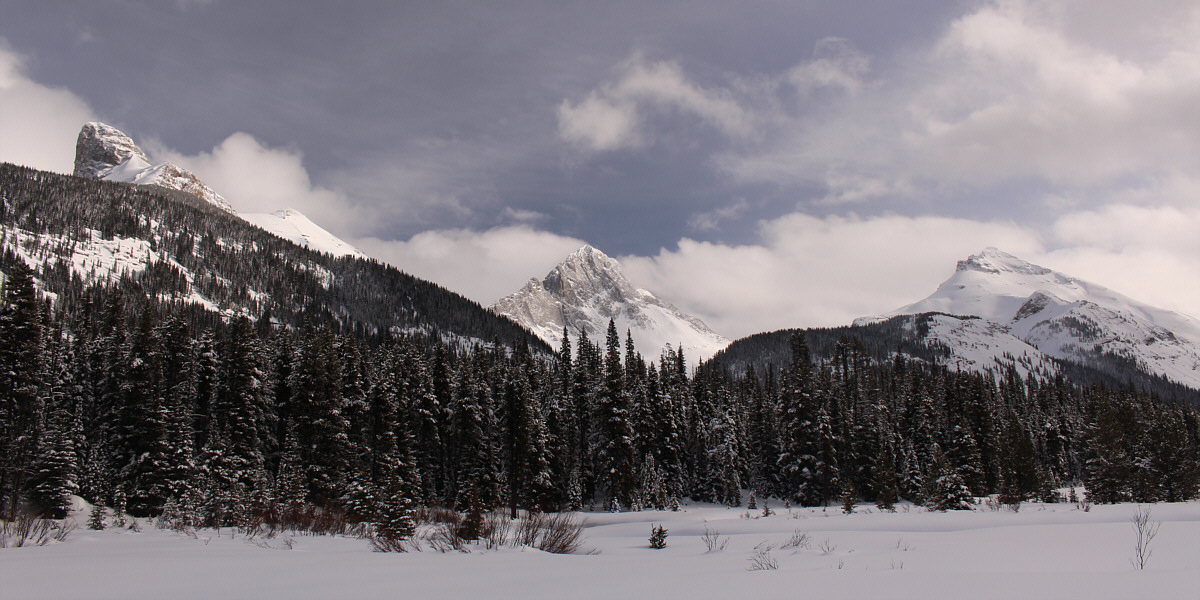 L to R are Smutwood Peak, Mount Birdwood and Snow Peak.
Here is a closer look at Mount Birdwood.
Sonny breaks trail alongside Spray River.

Photo courtesy of Zosia Zgolak

A lone ptarmigan hopes not to get noticed.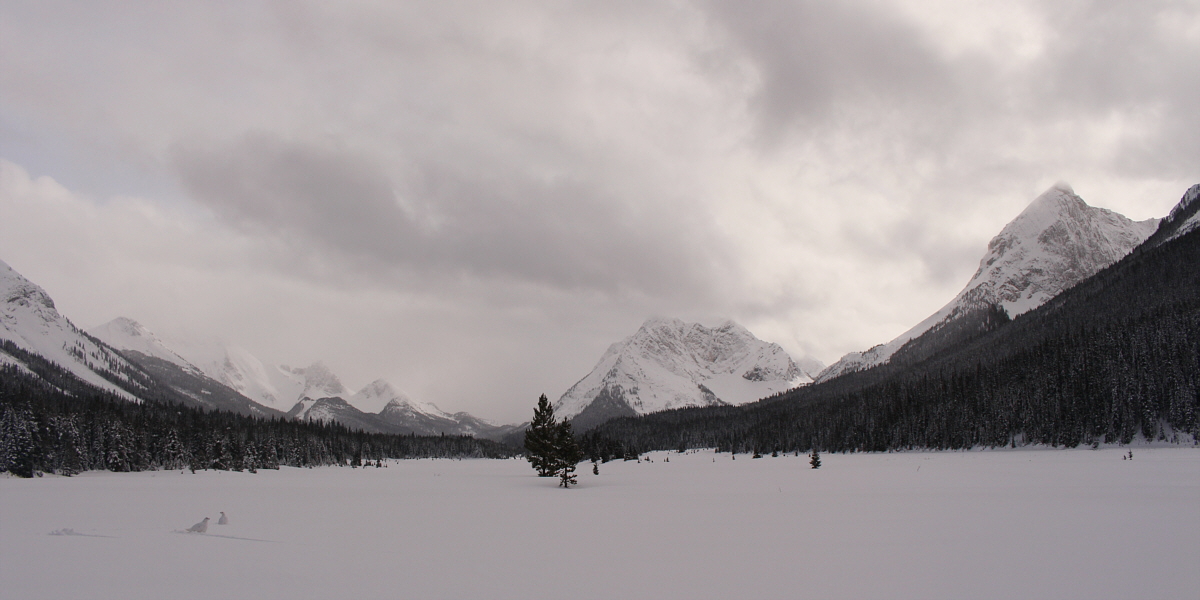 A couple other ptarmigans sit out in the open meadows near Palliser warden cabin. Right of centre is Mount Leman.
Zosia arrives at Palliser warden cabin below Smutwood Peak.
Zosia and Sonny take a break at Palliser warden cabin.
Both Zosia and the lone ptarmigan (lower right) begin their separate journeys home. In the background is Mount Warre.
Zosia retraces her tracks along Spray River.
Sonny descends the "annoying little hill" along Palliser trail.

Photo courtesy of Zosia Zgolak

Zosia tends to a blister on her left heel.
Sonny is not too proud to drag his skis up the big hill near the bridge over Spray River.

Photo courtesy of Zosia Zgolak

Total Distance: 31.3 kilometres
Round-Trip Time: 9 hours 12 minutes
Total Elevation Gain: 507 metres