BOU AVENUE
Vents Ridge (White Buddha)
---
Rafal (Raff) Kazmierczak invited me to join him for an ascent of Vents Ridge in the Elbow Valley region of Alberta's Kananaskis Country on 5 March 2017. Joining us were Joanna Ford, Alison Sekera and Zosia Zgolak. Although I first became aware of unofficially-named Vents Ridge through Vern Dewit's trip report, the hike is described in Gillean Daffern's Kananaskis Country Trail Guide (Volume 2, 4th Edition). Starting from the seasonal gate near Elbow Falls, we walked along the highway to reach the Powderface Creek trailhead. We then hiked up the trail along Powderface Creek for a little over a kilometre before ascending open slopes on the south side of Vents Ridge. Partway up, we intersected a climber's access trail which led us to the base of some cliffs known as White Buddha, a popular spot for rock climbers. Hiking along the base of these cliffs, we eventually scrambled up an obvious weakness and popped out onto the ridge crest not far from the high point. Worthy of mention was the fact that this was Alison's 200th summit--congratulations! Views were somewhat limited on this snowy day, but we still hung out at the top for about half an hour before starting our descent. We had no issues retracing our steps along the base of White Buddha and back down to Powderface Creek trail. The hike back to our cars at the seasonal gate was also quick, and we celebrated our monumental achievement by driving to Bragg Creek for food and drinks at the Powderhorn Saloon.
The group passes through the seasonal highway gate.
Sonny, Alison and Joanna arrive at Powderface Creek trailhead.

Photo courtesy of Rafal Kazmierczak

After leaving Powderface Creek trail, the group pushes directly up the slope.

The group pauses for a break on the climbers' access trail.

Zosia and Raff climb along the base of an apparently popular rock climbing area known as White Buddha.
The group scrambles up a weakness in the cliffs.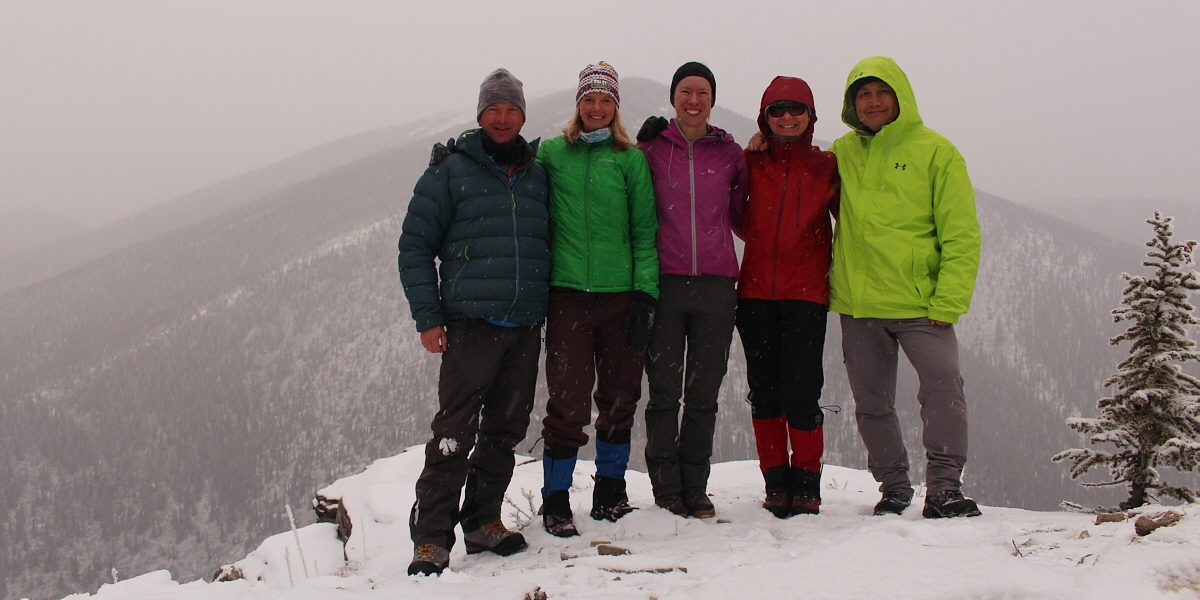 Near the high point of Vents Ridge are Raff, Joanna, Alison, Zosia and Sonny.
Joanna and Raff perform headstands in tandem with Prairie Mountain in the background.

Photo courtesy of Zosia Zgolak

Zosia and Sonny do a more traditional stance on the true high point of Vents Ridge (1815 metres).
Raff pours Jägermeister shots for everyone.

Photo courtesy of Zosia Zgolak

The group prepares to leave the high point of Vents Ridge.

Raff descends a steep and slippery chute just below the high point.

The group descends along the base of White Buddha.
Total Distance: 5.0 kilometres
Round-Trip Time: 2 hours 28 minutes
Net Elevation Gain: 306 metres