BOU AVENUE
Wildhorse Ridge
---
On 4 June 2017, Zosia Zgolak and I climbed up what Vern Dewit refers to as Wildhorse Ridge* near the Ya Ha Tinda Ranch about 65 kilometres west of Sundre, Alberta. We had spent the previous night at Bighorn campground, and after eating breakfast and visiting some bisons, we drove to the start of the hike on an open hillside near the entrance to a narrow canyon (this is about 8 kilometres southeast of Eagle Lake trailhead). Staying to climber's left of the canyon, we ascended steep slopes which were covered with remnants of a previous prescribed burn as mentioned by Dewit. Downed logs were strewn everywhere, but most were generally easy to step over or get around. Beyond a bump with a large cairn near tree line, we climbed over or circumvented a couple of pinnacles guarding the connecting ridge to the main summit block. We finished the ascent with a steep scree bash up to a false summit followed by a short easy walk to the true summit.

After taking an extended break at the top, we retraced our steps back to the connecting ridge, but just short of the pinnacles, we dropped down a huge scree slope to skier's left as recommended by Dewit. As promised, the scree surfing was excellent, and we lost a lot of elevation quickly and painlessly. Below the scree slope, we briefly descended an obvious drainage before traversing back to our original line of ascent. We picked an easier route for the traverse than Dewit, but this and the remainder of the descent still felt rather tedious compared to the glorious scree run.

* A note about the name: While Dewit climbed this ridge on 6 June 2015, Cornelius Rott placed a register at the summit on 27 January 2016 and named it Kimchi Peak. I am sticking with Dewit's earlier naming even though I am unaware of what he used as a reference.

Sonny is still sleeping even after eating breakfast at Bighorn campground.

Photo courtesy of Zosia Zgolak

A few bison can be seen in one of the paddocks at Ya Ha Tinda Ranch.

Photo courtesy of Zosia Zgolak

Sonny gears up for the hike with Mount Minos in the background.

Photo courtesy of Zosia Zgolak

Zosia heads up the slope to climber's left of a narrow canyon.
Despite lots of downed trees, travel is generally still easy.
Zosia hikes along the connecting ridge toward the main summit block.

The connecting ridge is guarded by some avoidable pinnacles.
Zosia scrambles down a mildly exposed section beyond the first pinnacle along the connecting ridge.
Sonny looks at ease on the rock in between pinnacles.

Photo courtesy of Zosia Zgolak

Zosia resumes the ascent just past the pinnacles.
Intermittent rock slabs provide opportunities for hands-on scrambling.
Zosia scrambles up the final rise before the false summit.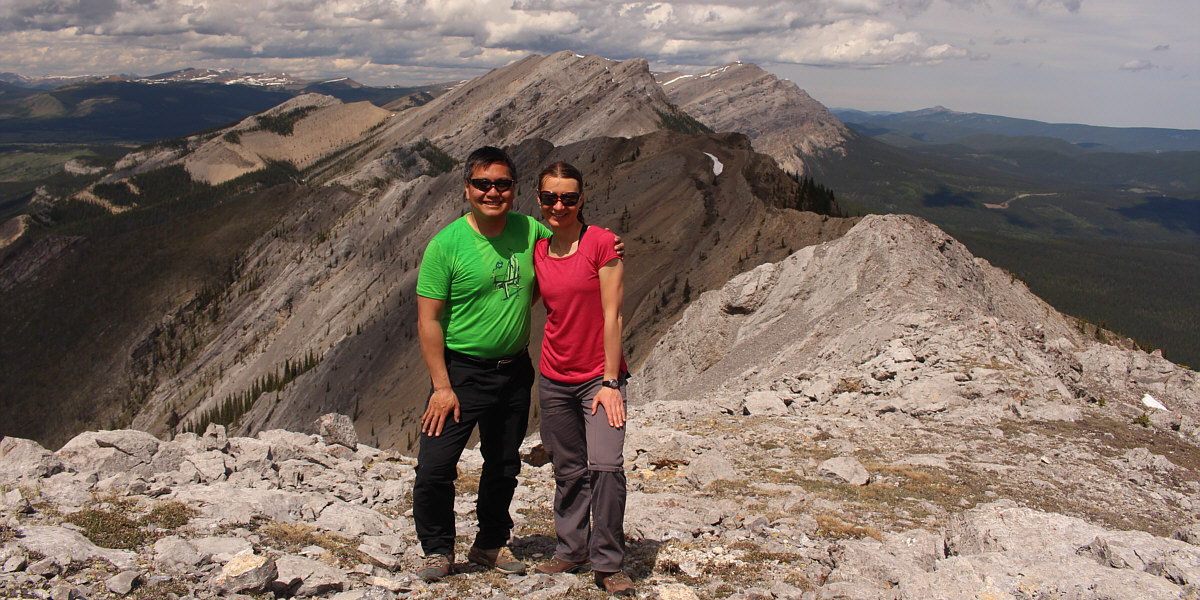 Sonny and Zosia stand near the summit of Wildhorse Ridge (2255 metres).
Maze Peak and Eagle Mountain are visible to the north.

Mount Minos sits across Red Deer River to the southwest. At distant right is Dormer Mountain.
To the west is Labyrinth Mountain. The core area of Ya Ha Tinda can be seen at far right.
Zosia stops at the false summit on her way down. At distant right is Barrier Mountain.
Sonny descends tedious scree on the main summit block.

Photo courtesy of Zosia Zgolak


Zosia avoids the pinnacles on descent and plunge-steps down a huge scree slope.

The huge scree slope ends at an obvious drainage below. Sonny and Zosia would eventually traverse back to their original line of ascent somewhere left of centre.
A female grouse appears perturbed by intruders into her space.
Total Distance: 5.5 kilometres
Round-Trip Time: 5 hours 5 minutes
Net Elevation Gain: 710 metres