BOU AVENUE
My 50th Birthday
---
My 50th Birthday was on 21 January 2018. I had no great plans that day other than to eat a free breakfast at Denny's and relax in town with my girlfriend, Zosia Zgolak. Not one to squander a free day, Zosia proposed a visit to the National Music Centre (NMC) in downtown Calgary followed by a stop at St. Albert the Great Parish in McKenzie Towne to view a religious relic (more about this later) and ending with a visit to a good friend of Zosia in Cranston. This seemed like a reasonable way to spend a lazy Sunday, and I agreed to her plan.

First off, we started the day with a hearty breakfast at Denny's near my home before making our way downtown to the NMC. We first participated in a guided tour which included some history of the NMC's construction and also showcased some of the building's unique architecture. We then attended a live pipe organ demonstration which was both fascinating and entertaining. After the end of the demonstration, we wandered through the NMC on our own and had a lot of fun with the many interactive exhibits.

While we were touring the NMC, I received a call from my friend, Scott Warner, asking if I wanted to drop by his place later to watch the second of two football games which were being broadcast on TV that day. Curiously, he told me to be at his place at 6:30 PM which was odd since I knew that the second game started at 4:30 PM. As lazy Sundays go, I did not give much thought to this minor discrepancy, and after briefly conferring with Zosia, I confirmed with Scott that we would be at his place by 6:30 PM.

Sonny walks toward the NMC along 4th Street SE.

Photo courtesy of Zosia Zgolak

Strings from old pianos hang from the ceiling in this corridor. Hooked up to solar panels on the outside of the building, the strings hum when it is sunny outside.

Photo courtesy of Zosia Zgolak

The person giving the pipe organ demonstration is also currently the organist at the home games of the Calgary Flames hockey team.

Photo courtesy of Zosia Zgolak

Rob McConnell and Maynard Ferguson are two of Sonny's favourite jazz artists.
Zosia learns to play the piano by following instructions on the TV monitor.
Sonny eschews using the instructional video and just wants to strum the acoustic guitar.

Photo courtesy of Zosia Zgolak

Even with only one drumstick, Zosia is a formidable drummer!

Photo courtesy of Zosia Zgolak

Sonny tries out the theremin.

Photo courtesy of Zosia Zgolak

Sensors in this room track Zosia's movements which then generate sounds while creating images on the wall.
Zosia is kind of a trailblazer herself...when she is hiking!
After leaving the NMC, Zosia and I paid a visit to St. Albert the Great Parish in southeast Calgary to try and catch a glimpse of the severed right forearm of St. Francis Xavier. This religious relic was on tour across Canada and just happened to be in Calgary on my birthday.

When St. Francis Xavier died in China in 1522, his body was temporarily buried with lye in hopes of decomposing his flesh prior to transporting his remains. When he was exhumed a few months later, surprisingly very little of his flesh had decomposed. This was considered a miracle, and his body was ultimately moved to its current resting place in Goa, India. St. Francis Xavier's right forearm was removed in 1614 and brought to Rome where it currently resides when it is not touring the world.

As expected, there was a long lineup of people waiting to view St. Francis Xavier's nearly 500-year old forearm when we arrived in the mid-afternoon, and we joined one of two slow-moving queues which snaked through the pews in the nave of the church before converging at the crossing where the relic was situated. Zosia and I had been shuffling slowly along the line for about an hour when an announcement was made that the viewing would be temporarily halted in order for the forearm to be repositioned for that evening's mass. The authorities allowed the few people at the front of the queues to complete the viewing, but unfortunately the cut-off was right in front of Zosia and me! Had we stayed for the mass, we could have kept our place in line and been the first ones up once the viewing resumed in the evening. However, I was not too keen on hanging around the church any longer, and we had also already made plans to visit Zosia's friend in Cranston followed by the football game at Scott's place afterwards. Regretfully, we walked out of the church without touching our St. Francis Xavier postcards (which were given to us on our arrival) to the case containing the forearm which would have turned the postcards into 3rd Class relics.
| | |
| --- | --- |
| | St. Francis Xavier's forearm is situated at the crossing of the church. |
| | Outside St. Albert the Great Parish, Zosia holds up her postcard which is only a "4th Class relic" at this point because it did not touch the case containing St. Francis Xavier's forearm. |
Leaving the church, Zosia and I next visited her Polish friend, Karolina Filarecka, who lives in Cranston. While we were at Karolina's home, I noticed that the second football game was already on TV as I had expected. That plus the fact that Zosia changed into a dress before we left tipped me off that perhaps there would be more going on at Scott's place than just a few of us watching the football game.

As we arrived at Scott's house in Chaparral, I noticed an unusually large number of cars parked in the neighbourhood, and as I parked my own car, I noticed a beat-up Toyota 4Runner with duct tape on its front left headlight pulling up right behind me. There is only one person I know in this world who drives such a distinctive vehicle--Rafal (Raff) Kazmierczak! Raff sheepishly greeted me as we both got out of our cars, and that was the moment I realized that there might be a big party waiting for me inside Scott's house. However, when we walked up to Scott's front door and opened it, I was completely surprised by what I saw.

Two long rows of people—all dressed as characters from the Star Wars franchise and each one carrying a long cardboard staff—were lined up from the door to the back of the house forming a human corridor. They were all repeatedly chanting "Force Be With You" as I made my way through the corridor in disbelief. At the end of the corridor was my mother, Grace Bou, who hugged and kissed me to wish me a Happy Birthday. I was then given my own Star Wars costume to change into and a lightsabre to "fight" (and defeat!) all the characters along the corridor. Once all the mayhem had finished, everyone settled in with lots of food and drinks and socializing.

Other highlights of the evening included a limerick reading session, a group sing-along led by Marta Wojnarowska on guitar, and the presentation of an Imperial Stormtrooper helmet–shaped birthday cake which was made by a friend of Tracy Pick. Best of all for me though was seeing so many familiar faces of friends and family, both old and new.

Thanks go out to all the people who participated and made this such a special evening for me. Thanks also go out to everyone for their generous gifts, their birthday cards and greetings (including from those who were unable to attend), and their creative limericks. A huge thank you goes to Scott for generously hosting this massive party in his home (and also donating his party suit to me!), and a very special thank you goes to the crazy Polish girls—Anna Kowalska, Marta and Zosia—for conceiving and organizing such an audacious and memorable event.
The party guests prepare for Sonny's arrival.

Photo courtesy of Dorota Sokolowska

It is unclear whether the corridor leads to the light side or the dark side.

Photo courtesy of Dorota Sokolowska

Dorota Sokolowska, Daniel Dufresne and Aga Sokolowska look amazing as, respectively, Princess Leia, Darth Vader, and an Imperial Stormtrooper.

Photo courtesy of Dorota Sokolowska

Scott looks classy in his Stormtrooper "suit".

Photo courtesy of Zosia Zgolak

Anna, Marta, Wendy Kadar, Sonny, Asieh Ghodratabadi and Ali Shariat are in full partying mode.

Photo courtesy of Zosia Zgolak

Sonny kisses Zosia to thank her for the wonderful birthday.

Photo courtesy of Zosia Zgolak

Parry Loeffler, Sonny and Aga listen to some amusing limericks written specifically for Sonny's birthday by various party guests.

Photo courtesy of Zosia Zgolak

Sonny and Anna simultaneously kiss a First Order Stormtrooper.

Photo courtesy of Zosia Zgolak

While playing guitar, Marta leads a sing-along of some songs with revised lyrics in honour of Sonny's birthday.

Photo courtesy of Zosia Zgolak

Sonny poses with his birthday cake beside Shelley Skelton and Scott Mair.

Photo courtesy of Zosia Zgolak

Sonny shares some cake with his mom, Grace.

Photo courtesy of Zosia Zgolak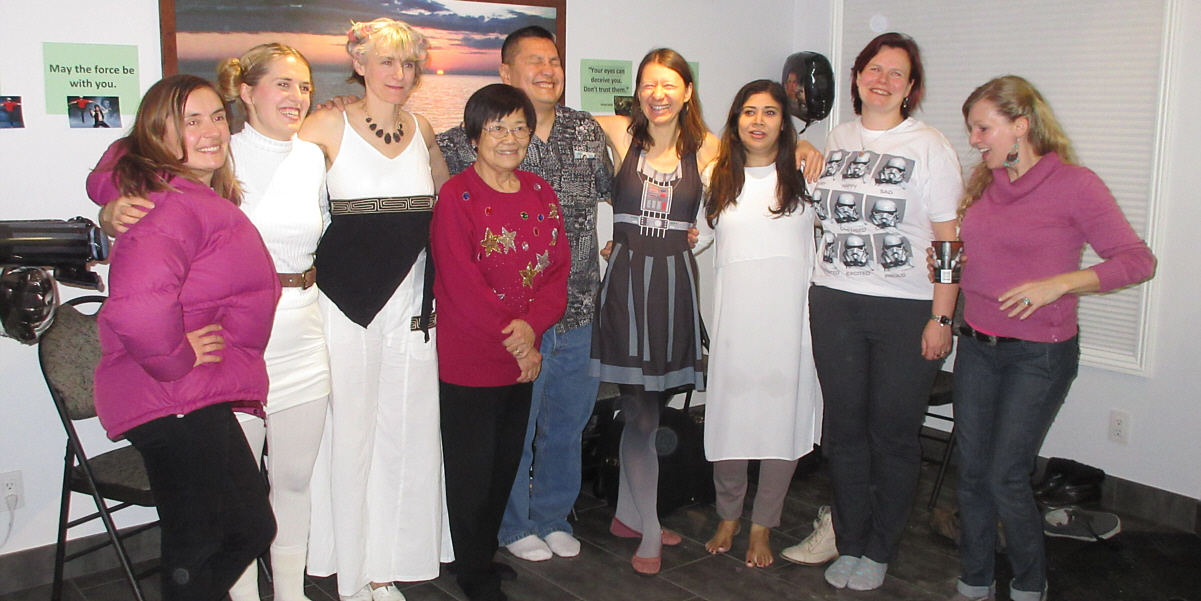 Posing for a group photo are (L to R) Aga, Dorota, Marta, Grace, Sonny, Zosia, Rupa Srivastava, Tracy and Anna.
Photo courtesy of Zosia Zgolak
Zosia and Anna both take a bite off the top of Sonny's "helmet".

Photo courtesy of Zosia Zgolak

Sonny sits with his big haul of birthday cards and gifts.

Photo courtesy of Zosia Zgolak