BOU AVENUE
Hummingbird Plume Lookout And Skogan Pass
---
On 4 February 2018, Andrea Battistel, Lisa Lee-Johnson, Zosia Zgolak and I skied up to Hummingbird Plume Lookout and Skogan Pass in Alberta's Kananaskis Country. Also joining us was Lisa's friend, Kate S., who met us at the Nakiska Ski Resort parking lot. Snow conditions were very good on this day, and we had no issues following Skogan Pass and Sunburst trails to the lookout site. From there we took High Level trail back to the main trail and continued the long and steady climb all the way to Skogan Pass. We dug out a picnic table near the pass and took a lunch break there before commencing our return trip. Still feeling energetic, we tacked on some extra climbing to whip around Skogan Loop trail before enjoying a long and mostly downhill run all the way back to the ski resort.
Kate leaves the ski resort and starts up the Skogan Pass trail.
Zosia and Andrea briefly ski under the powerline shortly before the junction with Sunburst trail.
This is looking out one of the windows of the lookout building.

Photo courtesy of Zosia Zgolak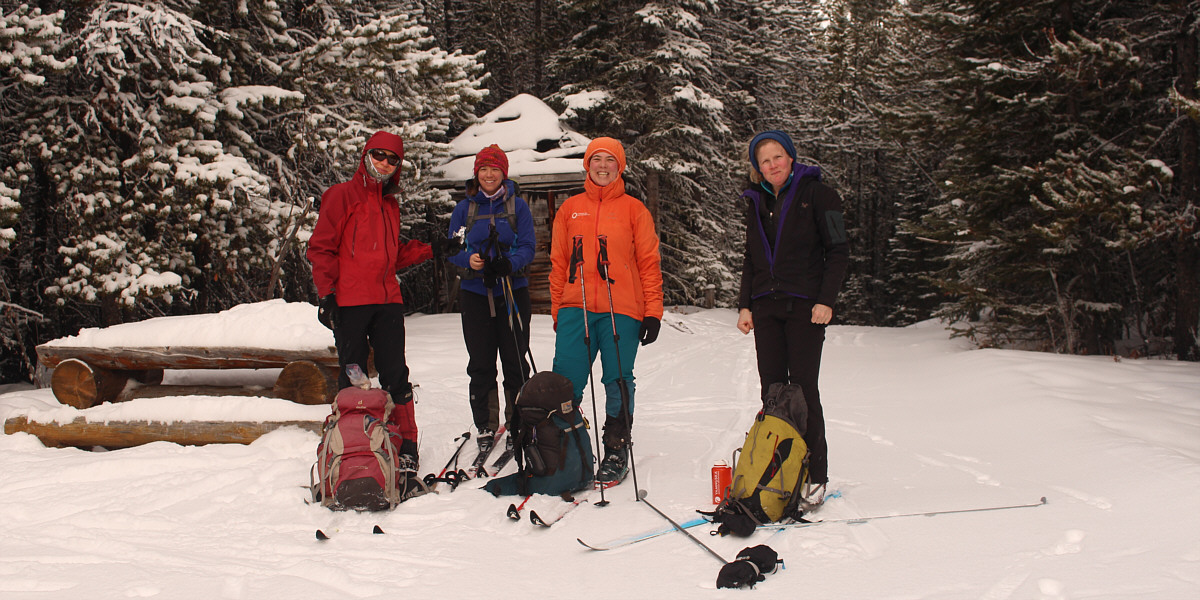 Zosia, Andrea, Lisa and Kate take a standing break at Hummingbird Plume Lookout site (1897 metres).
The group continues climbing below the powerline on Skogan Pass trail.

Views from Skogan Pass (2079 metres) are limited on this day.
Andrea and Lisa dig out a picnic table near Skogan Pass.
Sonny, Andrea, Lisa and Kate eat lunch in snowy conditions.

Photo courtesy of Zosia Zgolak

Lisa and Andrea demonstrate tandem herringboning on Skogan Loop trail.
Sonny struggles to keep up with Andrea going uphill.

Photo courtesy of Zosia Zgolak

The group enjoys a fast ski back to the ski resort.
Total Distance: 22.7 kilometres
Total Time: 5 hours 15 minutes
Net Elevation Gain: 568 metres