BOU AVENUE
Mount Kimball
---
On 8 April 2018, Zosia Zgolak and I hiked up Mount Kimball via the popular Finger Rock Trail in the Santa Catalina Mountains near Tucson, Arizona. The signed trailhead and parking lot (no washrooms) are located at the north end of N Alvernon Way in the northeast part of the city. After crossing typical desert flats, we entered Finger Rock Canyon and began a long and steady climb up the fairly busy trail. Although there are no technical difficulties, the climb is steep and sustained. A little more than halfway up, the trail flattens out a bit near a saddle known as Linda Vista. This is a logical turnaround point for hikers who are not interested in tagging the summit of Mount Kimball. Due to encroaching vegetation, the trail beyond is largely devoid of both interesting views and people.

At the second of two signed junctions well beyond Linda Vista, we left the main trail and followed a spur trail winding northward through the forest. A couple of times, I thought that we had reached a disappointingly viewless summit, but it pays to follow the spur trail all the way to the very end. The actual summit is on a large boulder surrounded by trees, but there is an open ledge nearby which grants remarkably nice views to the north and west. We took an extended break on this ledge before retracing our steps back down the mountain.

While we had the benefit of climbing up Finger Rock Canyon mostly in the shade during the morning, we felt the full brunt of the hot sun during our descent in the afternoon. Not surprisingly, the trail was virtually deserted at this time of day. A lot of sweating aside, we made it back to the trailhead without any problems.
Sonny passes a few signs at the trailhead.

Photo courtesy of Zosia Zgolak

Finger Rock is barely discernible at upper right above its namesake canyon.

Zosia climbs up the steep trail in Finger Rock Canyon.

Here is a closer look at Finger Rock.

An abundance of wildflowers grow alongside the trail including this fairy duster (Calliandra eriophylla).

Vegetation encroaches on the trail in the upper reaches.
Zosia approaches the summit block of Mount Kimball.
The spur trail to the summit begins behind this junction sign.
Zosia and Sonny stand on an open ledge near the summit of Mount Kimball.
Zosia takes a well-deserved nap on the open ledge near the summit.
The view to the west includes the north end of Tucson and, from left to centre, Pusch Peak, Bighorn Mountain and Table Mountain. The black peak on the distant right horizon is Picacho Peak.
To the northeast, Mount Lemmon (left of centre) is the highest peak in the Santa Catalina Mountains.
Zosia tags the actual summit (2205 metres) of Mount Kimball on top of a tree-covered boulder.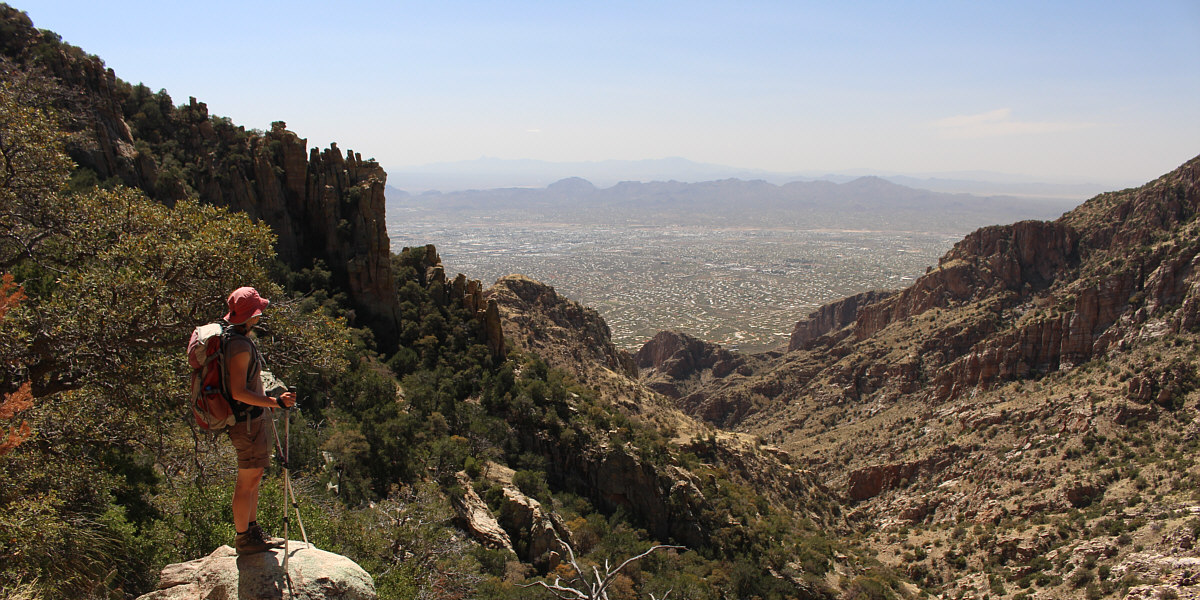 On her way down, Zosia pauses to admire the view of Tucson from a break in the trees along the trail.
Sonny hikes back down Finger Rock Canyon.

Photo courtesy of Zosia Zgolak

The saguaro cacti all seem to imitate Finger Rock.
Total Distance: 16.3 kilometres
Round-Trip Time: 9 hours 25 minutes
Net Elevation Gain: 1276 metres