BOU AVENUE
Kraków
---
Returning to Kraków, Poland from our tour of Auschwitz on 5 January 2018, Zosia Zgolak and I headed straight to the city's Old Town as soon as we got off the bus. Kraków's Old Town is the tourist hub of the city, and we wandered through many of the streets in the area as well as the main market square at Sukiennice (Cloth Hall). We also ventured out to Wawel Castle just to see the Wawel Dragon spit out fire before returning to our hostel to retire for the night.
St. Florian's Gate is the northern entryway into Kraków's Old Town.
Zosia enjoys coffee and gofry (waffle) at Lodziarnia (ice cream parlour) Rinella.

Local vendors grill meats and sausages at Sukiennice in the main market square of Old Town.

Photo courtesy of Zosia Zgolak

Horse carriages await tourists near Sukiennice.

Photo courtesy of Zosia Zgolak

Business is incredibly brisk for this soup vendor in Sukiennice.

Photo courtesy of Zosia Zgolak

Sonny tries to enjoy his soup and bread under some light rain.

Photo courtesy of Zosia Zgolak

A Christmas tradition which originated in Kraków is the building of a Szopka (nativity scene) which utilizes elements of the city's historical architecture to create an elaborate backdrop for the birth of Jesus Christ. The Szopkas can range in size up to a couple of metres high, and some even have mechanical parts that can move. A Szopka-making competition is held annually at the main market square of Kraków.

Photo courtesy of Zosia Zgolak

Lajkonik, a man dressed in Mongol attire riding a hobby horse, is one of the unofficial symbols of Kraków. This lighted version stands just outside Wawel Castle.

After a very long day touring Auschwitz and walking all over Kraków's Old Town, Sonny is relieved to be returning to the hostel for a good night's rest.

Photo courtesy of Zosia Zgolak
On the morning of 6 January 2018, Zosia and I rendezvoused with Gosia Zakrzewska and her parents, Teresa and Stanisław. They had come to Kraków from Łódź for the weekend in order to attend an art exhibition the next day, but on this day, we celebrated Epiphany or Three Kings' Day by heading to Wawel Castle to see one of three religious processions that traditionally begin from three different cathedrals in the city and which ultimately converge at the main market square. A church mass normally precedes each procession, but the one at Wawel Cathedral went much longer than expected. As a result, we waited for over an hour before the procession finally got underway.

Rather than follow the procession, we opted instead to visit the National Museum Palace of Bishop Erasmus Ciolek on Kanonicza Street. This museum's exhibits consist mostly of paintings and sculptures from medieval Poland including artifacts from churches that have long disappeared. After the tour of the museum, we ended up back at the main market square.

One of the unique traditions in Kraków is the Hejnał Mariacki or St. Mary's Trumpet Call, a five-note anthem which is played by a bugler four times in succession (for each of the four cardinal directions) every hour on the hour from one of the towers of St. Mary's Basilica in the main market square. The city employs four buglers who work rotating shifts to maintain this tradition. Legend has it that during a Mongol invasion, a sentry played the Hejnał to alert Kraków's inhabitants so that they could shut the city's gates and prevent an ambush. Tragically, the sentry's playing of the anthem was cut short when he was killed by an arrow through his throat. To this day, the playing of the Hejnał is always abruptly cut off to commemorate the moment of the legendary sentry's death.

Gosia and her parents treated Zosia and me to a late lunch at Kuchnia U Babci Maliny (Granny's Raspberry Kitchen), a traditional Polish eatery which is located under the Polish Academy of Arts and Sciences building. We spent the rest of the day touring some more of Old Town before parting ways with Gosia and her parents in the evening.
Stanisław and Sonny walk up to the north entrance of Wawel Castle.

Photo courtesy of Zosia Zgolak

Wawel Cathedral is over 900 years old and is the third structure built on this site. The attachment with the gold dome is known as Sigismund's Chapel and is named after Sigismund I the Old who was King of Poland from 1506 to 1548.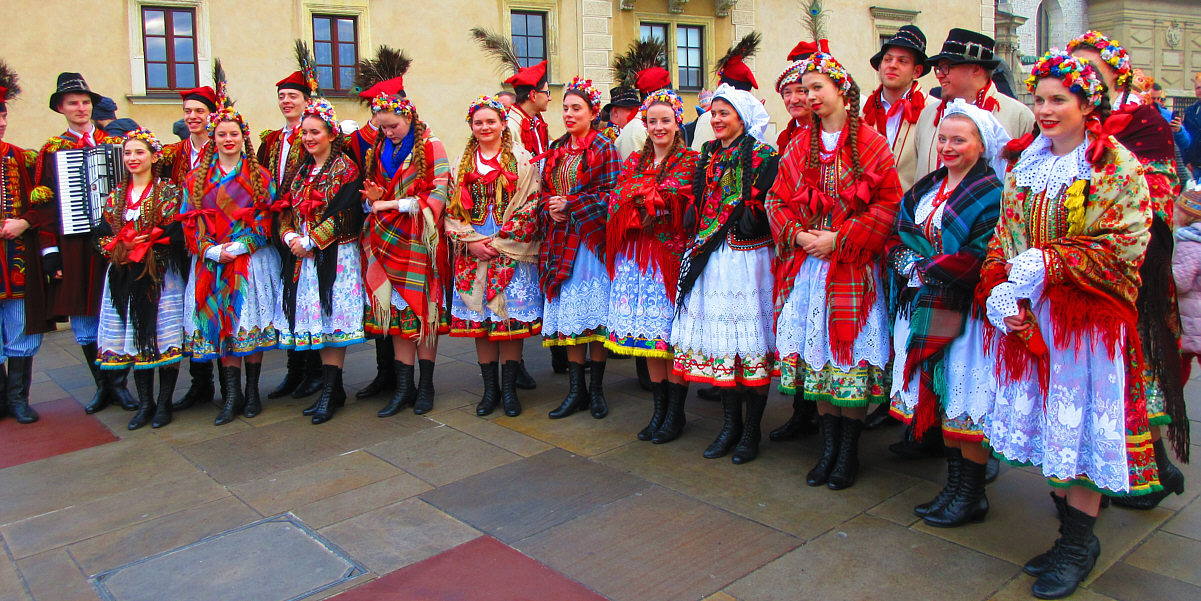 Gathered for the procession are some Poles dressed in traditional costumes. Note the two women wearing white kerchiefs on their heads which usually signifies that they are married.
Photo courtesy of Zosia Zgolak
This is the view to the west from Wawel Castle overlooking Vistula River. On the left horizon is Kościuszko Mound, an artificial hill built in 1820 to commemorate the Polish military hero, Tadeusz Kościuszko.
After a long delay, the Three Kings' Day procession finally gets under way from Wawel Cathedral.

Photo courtesy of Zosia Zgolak

While all the artwork displayed at the National Museum Palace of Bishop Erasmus Ciolek have some religious significance, this work on the backside of an altarpiece is downright bizarre.

Every hour on the hour, the Hejnał Mariacki is played by a bugler from the higher of the two towers of St. Mary's Basilica in the main market square.

The discrepancy in height between the two towers is explained in a popular legend about two brothers who were tasked to build each tower separately. When the younger brother realized that his tower was shorter, he murdered the older brother with a knife out of envy. Consequently, construction halted for one of the towers. Later filled with guilt, the younger brother committed suicide by stabbing himself with the same knife and plummeting to death from his tower.

In nearby Sukiennice, there is a knife that hangs inconspicuously from the corner of an archway. There is no placard explaining the hanging knife, but it is generally acknowledged to be the same one from the legend.

Photo courtesy of Zosia Zgolak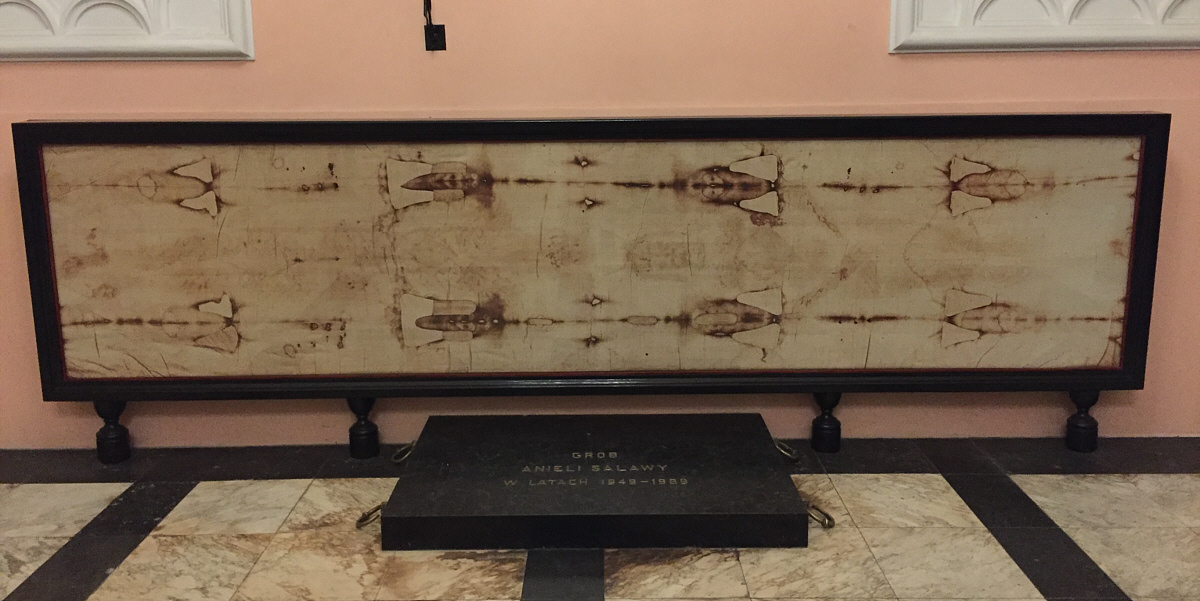 A consecrated exact replica of the famous Shroud of Turin (purportedly the burial cloth of Jesus Christ) can be found in the Church of St. Francis of Assisi which is about a block south of the main market square.
On 7 January 2018, Zosia and I started the morning with a walk to Wawel Castle. We got there a bit too early and decided to kill some time by visiting an open air market in nearby Kazimierz district. Upon returning to Wawel Castle, we toured a couple of museums there including the State Rooms (the interior rooms of the castle) and The Lost Wawel (on site archaeological exhibits). We also visited the crypts below Wawel Cathedral, but I had the most fun climbing up the steep ladders in the cramped space of Sigismund Tower to see Sigismund Bell.

In the evening, we once again hooked up with Gosia and her parents, and together, we attended a free Christmas concert at the Kraków Philharmonic. The concert featured a full choir accompanied by a small orchestral ensemble and also included readings given by a well-known Polish actor. My favourite performance though was that of the pipe organist who opened both halves of the concert with fantastic renditions of classic Christmas Carols.

After the concert, Gosia and her parents invited Zosia and me back to their rented apartment for snacks and liquid refreshments to round out the day.
Zosia walks along Krakowska Street in the Kazimierz district. Much of Steven Spielberg's 1993 film, Schindler's List, was shot in this district.

Zosia purchases a zapiekanka which is like a pizza on a baguette.

Zosia returns to Wawel Castle via its south entrance.

Sigismund Bell is the largest of five bells in its namesake tower at Wawel Cathedral. The bell weighs about 12,600 kilograms and requires about 12 bell-ringers to swing it.

Outside Wawel Castle, Sonny points to Sigismund Tower (centre).

Photo courtesy of Zosia Zgolak

The conversation between two Polish mathematicians, Otto Nikodym (left) and Stefan Banach, seems to go over Sonny's head. Another mathematician, Hugo Steinhaus (not immortalized here--Sonny will have to stand in for him), overheard the conversation supposedly at this very spot just north of Wawel Castle in 1916 which resulted in a long and fruitful collaboration between him and Banach.

Photo courtesy of Zosia Zgolak

On Grodzka Street, Sonny heads for Bar Mleczny (literally, "milk bar") which is a traditional Polish cafeteria.

Photo courtesy of Zosia Zgolak

Three soloists sing in front of the choir and orchestral ensemble at the Kraków Philharmonic.

Zosia, Gosia, Teresa and Stanisław share a post-concert drink.