BOU AVENUE
Scalplock Mountain
---
Rafal (Raff) Kazmierczak, Marta Wojnarowska, Zosia Zgolak and I headed to Montana's Glacier National Park on 22 September 2018 hoping to take advantage of free entrance on National Public Lands Day and to also avoid inclement weather. As it turned out, Raff and Marta both had US National Park passes anyway, but rainy weather throughout most of the park forced us to abandon our original hiking objectives. On a last-second suggestion by Raff, we ended up driving all the way to the south end of the park to hike up Scalplock Mountain. An active fire lookout sits atop the mountain and is serviced by a well-maintained trail. This suited us just fine as none of us were in the mood for any wet weather bushwhacking or scrambling. The trailhead (picnic tables and pit toilet) is located at the end of Walton Drive about 200 metres beyond the turnoff from Highway 2; there is a ranger station here as well. The turnoff from Highway 2 is located 45 kilometres west of the junction with Highway 49 in the village of East Glacier or 44 kilometres east of the junction with Going-to-the-Sun Road in the village of West Glacier.

All trail junctions are signed, but that still did not prevent me from making a route-finding error early on when I mistakenly led us onto a horse trail which would have necessitated a tricky ford of Ole Creek. Fortunately, we did not go very far before realizing this mistake, and we simply backtracked to the main trail where we soon crossed Ole Creek on a good suspension bridge. From there, we passed two more signed junctions before settling into a long but uncomplicated climb up numerous switchbacks. Views are limited for much of the way because the trail is mostly in forest, but on this day, the trees provided some much-welcomed shelter from periodic rain showers.

The lookout building was already boarded up for the season when we arrived at the top, but we were still able to enjoy a short break out of the rain on the building's covered balcony. With low clouds obscuring much of the surrounding views, we found no reason to linger after our break, and we promptly retraced our steps back to the trailhead without any trouble.

We subsequently checked into a comfortable hotel in East Glacier where we had a chance to shower and change before going out for a delicious dinner at Serrano's Mexican Restaurant to round out the day.
Zosia starts up the trail to Scalplock Mountain.
While Raff waits on the other side, Zosia follows Marta across a suspension bridge over Ole Creek.
Autumn colours have already arrived in the forest even though this is still technically the last day of summer.
Zosia, Marta and Raff arrive at a trail junction along the way to Scalplock Mountain.
After a lengthy climb, the trees begin to thin out on the upper mountain.
Zosia and Marta approach the top of Scalplock Mountain.
Despite the rainy weather, wildfires are still burning all over Paola Ridge to the west. Also visible on the horizon are Mount Liebig (left of centre), Mount Grant (glacier) and Great Northern Mountain (one bump right of Mount Grant).
Mount Saint Nicholas looks rather uninviting on this day or probably any other day.

Photo courtesy of Rafal Kazmierczak

Zosia and Marta climb up to join Raff on the lookout building's balcony.
Zosia, Marta and Raff enjoy lunch on the sheltered balcony of the lookout building.
Rampage Mountain is just about the only recognizable feature to the north as more rain clouds roll into the area.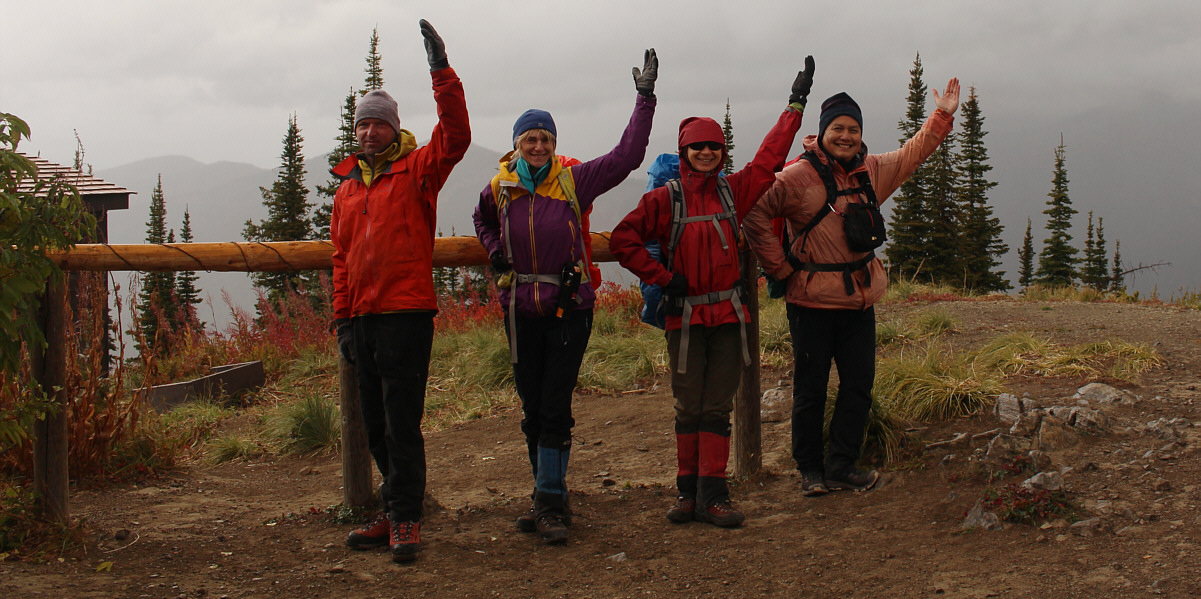 Raff, Marta, Zosia and Sonny strike a traditional Polish dance pose on the summit of Scalplock Mountain (2108 metres).
The vibrant colours in the forest on this day help make up for the lack of views during the hike back to the trailhead.

Sonny, Raff, Zosia and Marta enjoy enchiladas for dinner at Serrano's Mexican Restaurant in the village of East Glacier.
Total Distance: 16.0 kilometres
Round-Trip Time: 6 hours 13 minutes
Net Elevation Gain: 957 metres