BOU AVENUE
Sedona
---
Sedona was not originally on our radar when Zosia Zgolak and I were planning our two-week vacation in southern Arizona, but having met all our planned hiking objectives early, we had an extra day to kill and decided to pay the city a visit on 13 April 2018.

We started the day with an easy hike up Boynton Canyon which is located a few kilometres northwest of the city. The trail to Boynton Canyon is touted as a "wilderness" hike by the trailhead sign, but we actually skirted along the edge of a posh resort for the first 1.5 kilometres before finally leaving behind all traces of human commercialism. The remainder of the trail is mostly in forest although there are occasional glimpses of the canyon walls rising above the trees. The official trail ends at an open bench near the head of the canyon. Although it looks possible to scramble up further, we merely stopped for a snack break on a rock outcrop before turning around and hiking back to the trailhead.
Sonny hikes the trail to Boynton Canyon.

Photo courtesy of Zosia Zgolak

At the north end of a resort alongside the trail, Sonny appears to have stumbled onto one of the many energy vortexes found throughout the Sedona area.

Photo courtesy of Zosia Zgolak

Invigorated by the energy vortex, Sonny resumes the long march to Boynton Canyon.

Photo courtesy of Zosia Zgolak

Sonny enjoys an apple at trail's end.

Photo courtesy of Zosia Zgolak

Zosia and Sonny take a selfie in Boynton Canyon.
A sign at trail's end discourages people from scrambling higher up.

Photo courtesy of Zosia Zgolak

Two deer graze in the forest beside the trail.
Some of the resort buildings can be seen here as well as some hikers on a section of the Boynton Canyon trail (right).
Total Distance: 10.7 kilometres
Round-Trip Time: 3 hours 42 minutes
Net Elevation Gain: 277 metres
We next went into downtown Sedona where we enjoyed a wonderful lunch at Wildflower Bread Company.

This was followed by a scenic drive along Red Rock Loop Road in the southwest corner of the city.
Zosia sits down for lunch at Wildflower Bread Company.

Photo courtesy of Zosia Zgolak

Zosia stops at one of the scenic pullouts along Red Rock Loop Road. Behind her at distant centre is Cathedral Rock.
At the end of our scenic drive, we parked at a small pullout beside Sedona Red Rock High School and hiked the short and easy trail up Scheurman Mountain (Most sources including Google Maps, the US Forest Service website, and even one of the street signs in Sedona spell the name as "Schuerman Mountain", but the USGS topo map and trailhead sign both spell the name as "Scheurman Mountain" which I shall likewise adopt).

For such a lowly mountain, it grants some surprisingly nice views of Sedona and the surrounding landscape.
| | |
| --- | --- |
| | From the trailhead, Scheurman Mountain can be seen behind Sedona Red Rock High School. |
| | Zosia follows a good trail most of the way up the mountain. |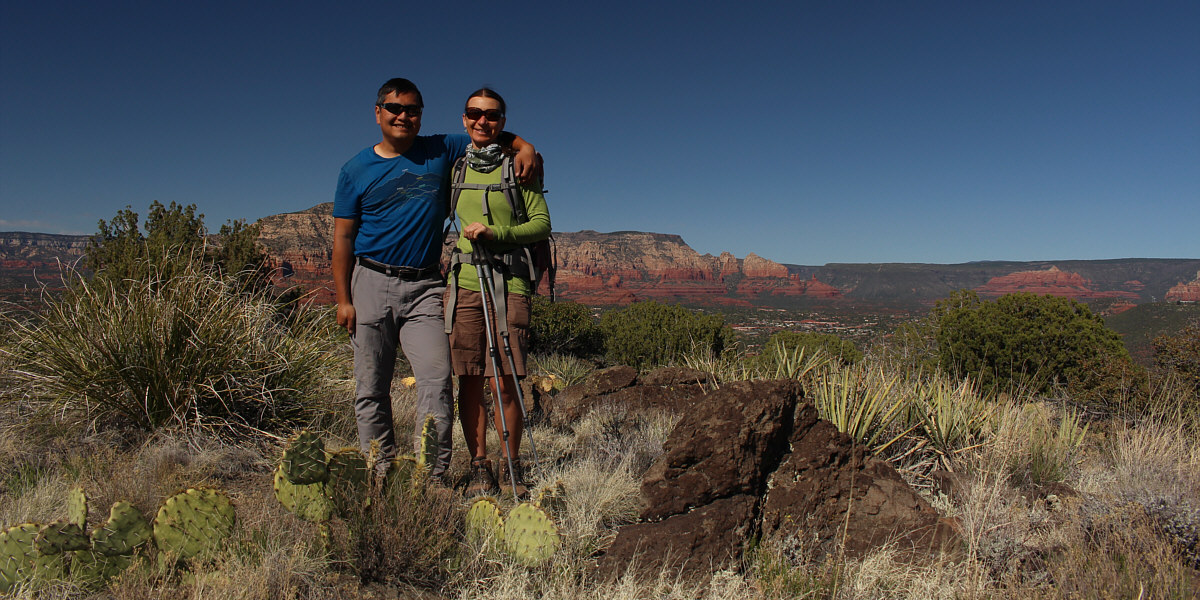 Sonny and Zosia stand on the summit of Scheurman Mountain (1488 metres).
| | |
| --- | --- |
| | The highest visible point to the north is Bear Mountain (left) which is in the same vicinity as Boynton Canyon. |
| | Here is the survey benchmark on Scheurman Mountain. |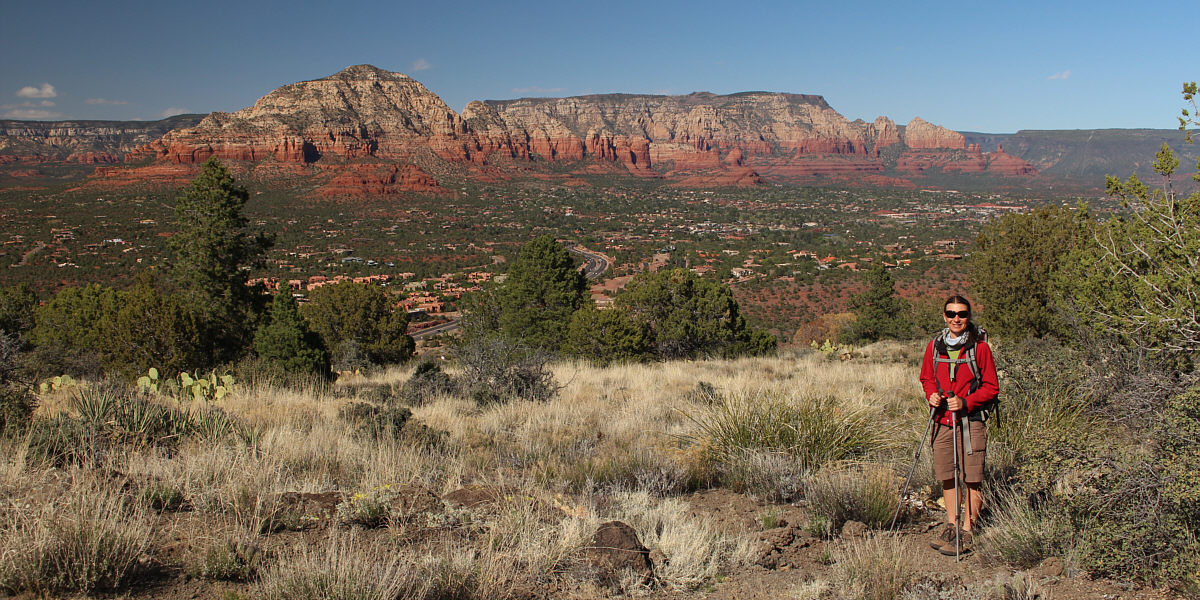 To the northeast, Capitol Butte (left) and Wilson Mountain (right) provide a stunning backdrop for the city of Sedona.
In front of Munds Mountain to the east is Sedona Airport which is actually situated on top of Table Top Mountain.
Here is a closer look at Cathedral Rock (left) to the southeast from Scheurman Mountain trail.
Total Distance: 3.2 kilometres
Round-Trip Time: 1 hour 14 minutes
Net Elevation Gain: 139 metres
After returning to our car at the pullout, we went for another scenic drive along Oak Creek Canyon (Highway 89A) north of the city. We were hoping to get some views at Oak Creek Vista, but the access road was closing for the day just as we got there. We also tried to visit Slide Rock State Park, but it too was also closed shortly before we arrived.

Somewhat disappointingly, we turned around and headed back south to Sedona where we made one more brief stop at Little Horse trailhead before leaving the city for good.
This is the sign beside the entrance to Slide Rock State Park in Oak Creek Canyon.

Photo courtesy of Zosia Zgolak

In this view from Little Horse trailhead, Courthouse Butte (left) and Bell Rock glow in the late day sun.

Photo courtesy of Zosia Zgolak

Also from Little Horse trailhead is this view of an unnamed butte and some striking pinnacles.

Photo courtesy of Zosia Zgolak