BOU AVENUE
Snoqualmie Mountain
---
While driving to Seattle, Washington on 5 August 2018, Zosia Zgolak and I stopped in Snoqualmie Pass to climb up Snoqualmie Mountain, the highest peak in the vicinity. A non-technical ascent route is described in Peggy Goldman's guidebook, 75 Scrambles in Washington. The trailhead parking is located near Alpental Lodge just off the I-90 ($5.00 USD day use fee or Northwest Forest/US National Parks pass required). Two trailheads close to each other may cause some confusion. The obvious signed trailhead is for the popular hike to Snow Lake while the route for Snoqualmie Mountain begins at a more obscure unsigned trailhead a few metres further to the south.

There is not much of an approach for the route, and almost right away, we were climbing up a relentlessly steep trail which, at times, had us scrambling over wet rocks in a narrow drainage. After more than 1.5 hours of steady climbing through the forest, we finally broke out of the trees onto a semi-open ridge. The rising heat from the sun was starting to wear on us as we climbed higher, but an occasional breeze provided some relief. Aside from the uncomfortable temperatures, we otherwise had no difficulties hiking the remaining distance to the summit of Snoqualmie Mountain.

We took a fairly short break at the summit before retracing our steps back down the ridge. Originally, we had intentions to also tag nearby Guye Peak which shares the same approach trail as Snoqualmie Mountain, but by the time we reached the turnoff, the heat was becoming so unbearable that we just wanted to get down and out of the sun. We decided to forego Guye Peak and simply descended to the parking lot without any trouble.

Busy weekend traffic and highway construction resulted in a lengthy delay to drive out of Snoqualmie Pass, but with some patience, we eventually made it out of there without much aggravation.
| | |
| --- | --- |
| | Zosia starts up the trail to Snoqualmie Mountain. |
| | Zosia is still smiling as she climbs up the steep trail. |
| | A break in the trees higher up grants this view of Guye Peak and Keechelus Lake. |
| | The trees begin to thin out as Zosia continues climbing up the trail. |
| | There are lots of tasty blueberries beside the trail on this day. |
| | The upper mountain is finally within sight. |
| | Zosia approaches the top of Snoqualmie Mountain. |
| | Zosia is only a short distance from the summit which is on a bushy outcrop. |
| | Sonny and Zosia stand on the summit of Snoqualmie Mountain (1903 metres). |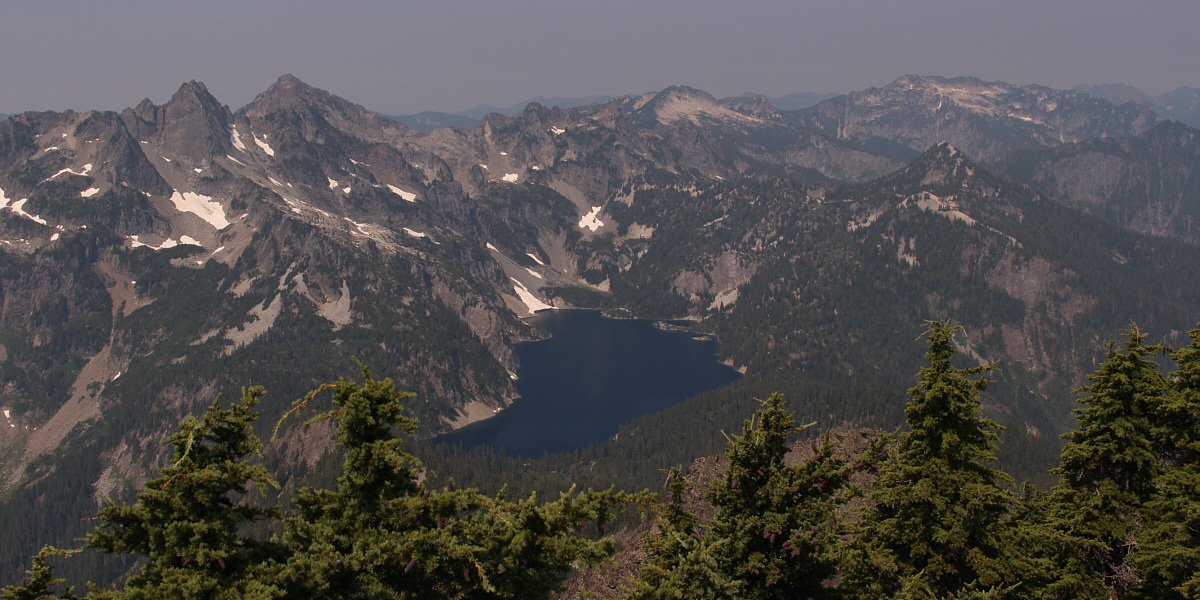 Snow Lake attracts all the attention to the west. Notable peaks that are visible include Chair Peak, Kaleetan Peak, Mount Roosevelt, Wright Mountain and Preacher Mountain.
Here is a more comprehensive view of the Snoqualmie Pass area with Guye Peak at left.
A pinnacle along the summit ridge of Snoqualmie Mountain may or may not be higher than the gazetted summit.
To the northeast is Big Snow Mountain.
Sharing the same approach trail with Snoqualmie Mountain, Guye Peak is lower but more technically challenging to climb.
Total Distance: 6.1 kilometres
Round-Trip Time: 6 hours 2 minutes
Net Elevation Gain: 927 metres