BOU AVENUE
Wasson Peak And Amole Peak
---
On 9 April 2018, Zosia Zgolak and I hiked up Wasson Peak and Amole Peak in the Tucson Mountain District of Saguaro National Park just west of Tucson, Arizona. Wasson Peak is the highest mountain in this section of the park and can be accessed via a number of different trails. We chose King Canyon trail for our approach, and the trailhead is located along N Kinney Road about 12.8 kilometres northwest of the junction with W Tucson-Ajo Highway (Highway 86). From the trailhead, we hiked along a decommissioned road for about 1.4 kilometres to a signed junction at Mam-a-Gah picnic area. We kept right here and continued along King Canyon trail for another 2.2 kilometres to another junction (Sweetwater trail). Turning left here, we climbed up a ridge for about 1.1 kilometres before reaching a third junction (Hugh Norris trail). We turned to the right here and easily hiked the remaining short distance to the top of Wasson Peak.
| | |
| --- | --- |
| | Zosia hikes up King Canyon trail. Wasson Peak is not visible here but is just behind the hump at right. |
| | Located near Mam-a-Gah picnic area, this historic building used to serve as a restroom. |
| | Zosia arrives at the first junction (Sendero Esperanza trail goes left here). |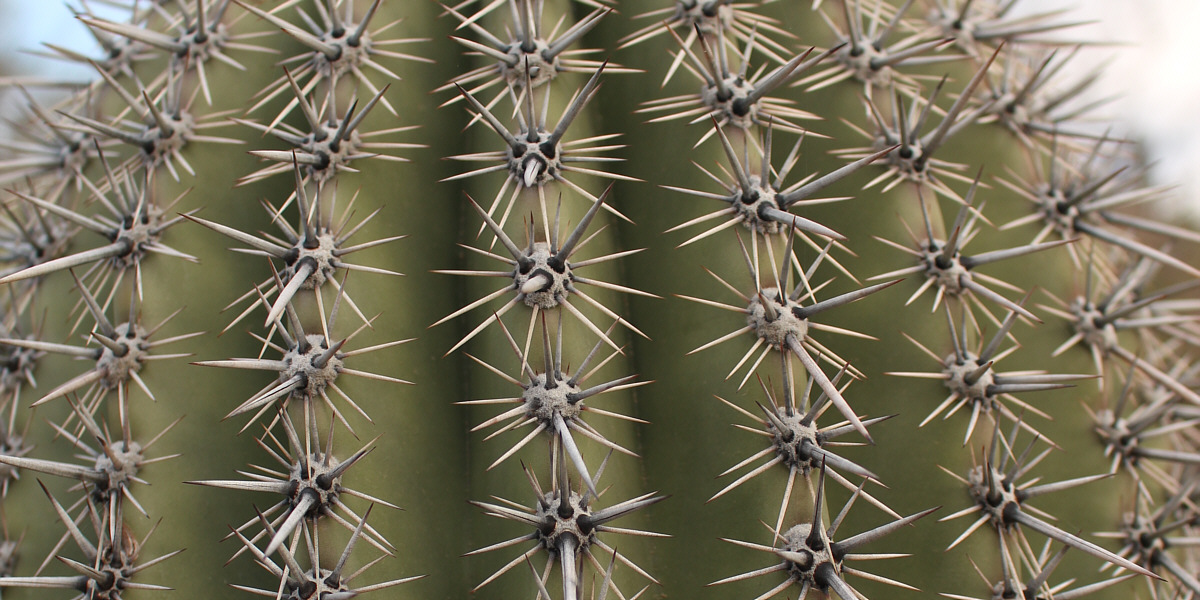 Here is a close-up view of the spines of a saguaro cactus.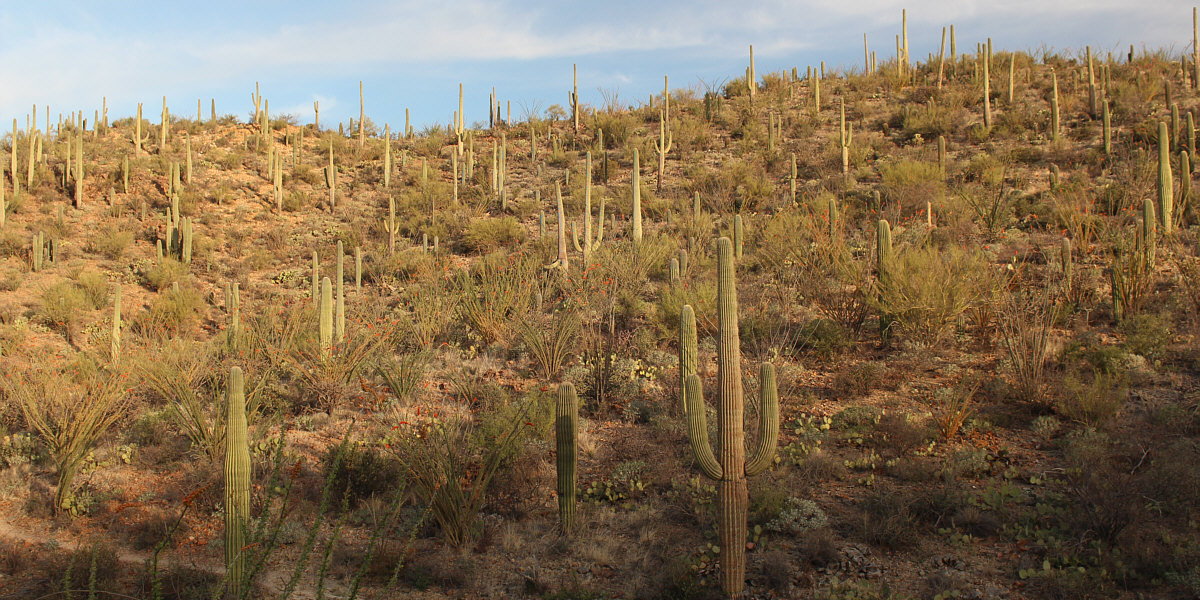 Saguaro National Park truly lives up to its name.
King Canyon trail eventually goes up the right-hand ridge ahead.
Zosia climbs up the aforementioned ridge.
Wasson Peak comes within sight. The trail to the summit is also visible.
Here is the final approach to Wasson Peak from near the junction with Hugh Norris trail.

Photo courtesy of Zosia Zgolak

Sonny and Zosia stand on the summit of Wasson Peak (1419 metres).
The easiest peak to identify to the southeast is Golden Gate Mountain (right of centre). Visible on the horizon behind it is Mount Wrightson.
Besides the approach trail, the most noteworthy feature to the southwest are the peaks on the distant horizon. At centre is Baboquivari Peak, and at right is Kitt Peak.
Immediately to the north are Panther Peak (centre) and Safford Peak (right). At far left on the horizon are Picacho Peak and Newman Peak.
The Santa Catalina Mountains and the city of Tucson dominate the view to the northeast.
For our return, we opted to make a loop using parts of Hugh Norris and Sendero Esperanza trails. From the top of Wasson Peak, we retraced our steps to the last junction and turned west onto Hugh Norris trail. After descending numerous switchbacks, we left the trail briefly to ascend a small bump which curiously has an official name--Amole Peak. Carrying down the far side of Amole Peak, we regained Hugh Norris trail and hiked westward for about 2 kilometres to a four-way junction with Sendero Esperanza trail. We turned south here and descended Sendero Esperanza trail for about 1.4 kilometres to reach the site of Gould Mine and yet another junction. We again turned south and followed Gould Mine trail which runs nearly parallel to King Canyon trail. This ultimately led us back to our starting trailhead without much difficulty.
Amole Peak comes into view as Zosia descends Hugh Norris trail.
Zosia goes off-trail to climb up Amole Peak.
Sonny takes the last few steps before the top of Amole Peak. At far left is Wasson Peak.

Photo courtesy of Zosia Zgolak
Sonny and Zosia stand on the summit of Amole Peak (1342 metres).
Zosia descends the southwest slopes of Amole Peak.
Sonny gets back on the trail to continue the loop hike.

Photo courtesy of Zosia Zgolak

Near Gould Mine site (note fencing at far left), Zosia admires a cactus which is starting to bloom.
Here is a closer look at the blooming cactus.

Photo courtesy of Zosia Zgolak

Total Distance: 12.6 kilometres
Round-Trip Time: 5 hours 41 minutes
Net Elevation Gain to Wasson Peak: 536 metres