BOU AVENUE
Yates Mountain (Barrier Lake Lookout)
---
Looking for an easy and uncomplicated ski tour without having to drive far, Zosia Zgolak and I ascended Yates Mountain in Alberta's Kananaskis Country on 10 March 2018. Yates Mountain is the unofficial name for the highest point of McConnell Ridge, and coincidentally, it is also the site of Barrier Lake Lookout. Although I had already hiked up to the lookout site twice before, I have always wanted to try a ski ascent as described in Gillean Daffern's out-of-print guidebook, Kananaskis Country Ski Trails. This area is generally not renowned for great snow quality, and conditions certainly did not look promising as we carried our skis across Barrier Lake dam to start the day.

At the far end of the dam, there was enough snow coverage for us to strap on our skis and begin skiing. Even in winter, Yates Mountain still sees a lot of hiker traffic, and we had few problems following a well-beaten path in the snow past a signed trail junction and into the forest. A long and somewhat boring climb ensued, and we had no views to speak of until we finally broke out of the trees at the former site of Pigeon Lookout (now removed). Just beyond this site, we ditched our skis and boot-packed up the steep and icy trail to the crest of McConnell Ridge. From there, we continued to hike on a broken trail up the ridge until we reached Barrier Lake Lookout at the top of Yates Mountain.

After an extended break at the top, we retraced our steps back down the ridge and retrieved our skis just above the Pigeon Lookout site. Descending the trail on skis was fast but not nearly as enjoyable as I had hoped. The snow was old and sometimes crusty, and the trail was not nearly wide enough to allow for decent turns. As a result, I snowplowed a lot, and my legs felt like jelly when we emerged from the forest onto the final stretch before the dam. Just as we had done earlier in the day, we carried our skis across the dam to finish the day.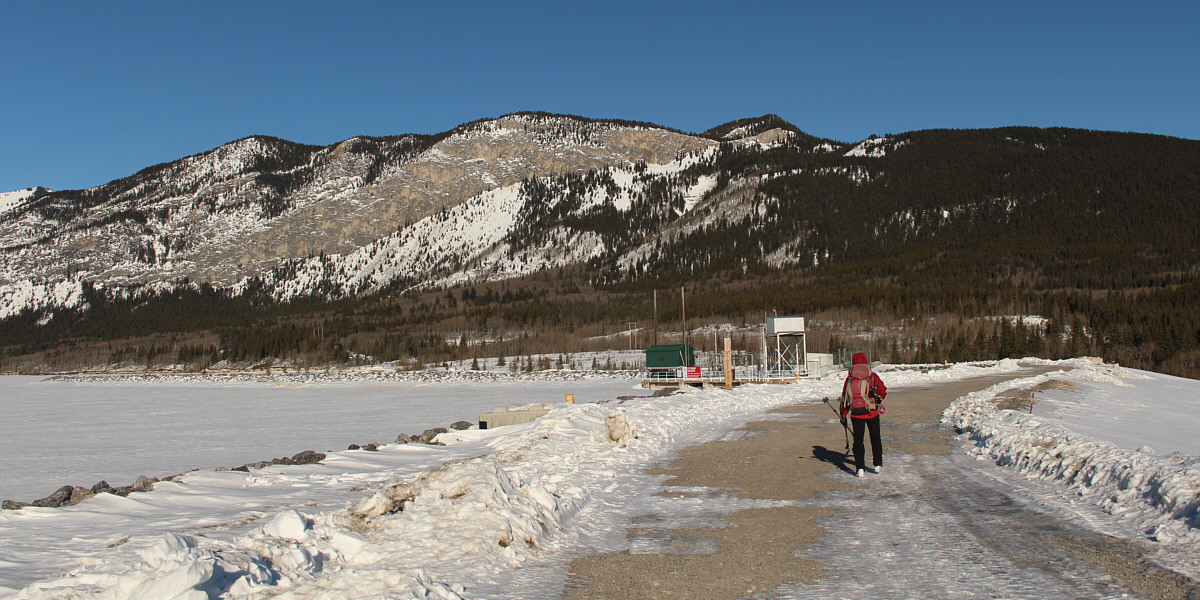 Zosia carries her skis across Barrier Lake dam on the approach to McConnell Ridge. Yates Mountain is the peak to the right of centre.
Past the dam, Zosia begins skiing in earnest.
Zosia climbs up the well-traveled trail.

Zosia looks across Barrier Lake to Mount Baldy (left) from the former site of Pigeon Lookout.

Zosia continues up the trail to McConnell Ridge.
Sonny ditches his skis here to boot-pack the rest of the way up.

Photo courtesy of Zosia Zgolak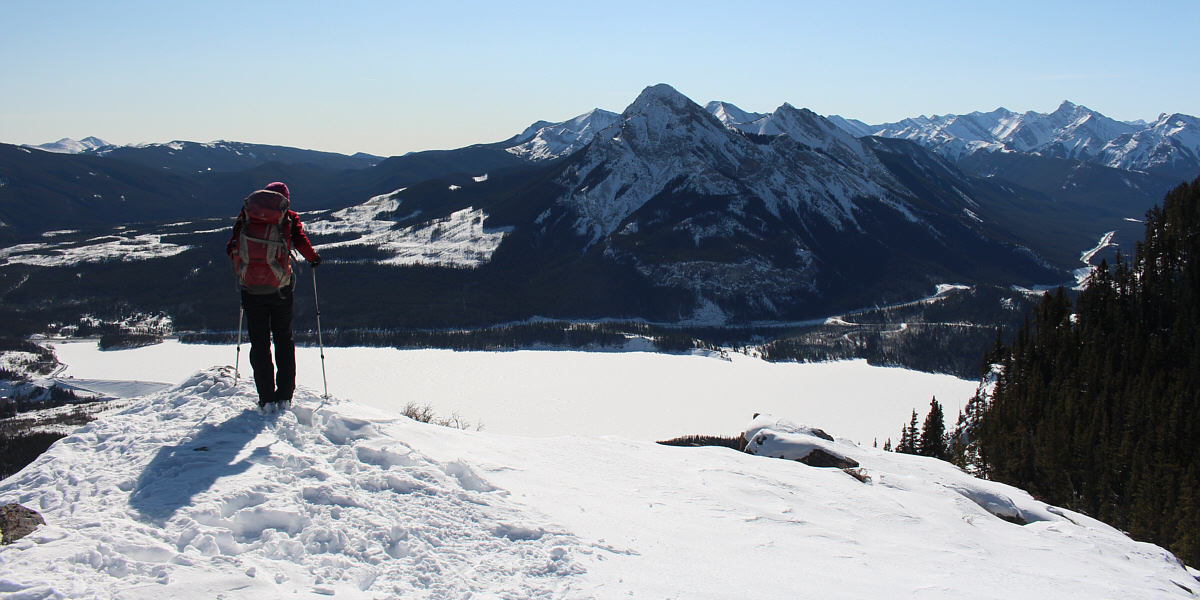 Zosia again admires the view of Mount Baldy across Barrier Lake, this time from the crest of McConnell Ridge.
Yates Mountain is the high point of McConnell Ridge.
Lac des Arcs is the most obvious feature to the west in this view from Barrier Lake Lookout. At right is Grotto Mountain.
Mount Fable (left) stands out from the rest of the peaks to the northwest.
Mount Yamnuska sits across the valley to the north.
The landscape is relatively flat to the east. Chiniki Lake is visible to the right of centre.
Zosia and Sonny stand on the balcony of Barrier Lake Lookout atop Yates Mountain (2014 metres).
Zosia descends the steep trail below McConnell Ridge.
Zosia prepares to ski down from Pigeon Lookout site.
Sonny snowplows down the trail.

Photo courtesy of Zosia Zgolak

After skiing down from McConnell Ridge, Zosia straps her skis to her backpack for the final walk back across Barrier Lake dam.
Total Distance: 12.4 kilometres
Round-Trip Time: 4 hours 33 minutes
Net Elevation Gain: 635 metres