BOU AVENUE
Chinook North Ridge
---
Bob Spirko invited Zosia Zgolak and me to join him for a scramble up what he calls "Chinook North Ridge" on 1 June 2019. Specifically, this is the north ridge of Chinook Peak located in the Crowsnest Pass region of southwest Alberta. Bob got his inspiration for this trip from a suggested extension to the Two Cabin Trail hike described in the guidebook, Hiking the Historic Crowsnest Pass, by Jane Ross and William Tracy. We had no expectations for reaching the summit of Chinook Peak via its north ridge, but we were hoping for some nice views combined with the possibility of exploring an old mine site.

As per the guidebook route description, we started from the Travel Alberta Crowsnest Pass Visitor Information Centre located along Highway 3 about 9 kilometres west of Coleman or about 6.5 kilometres east of the Alberta-British Columbia provincial boundary. Ironically, the visitor centre staff had no idea that there was a hiking route that started right behind their building! We followed a somewhat overgrown exploration road which enters a forested valley and runs alongside a bubbling creek. The road frequently meanders back and forth across the creek, and although some crossings were bridged with logs, we had to jump or rock-hop many others. As such, the initial approach was a bit slow and tedious at times. We also had some difficulty trying to reconcile the guidebook's described landmarks and distances with what we were seeing as we progressed up the road. Incidentally, the photo on page 109 of the guidebook--a pastoral scene with Chinook Peak in the background--is nowhere near the described hike on the same page and may be a potential source of confusion.

At one point, we unexpectedly intersected what looked like a well-maintained gravel road with a good bridge running across the creek. A nearby information sign board seemed to suggest that the creek we were following is named Girardi Creek, but this name does not appear on any maps as far as I know. Crossing the gravel road, we continued to follow the creek upstream and subsequently passed a small clearing with some limited views of Chinook Peak.

The exploration road eventually veers away from the creek, and after passing an odd grassy berm, it rises steadily through more forest before petering out at tree line. The slope beyond the last trees is technically easy but strenuous to climb. We made a rising traverse eastward to circumvent some daunting cliff bands higher up the slope. Once we gained the ridge crest, we settled into a generally easy ascent up to the base of a huge buttress guarding the summit block of Chinook Peak. Continuing further requires technical climbing skills, and we consequently made this our turnaround point.

On descent, we retreated back down the ridge crest and occasionally utilized loose scree slopes to skier's right to ease some of the pounding on our knees. We then took a slightly different line down through the forest in hopes of finding some of the mine site features described in the guidebook. Although we eventually found a reclaimed road leading to a dilapidated cabin near the aforementioned grassy berm, there is little to recommend about our alternate descent route which goes mostly through light bush with one marshy area and one small section of toothpick deadfall. Regaining the exploration road at the berm, we retraced our steps most of the way back to the visitor centre with no problems other than the minor annoyance of having to cross the creek again numerous times.

Be sure to check out Bob's trip report here.
Bob and Zosia follow an exploration road which begins behind the Travel Alberta Crowsnest Pass Visitor Information Centre.
The exploration road is initially easy to follow.
A few creek crossings are bridged like this one, but many require rock hopping or jumping.
The exploration road ends not far below tree line. Chinook North Ridge is visible at upper left.
Bob and Zosia reach tree line and contemplate the steep climb ahead.
Bob grinds his way up the steep slope.
Bob stops for a texting break high above tree line.
Zosia hikes up loose rubble with Mount McLaren in the background.
Zosia watches as Bob crosses a lingering snow patch on the ridge.
Although this mildly exposed section can be circumvented, Zosia craves some hands-on scrambling.
Zosia stays focused as she scrambles up another steep section.
Bob continues to climb up the ridge.
Some more lingering snow patches on the ridge pose no problems for Zosia and Bob.
Zosia and Bob stop at a distinctive rock outcrop along the ridge. This would be their turnaround point for the day.
Sonny stops on a knob (2357 metres) just below the buttress guarding Chinook Peak's summit block.

Photo courtesy of Zosia Zgolak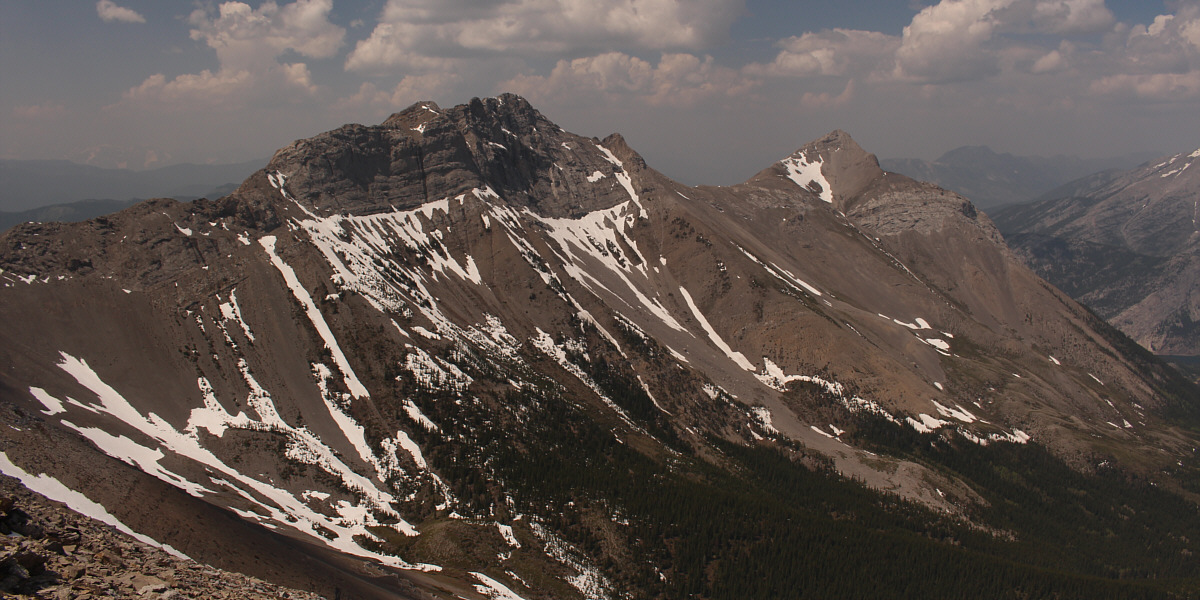 Ostracized Peak (centre; named by So Nakagawa) and Sentry Mountain (right) are near at hand to the northwest.
Visible to the southeast are Mount Parrish (left of centre) and Andy Good Peak (right of centre).
A tick crawls across the back of Sonny's hand after being discovered by Zosia on her sunglasses.
Sonny, Zosia and Bob pose for a group photo high on Chinook North Ridge.
As Bob and Zosia descend Chinook North Ridge, Seven Sisters Mountain and Crowsnest Mountain can be seen to the north (upper left).
Mount Tecumseh and Crowsnest Lake stand out to the northwest.
Taking an alternate descent route through the forest, Bob and Zosia boot-ski down a moderately steep snow patch.
The bushwhacking is generally light along the alternate descent route.

Photo courtesy of Zosia Zgolak

Zosia holds up one of many bones strewn about in the forest.
Bob and Zosia find a reclaimed road that eventually leads them back to the exploration road.
Zosia comes across the ruins of an old cabin.
Crowsnest Mountain looms in the distance along this stretch of the exploration road.
Zosia makes one of many tricky creek crossings on her way back to the visitor centre.
Here is a view of Chinook Peak and its north ridge (left) from the visitor centre's parking lot.
Total Distance: 12.5 kilometres
Round-Trip Time: 7 hours 25 minutes
Net Elevation Gain: 995 metres