BOU AVENUE
Temple Lake
---
With a splendid weather forecast on 21 September 2019, Teresa Kosmala, Zosia Zgolak and I ventured out to the Lake Louise area of Alberta's Banff National Park to visit one of my favourite places for viewing larches--Temple Lake. As we had done on a previous trip, we hiked up the decommissioned trail which starts at an unmarked pullout along Moraine Lake Road. The crux of the trip was getting through the barricade at the start of the road which is now the norm during summer and early autumn. One of the workers manning the barricade became irate with the occupants of the vehicle in front of us and began shouting angrily to get them to go away and use the park's shuttle bus system to access Moraine Lake. The occupants of the vehicle in front of us persisted though, and eventually, the exasperated worker gave up and let them through. We had much less hassle after simply stating that we were NOT going to Moraine Lake.

The actual hike to Temple Lake was less dramatic. Some deadfall near the start present some minor challenges, but overall, the trail is still easy to follow. The golden larches surrounding the lake were at the height of their splendor, and we spent about 1.5 hours relaxing on the northern shore in the warm sunshine. Although a couple of other hikers joined us briefly later on, we pretty much had Temple Lake all to ourselves. Besides the couple at the lake, we saw a photographer who was on his way out during our approach and another couple who were just starting up the trail during our return. This was in stark contrast to the hordes of tourists at Moraine Lake which we briefly visited after our hike. As we were leaving, I remarked that I did not feel the need to return to Moraine Lake for another twenty years (or ever!). Temple Lake, on the other hand, is well worth repeated visits as long as it remains relatively obscure to the masses.
| | |
| --- | --- |
| | Zosia and Teresa climb up the decommissioned trail alongside the outlet stream for Temple Lake. |
| | Zosia and Teresa duck under some deadfall on the lower parts of the trail. |
| | The forest begins to open up next to this pond. |
| | Golden larches are scattered all over the southeastern slopes of Little Temple. |
| | Mount Temple stands high above Temple Lake. |
| | Zosia, Sonny and Teresa gather for a group photo in front of some larches along the shore of Temple Lake. |
| | Golden larches are reflected in Temple Lake. |
| | Zosia and Teresa are awed by the beautiful scenery at Temple Lake. |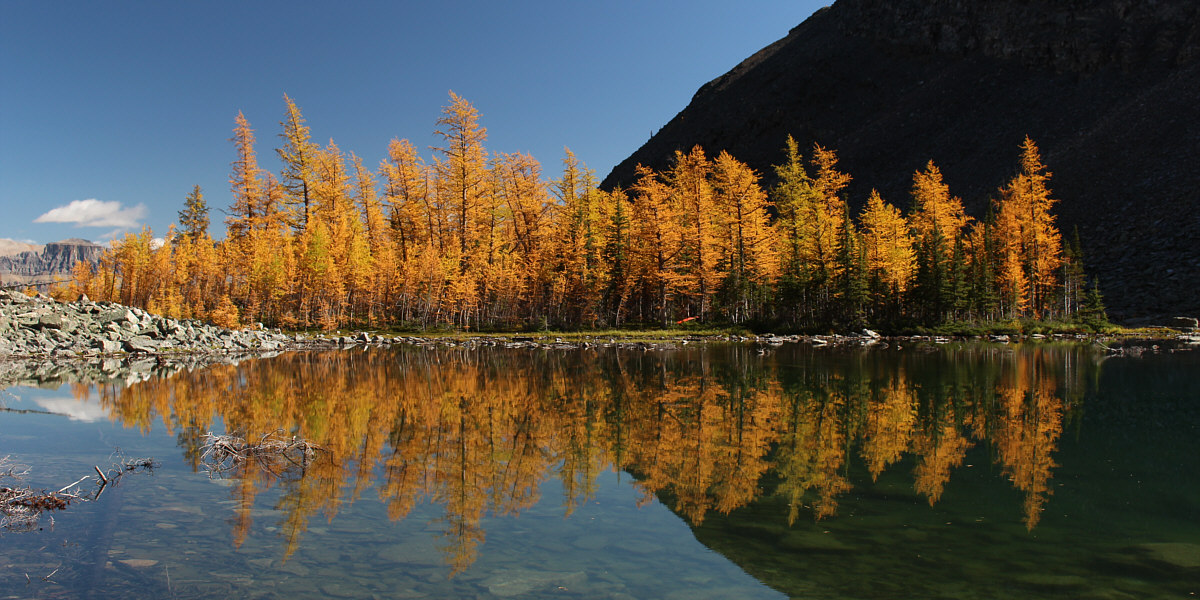 More golden larches are reflected in Temple Lake.
Teresa and Zosia hike back out the valley.
Total Distance: 5.7 kilometres
Round-Trip Time: 4 hours 3 minutes
Net Elevation Gain: 307 metres
Here is a view of Tower of Babel from the west shore of Moraine Lake.

Photo courtesy of Zosia Zgolak