BOU AVENUE
Far Far Away
---
On 5 April 2020, Zosia Zgolak and I were invited to join Wendy Kadar and others to ski at the now-defunct Fortress Mountain Ski Resort in Alberta's Kananaskis Country. Unfortunately, we all quickly discovered that highway access was blocked due to government restrictions in response to the coronavirus pandemic. One of Wendy's friends owns some land near Water Valley, and he invited us all to go and ski there instead. Although this would hardly be an alpine ski tour, the property is hilly enough to accommodate a few limited ski turns. After parking our separate vehicles at a gate, we climbed up a snow-covered road to a newly-built cabin near the high point of the property. Wendy's friend named his cabin, "Far Far Away", and he attributed the same name to the high point when I facetiously asked if it was a named summit. Beyond the cabin, we skied through a short stretch of forest before descending a large open slope. While not particularly steep, the slope nevertheless held a fresh dusting of powder on top of a hard-packed base which made for some surprisingly enjoyable skiing. We did another lap of this slope before climbing an alternate route through the forest to the north to get back to the cabin. The lower parts of this alternate route were bare of snow, but we managed to tip-toe through some minor deadfall before finding more snow higher up. We eventually returned to the cabin and then skied down a road on the south side of the property. The snow conditions were not quite as good here, and we relied more on survival skiing to get through the trees and ultimately to the bottom of the aforementioned large open slope. We did one more lap (our third) of this slope before climbing over the property high point and skiing back to our cars at the gate. Despite the limitations of skiing on a front range hill, this outing was astonishingly satisfying. Huge thanks go out to Wendy's friend for allowing all of us to join him for a ski on his property.
The group climbs up a snow-covered road on private property.
Wind has toppled an outhouse on the private property.
This clearing provides a surprisingly nice ski run for the group.

Photo courtesy of Zosia Zgolak

Zosia easily cruises down the slope.
The group climbs back up the slope they just skied down.
There is a distinct lack of snow in this corner of the private property.
Sonny steps awkwardly over some deadfall.

Photo courtesy of Zosia Zgolak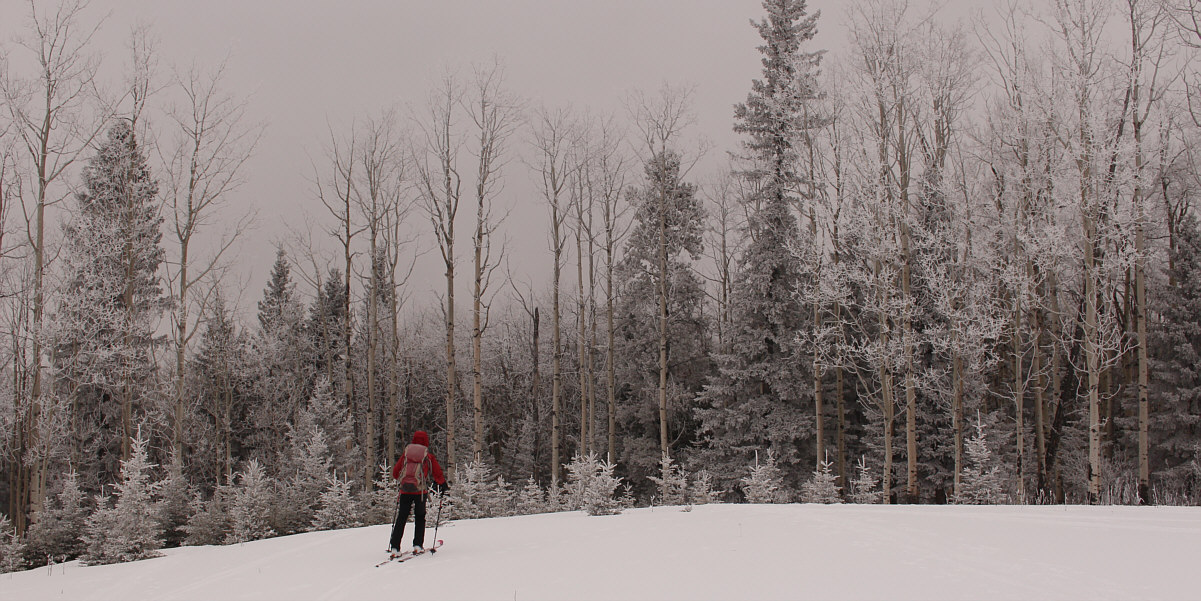 Zosia heads into the frosty forest to begin another ski descent.
Zosia is looking relaxed as she descends the same open slope for a third time.
Ruthie runs to keep up with Wendy going downhill.
Starting the final run of the day, the group leaves the private property's high point (1372 metres) which the owner coins as "Far Far Away".
A great grey owl sits on a fence post.

Photo courtesy of Zosia Zgolak

Total Distance: 7.8 kilometres
Round-Trip Time: 4 hours
Total Elevation Gain: 463 metres