BOU AVENUE
Helena Ridge East Peak
---
On 9 February 2020, Andrea Battistel, Peter Henostroza, Zosia Zgolak and I skied up Helena Ridge East Peak near Castle Junction in Alberta's Banff National Park. A winter ascent route for this peak was pioneered by Matthew Clay in 2019, and for a short time, it became probably the most popular ski or snowshoe trip in the Canadian Rockies. I was hoping to save this one for a bluebird day, and while the weather forecast promised sunshine, we started out from Rockbound Lake trailhead under cloudy skies and frosty temperatures (-17° C). On this day, the trail was nicely packed, and snow conditions were excellent. Other than having to skirt around a couple of downed trees, we had few problems skinning up the somewhat monotonous trail. About five kilometres from the trailhead (about 400 metres past the second major switchback), we left the trail to follow some old ski tracks which initially crossed Silverton Creek before climbing steeply up a forested slope. Unfortunately, these tracks led us a little too far to the east, and once we realized our mistake, we had to retreat slightly to avoid some impassable cliffs before traversing westward to get back on track.

After another long stretch through forest, we broke out onto open slopes and eventually grinded our way up to the cairn marking the high point. Much to my dismay, the sky was mostly cloudy which limited far-reaching views, but even worse, a bitterly cold wind made it very uncomfortable to linger at the top. Taking some shelter next to a couple of boulders, we quickly stripped off our skins and took a few requisite photos before commencing our descent. While everyone else had no problems skiing down the open slopes, I had more trouble with the flat light and did a nice face-plant when one of my skis unexpectedly popped off. I wiped out again while skiing through the forest lower down and had a lot of trouble getting up in the deep powder. This was not one of my better days of skiing! Things improved for me once we regained Rockbound Lake trail. In contrast to my tribulations on the upper slopes, I had no problems skiing the luge track in the lower forest back to the trailhead. In fact, I found this part of the descent to be most enjoyable as the trail allows just the right balance of speed and control without taxing the leg muscles. Upon returning to the trailhead, we packed up my car and headed to Canmore for a nice après-ski to close out the day.
Peter begins the ascent from Rockbound Lake trailhead.
Sonny skis up the trail to Rockbound Lake.

Photo courtesy of Zosia Zgolak

A woodpecker taps on a tree trunk along the trail.

Photo courtesy of Zosia Zgolak

After leaving the trail to Rockbound Lake, the group crosses Silverton Creek on a snow bridge.
The group climbs steeply up the forested slope.
Following a skin track from previous skiers, Zosia traverses below some impressive cliffs. Unfortunately, this is not the correct route to the top of Helena Ridge East Peak.
After realizing their route-finding mistake, Peter and Andrea backtrack partway along the incorrect skin track.
Emerging from the forest, the group climbs up open slopes leading to the top.
Peter reaches the crest of the ridge.

Photo courtesy of Zosia Zgolak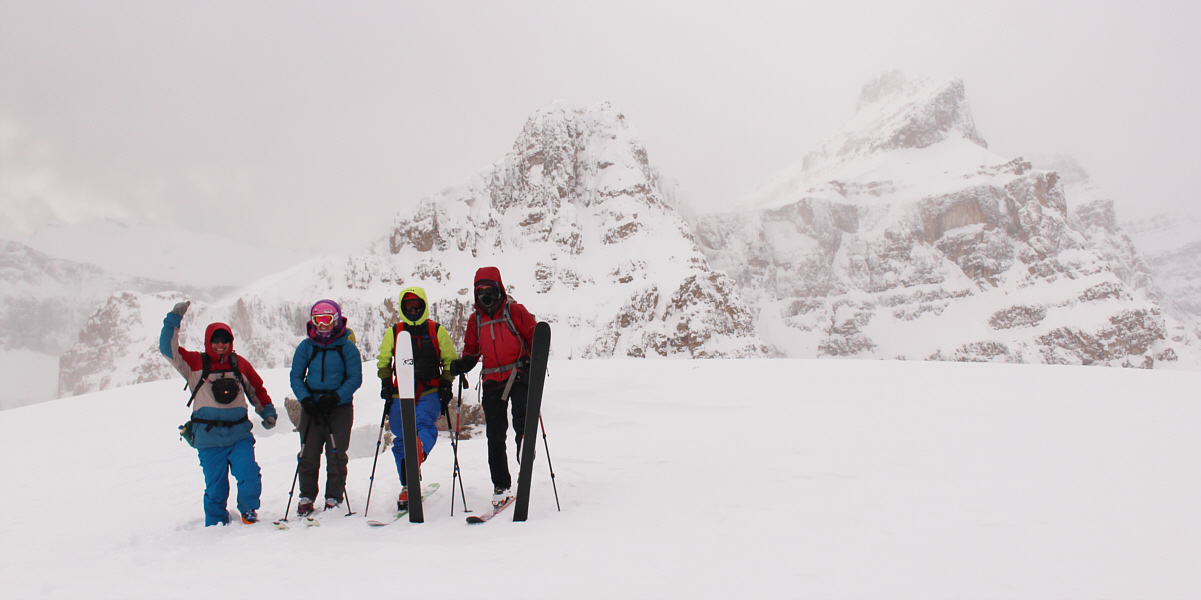 Sonny, Andrea, Peter and Zosia stand near the high point of Helena Ridge East Peak (2566 metres).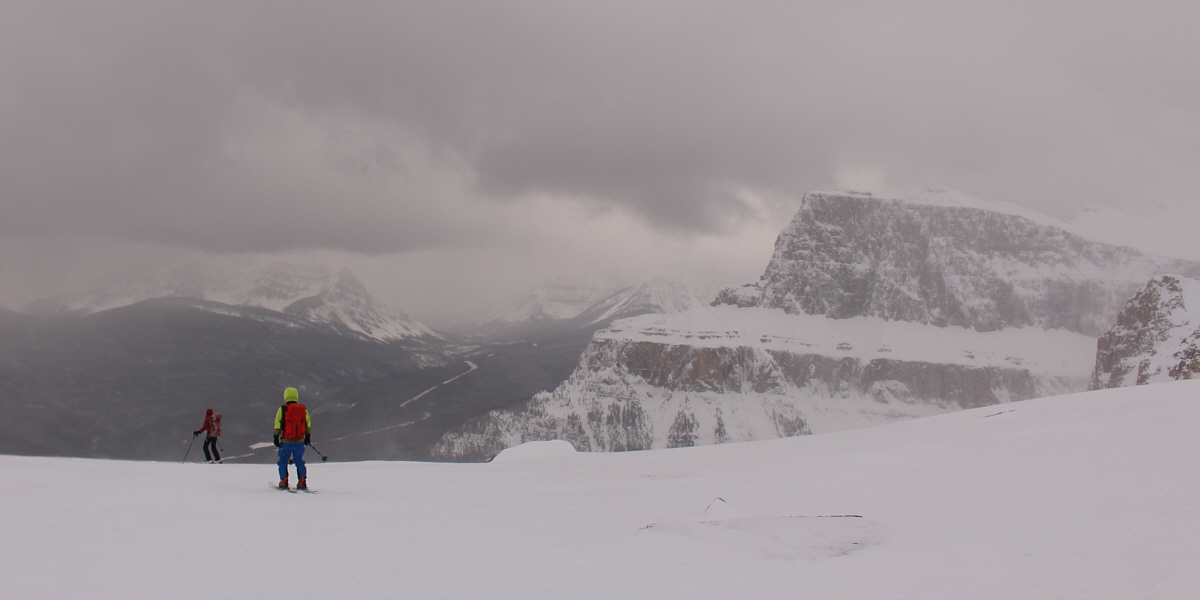 Zosia and Peter begin their descent from the top. Visible at right is Eisenhower Peak at the southeast end of Castle Mountain.
The ski down the forested slope is challenging but also a lot of fun.
Andrea goes into a tuck as she flies down the trail with Zosia and Peter following close behind her.
Total Distance: 17.2 kilometres
Round-Trip Time: 7 hours 1 minute
Net Elevation Gain: 1121 metres