BOU AVENUE
Kuskanax Mountain
---
Zosia Zgolak and I hiked up Kuskanax Mountain just north of Nakusp, British Columbia on 3 August 2020. My inspiration for this hike came from an excellent trip report on the West Kootenay Hiking website. The access is relatively easy, and despite the lengthy approach, there are virtually no technical or route-finding difficulties.

From Highway 23, turn east onto Hot Springs Road 46.0 kilometres south of Galena Bay ferry terminal or 1.2 kilometres north of the junction with Highway 6 (Esso gas station) in Nakusp. Drive east for 3.6 kilometres and turn left onto a signed dirt road. Drive another 4.0 kilometres up this road to a small parking area with a trailhead kiosk (no toilet). The dirt road is generally pretty good and could probably be negotiated by a 2WD sedan, but a high-clearance vehicle is still recommended. There is an alternate approach via Turner Road further to the north which entails less hiking but more driving.

From the trailhead kiosk, Zosia and I hiked up the continuation of the road for about 100 metres before turning left onto a signed trail. The trail climbs relentlessly for the first two kilometres, and a couple of viewpoints along the way provide good excuses for taking a breather. The angle of the slope finally relents after the trail passes a communications antenna, and from this point, we settled into a very pleasant hike along the broad south ridge of Kuskanax Mountain. About 1.2 kilometres before the summit, there is one short but deep notch which is a bit annoying to drop into and climb out of, but otherwise, the trail is easy enough to follow throughout.

Just before reaching the summit, Zosia spotted a bear on some open slopes not far from the trail. After Zosia retreated slightly to arm herself with bear spray, we made a lot of noise before proceeding cautiously up the remainder of the trail to the summit. Fortunately, the bear quickly disappeared, and we did not see it again. Upon reaching the summit, we were harassed by a swarm of bugs, and as such, we only stayed long enough to snap a few photographs before retreating back down the trail. We found a spot lower down where there was more of a breeze to keep the bugs at bay, and we stopped here for a longer break to eat lunch before resuming our descent. The hike back to the trailhead was uneventful, and we had no problems driving back down the dirt road.
The hike begins along the continuation of the road past the trailhead sign board.
The trail to Kuskanax Mountain branches off from the road not far from the trailhead.

Photo courtesy of Zosia Zgolak

The trail climbs relentlessly for the first couple of kilometres.
Zosia is delighted to find some ripe huckleberries along the trail.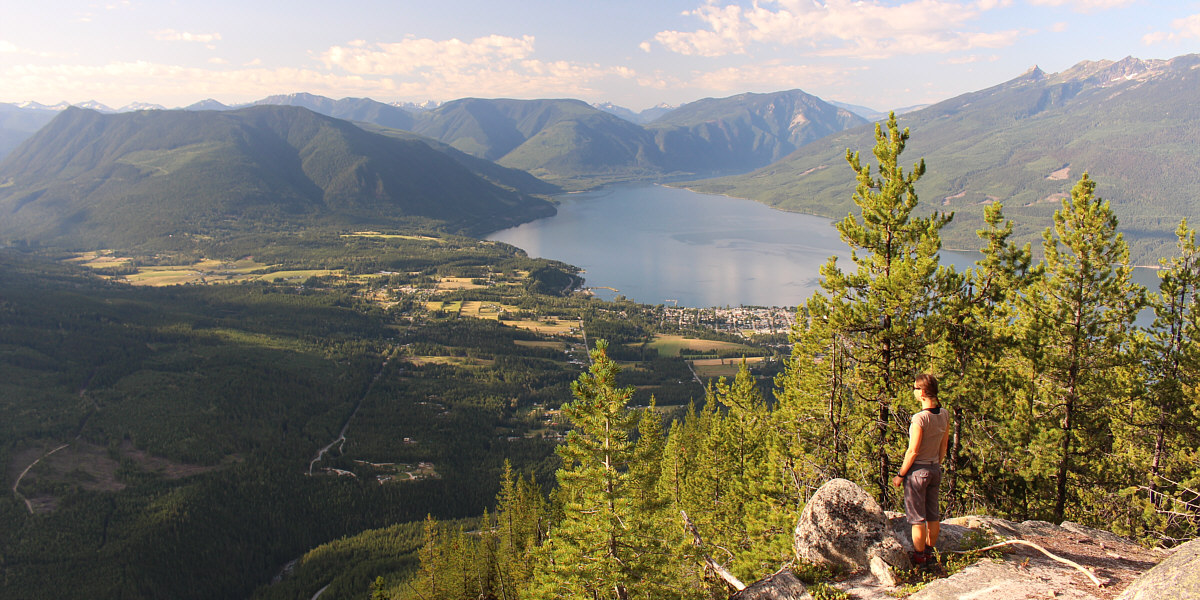 Upper Arrow Lake and the town of Nakusp are visible from the lower of two viewpoints along the trail.
Zosia gets her first glimpse of the top of Kuskanax Mountain in the distance.
Bear grass adorns the trail to Kuskanax Mountain.
Zosia begins climbing up the final rise before the summit.
After spotting a bear nearby, Zosia proceeds cautiously with bear spray in hand.
Zosia and Sonny stand on the summit of Kuskanax Mountain (2127 metres).
This is a more comprehensive view of Upper Arrow Lake from the summit of Kuskanax Mountain. Visible across the lake is the striking horn of Saddle Mountain.
Zosia leaves the summit to commence the long descent.
Sonny rejoices at the higher viewpoint along the trail.

Photo courtesy of Zosia Zgolak

Total Distance: 10.3 kilometres
Round-Trip Time: 6 hours 56 minutes
Cumulative Elevation Gain: 1004 metres