BOU AVENUE
Labyrinth Mountain
---
With fresh snow in the mountains on 17 October 2020, Alda Sigvaldason, Marta Wojnarowska, Zosia Zgolak and I headed to the Ya Ha Tinda region west of Sundre, Alberta to climb Labyrinth Mountain. We would use more or less the same route pioneered by Josée Ménard. Our biggest concern of the day was the condition of the roads accessing the area, but fortunately, we were able to drive to our starting point without any trouble.

From the junction with Highway 22 west of Sundre, drive west on Highway 584 for 8.8 kilometres and turn left onto Coalcamp Road. Drive 45 kilometres to a T-intersection with Highway 40 (Forestry Trunk Road), and turn left. Drive 2.9 kilometres and veer right onto Ya Ha Tinda Road. Drive about 12 kilometres and park on the side of the road near the northern edge of a large cut block.

From where we parked, Alda, Marta, Zosia and I hiked westward across the cut block and dropped down a steep embankment to our first obstacle of the day--a narrow but deep channel winding through the forest. Knowing that we still had some distance to cover before crossing Red Deer River, we were initially reluctant to don our fording gear. Both Marta and I had brought hip waders while Zosia had brought neoprene socks; I have no recollection of what Alda brought (probably extra sneakers). There were a few downed trees spanning the channel, but they were not easy to balance on let alone walk across. Furthermore, snow rendered everything slippery which only made things more complicated. In the end, Alda and I managed to do a difficult tightrope walk across one of the trees while Marta and Zosia used the hip waders. Just getting across the channel cost us over twenty minutes, but we had further issues thrashing through bushes and hopping more channels before we found a good place to cross the main part of Red Deer River. Since we had two sets of hip waders, we decided to set up a shuttle with Marta escorting one person across and then bringing back the hip waders for the next person. Marta had to do all the shuttling since my hip waders were larger and could better accommodate everyone else's feet. Consequently, Marta ended up crossing Red Deer River a total of five times plus five more times later in the day on our return!

With the river crossing behind us, Alda, Marta, Zosia and I worked our way upstream for about 200 metres before plunging into the forest to intersect a horse trail which essentially circumnavigates Labyrinth Mountain. This trail was a bit hard to follow at first because of snow cover and occasional deadfall, but it became more well-defined as we ventured further up the drainage separating Labyrinth Mountain from unofficially-named Mount Minos to the southeast. Following the trail for several kilometres, we eventually ended up at a signed junction (with map and moose antler) on the west side of Labyrinth Mountain. About a hundred metres north of this junction, we abandoned the trail and began ascending the mountain's west slopes which are mainly comprised of forest and ankle-breaking boulder fields. The footing was a bit tricky on this day with all the snow, but otherwise, both bushwhacking and route-finding difficulties were minimal as we grinded our way up some 425 metres to the partially treed summit.

Alda, Marta, Zosia and I stayed for about half an hour on the summit before commencing our descent. Rather than muck around on unfamiliar terrain, we simply retraced our steps down the west slopes without too much fuss. Upon regaining the horse trail, we marched all the way back to our crossing point along Red Deer River where we once again employed our hip wader shuttle. It took about twenty minutes to get everyone across, but unlike our sunny morning crossing, this one was in the shade and felt considerably colder. Not wasting any time, we continued to follow our tracks through the same bushes back to the channel in the forest. We were a bit quicker in getting across the channel this time since Marta and I were still wearing our hip waders while Alda and Zosia managed to tiptoe over a natural dam. A short climb up the embankment followed by an easy walk through the cut block soon had us back at our parked cars.
Labyrinth Mountain is visible in the distance from the parking area.
Alda makes a very difficult crossing of a channel in the forest.
Wearing Sonny's hip waders, Zosia crosses the channel on a dam.
Labyrinth Mountain quickly lives up to its name as the group thrashes through some bushes in search of Red Deer River.
Zosia fords Red Deer River while Marta waits on the other side.
Sonny tries to avoid deadfall as he bushwhacks through the forest in search of a horse trail.

Photo courtesy of Zosia Zgolak

The group finds easier travel on the good horse trail.
The group leaves the trail here to begin ascending in earnest.
Sonny and Alda carefully ascend a snow-covered boulder field.

Photo courtesy of Zosia Zgolak

Route-finding is somewhat complicated by some deadfall among the boulders.
Marta follows Zosia and Alda up another boulder field on the upper mountain.
Marta climbs up a weakness in a rock band.
Marta traverses a semi-open ridge not far from the summit.
Marta, Zosia, Sonny and Alda enjoy sunny and calm conditions on the summit of Labyrinth Mountain (2109 metres).
Higher but unofficially-named Mount Minos is visible through the trees to the southeast.
The view to the northwest includes Wapiti Mountain (centre horizon) and Well Site Mountain (far right).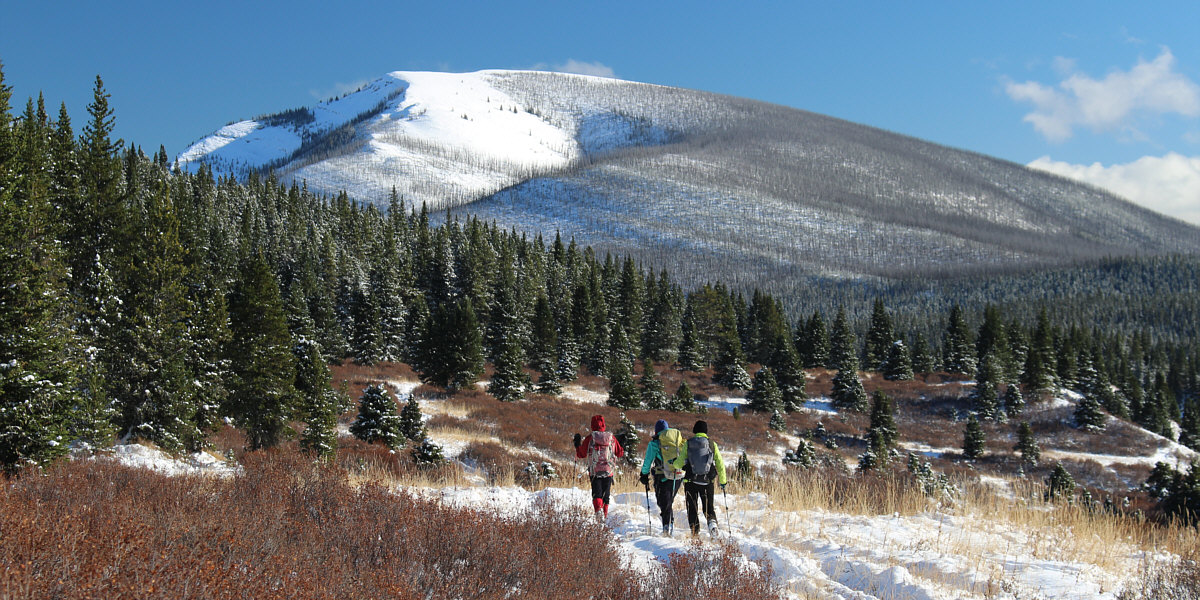 Mount Minos dominates the background as the group regains the horse trail after descending from Labyrinth Mountain's summit.
The group follows the horse trail high above the drainage that separates Labyrinth Mountain from Mount Minos.
Alda follows Marta back across Red Deer River.
Alda waits for Marta and Zosia to join her on the far bank.
Total Distance: 14.7 kilometres
Round-Trip Time: 8 hours 58 minutes
Net Elevation Gain: 573 metres