BOU AVENUE
Mount Crowe
---
On our way to Grand Forks, British Columbia on 27 December 2021, Zosia Zgolak and I stopped at Strawberry Pass along Highway 3B with rather ambitious plans to ski over Mount Crowe and up nearby Mount Neptune. Both of us had previously skied up Mount Crowe with friends in 2018, and while the skiing was already quite good there, I remember getting a glimpse of some very tantalizing slopes on Mount Neptune to the east. While Mount Crowe and Mount Neptune both sit within public crown land according to the Land Title and Survey Authority of British Columbia, a cat skiing company operates in the area, and I have been unable to ascertain whether or not public access to Mount Neptune is even allowed or merely frowned upon. In any case, we would first ski up Mount Crowe before making a decision to proceed to Mount Neptune.

Starting from the same plowed pullout that we used last time (north side of Highway 3B, 8 kilometres south of the junction with Highway 3 or 16 kilometres north of Red Mountain Resort), Zosia and I followed a series of Nordic ski trails--"Crowe Road", "Maureen's Thrill", "Moe's Road", and "Merry Trail"--to reach Mosquito Cabin situated just north of White Owl Pass. From there, we regained "Crowe Road" on an already broken trail and continued northward passing a sign prohibiting motorized traffic. While the tracks we were following abruptly left the road and turned steeply uphill just past the sign, we opted to break trail along the remainder of "Crowe Road" until it intersected "Cliff Road". Turning right, we continued to break trail up "Cliff Road" until we eventually stumbled onto what was likely the same broken trail that had left the road lower down. We had no further problems following the broken trail all the way up Mount Crowe's north ridge.

Near the top of Mount Crowe, Zosia and I stopped to survey the connecting ridge to Mount Neptune. We could see already a lot of ski tracks on Mount Neptune, and we even spotted a snow cat crawling up to the top. I am not sure if the cat skiing operators would have appreciated our presence there, but regardless, the descent of Mount Crowe's eastern slope looked uninvitingly steep. Given the limited daylight and frigid temperatures, the prospect of traversing to Mount Neptune and then climbing back over Mount Crowe proved to be too much for me to stomach, and I convinced Zosia that we should save Mount Neptune for another day.

Instead, Zosia and I carried on up the remaining short distance to the summit of Mount Crowe. The last time we were here, we had only gone as far as the gazetted summit located on a mostly viewless hump near the north end of the summit ridge. It turns out that the more scenic south end of the summit ridge is actually slightly higher, and surprisingly, we even found one of Ephraim Roberts' notorious pink ammo boxes here (placed in the spring of 2021). While we stopped for a short break on the summit, another skier and his dog came up behind us, and they would eventually disappear down the south side of the mountain. Uncertain about the terrain there, we opted to return the way we came as there was still plenty of good skiing to be had descending the north ridge and the northwest slopes.

Zosia and I had an exceedingly enjoyable ski back down to "Cliff Road", but disaster struck just as we regained "Crowe Road" further down. I stopped just as we intersected our up-track on the road, but as Zosia swooped down behind me, she mistakenly turned the wrong way and inadvertently skied into a gaping hole beside me which was open right down to the surface rocks. While her left boot immediately released from her ski, the right boot did not, and consequently, her right leg probably became slightly hyperextended as she fell forward. Zosia was clearly in pain as she slowly collected herself. Miraculously, she had not broken any bones or sprained any of her joints, but there was definitely some sort of serious injury to her right calf. After resting for a few minutes, she incredibly was able to stand up and strap her skis back on. It is a testament to Zosia's toughness that she was able to ski all the way back to the trailhead--via "Kim's Way", "Gordski Road", and "Cookie's Road"--on her own and on one good leg.

A visit to the hospital in Grand Forks the next day revealed that Zosia had a muscle tear in her right calf. Although we took it easy and hung out in Grand Forks for a couple more days, the seriousness of her injury made it pointless to continue with our Christmas road trip. We subsequently drove home to rest and recover.
Zosia starts climbing up "Crowe Road" from the trailhead.

Red Dog Cabin (1693 metres) is located along "Moe's Road".

The upper slopes of Mount Crowe are revealed as Zosia climbs up "Merry Trail".
Mount Gladstone stands out on the western horizon.
Visible to the northwest is the highest point of Gladstone Provincial Park.
Sonny arrives at Mosquito Cabin (1761 metres) located at the junction of "Merry Trail" and "Kim's Way".

Photo courtesy of Zosia Zgolak

Zosia heads up a continuation of "Crowe Road" past a sign prohibiting motorized vehicles.
Turning off "Crowe Road", Zosia has to break trail going up "Cliff Road".
The snow-covered trees along "Cliff Road" make for a scenic ascent.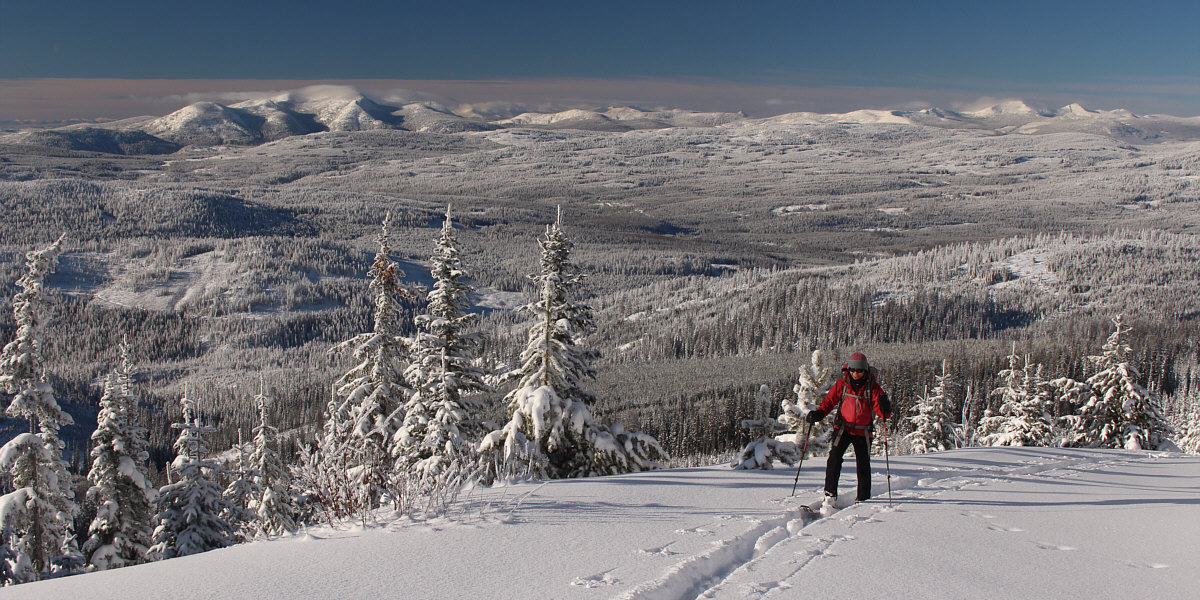 Panoramic views open up behind Zosia as she climbs higher up "Cliff Road".
| | |
| --- | --- |
| | Picking up a broken trail again makes it easy to ascend the upper mountain. |
| | Zosia zigzags up the north ridge of Mount Crowe. |
| | Zosia and Sonny reach the true summit of Mount Crowe (2152 metres). |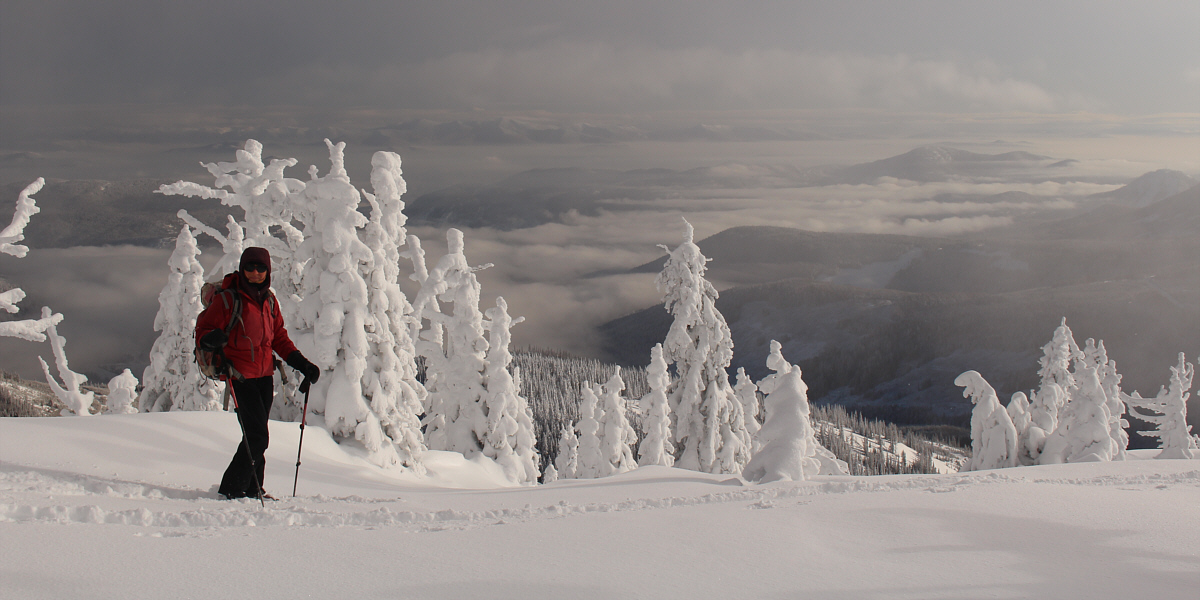 Clouds dance among the peaks and ridges visible to the southeast.
Another skier and his dog can be seen preparing to ski down the south side of Mount Crowe.

Zosia skis down the north ridge of Mount Crowe.

Zosia ducks under a fallen tree while skiing down the northwest slope of Mount Crowe.

Sonny dances effortlessly through the fresh powder.

Photo courtesy of Zosia Zgolak

The trees are nicely spaced out here to allow easy maneuvering.

Sonny emerges from the trees and momentarily regains "Cliff Road".

Photo courtesy of Zosia Zgolak

Zosia leaves "Cliff Road" to take a more direct line down the slope.

Zosia takes a moment to collect herself after injuring her right calf when she inadvertently crashed into a hidden ditch beside "Crowe Road".

Zosia continues skiing down "Crowe Road" and would eventually make it back to the trailhead despite a lot of pain in her right leg.

Total Distance: 12.1 kilometres
Round-Trip Time: 6 hours 25 minutes
Net Elevation Gain: 543 metres