BOU AVENUE
Indian Graves Ridge And Willow Ridge
---
On 31 October 2021, Zosia Zgolak organized a Halloween-themed hike to Indian Graves Ridge and Willow Ridge (both are unofficial names) in Alberta's Cataract Creek Snow Vehicle Public Land Use Zone. Besides myself, participants included Lena Armstrong, Daniel Dufresne, Dinah Kruze, Shaun Luong, Glenda Macleod, Christine Mcnamara, Shelley Milutinovic, Aga Sokolowska, and Bob Spirko. Easy hiking routes for both ridges are well-documented in Gillean Daffern's Kananaskis Country Trail Guide, but we would also make use of Bob's trip report from 2012. In fact, many of us had already previously climbed either one or both of the ridges, but with a recent heavy dump of snow in the mountains coupled with unseasonably cold temperatures, we figured that it was better to stick with this simple hike in the foothills rather than tackling a more complicated objective.

Rendezvousing just east of the bridge over Willow Creek along Secondary Road 532 (12 kilometres west of junction with Highway 22), our large group crossed the dirt road which runs along the north bank of Willow Creek and briefly followed a pipeline right-of-way before turning left to gain the south end of Indian Graves Ridge. From there, we headed north along the crest of the ridge and passed through a barbed wire gate before reaching the presumed high point. We took a break here--lots of candy was passed around--before continuing northward along the ridge crest. Near the north end of the ridge, we headed west and dropped down into a meadow separating the two ridges. We intersected a well site road on the far side of the meadow and briefly followed it before grinding steeply up to the top of Willow Ridge which is merely one of several similar bumps in the vicinity collectively known as Willow Creek Hills. We took a couple of short breaks near Willow Ridge's high point before heading southward much like Bob did on his previous trip, but instead of staying on the ridge crest, we veered eastward and descended back to the same well site road we followed earlier. The well site road, which had one rather mucky section we had to carefully tiptoe through, eventually intersects the dirt road along the north bank of Willow Creek. Turning left, we easily followed the road back to our starting point to conclude our hike. Despite the abundance of snow, this trip proved to be easy and enjoyable for everyone who participated. There was no trick to the route-finding, and it was a treat to share the trail with friends both old and new.

Be sure to check out Bob's report of this same trip.
A strange-looking group gets ready to hike up Indian Graves Ridge in the background.

The big group quickly cuts a trail through the fresh snow.

The initial climb up Indian Graves Ridge is short but steep.

Bob appears to have gained a lot of weight lately as he is followed up the ridge by Oddjob.

Photo courtesy of Shaun Luong

The group heads north along the crest of Indian Graves Ridge.

Willow Ridge (second bump from left) comes into view as the group proceeds along Indian Graves Ridge.

Christine and Glenda meet their next of kin.

The Devil helps Shelley get through a tangle of ropes while everyone else just steps over the barbed wire gate.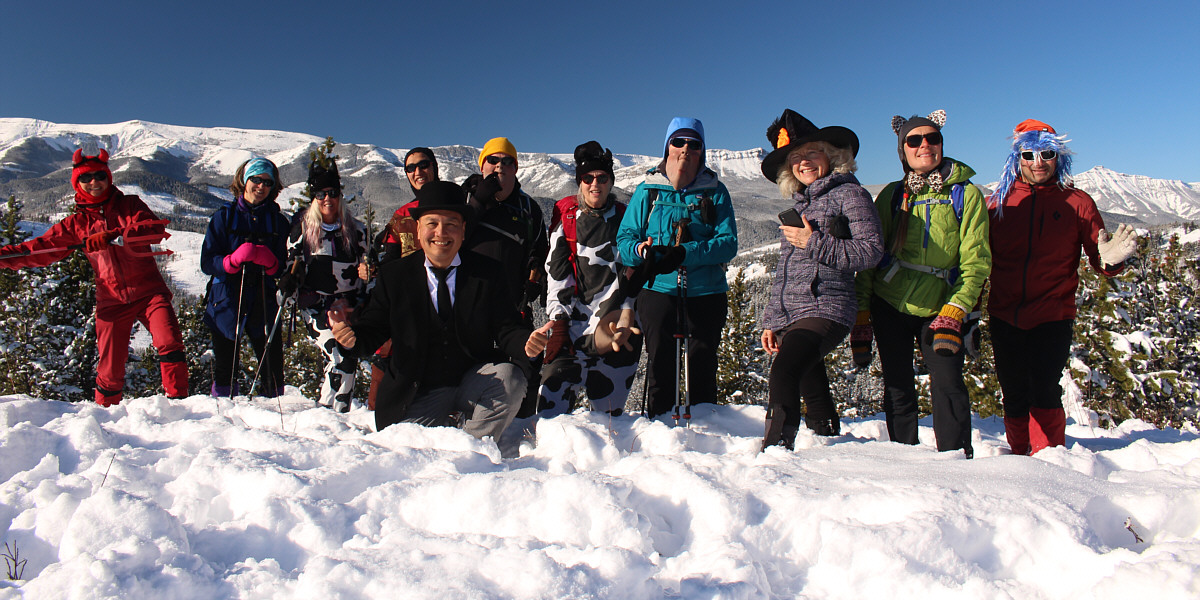 On the presumed high point (1675 metres) of Indian Graves Ridge are (L to R) Zosia, Lena, Christine, Shaun, Sonny, Bob, Glenda, Dinah, Shelley, Aga, and Daniel.
Lena makes a deal with the Devil by handing over her homemade chocolates.

Photo courtesy of Zosia Zgolak

Evil beings appear to be lurking in these hills.

Photo courtesy of Zosia Zgolak

After briefly following a well site road, the group abandons it to climb up Willow Ridge.

Upon gaining the crest of Willow Ridge, the group stops to do the Time Warp.

After finishing up their dance break, the group heads for the high point of Willow Ridge.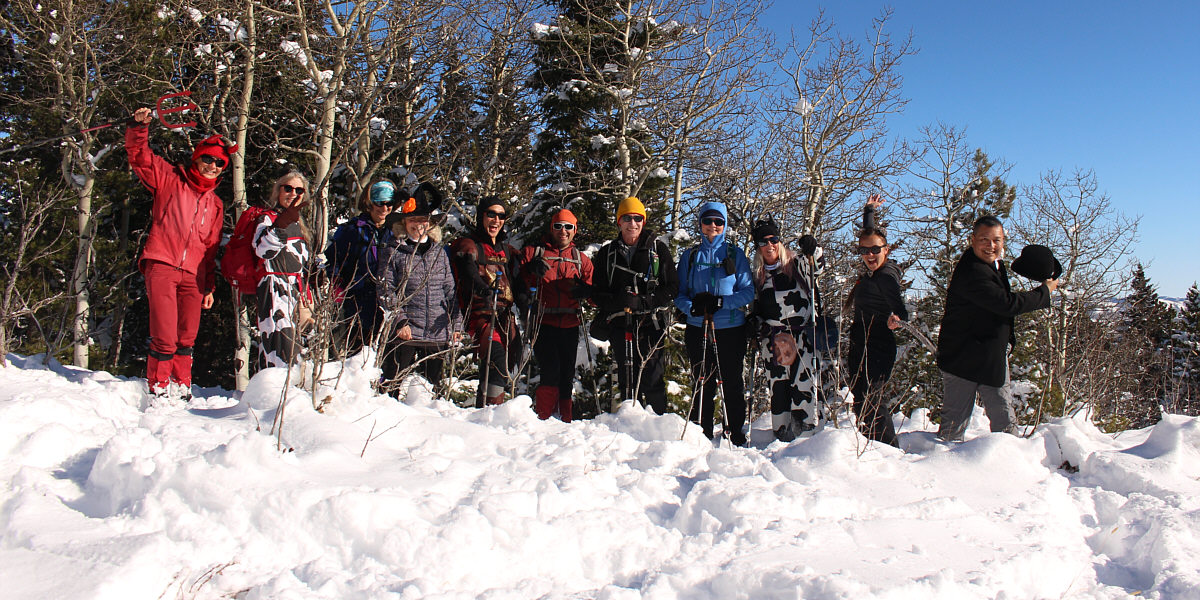 Posing near the high point (1754 metres) of Willow Ridge are (L to R) Zosia, Glenda, Lena, Shelley, Shaun, Daniel, Bob, Dinah, Christine, Aga, and Sonny.
Heading south along Willow Ridge, the group passes this clearing with a view of Indian Graves Ridge across the valley.

The group slips between some snow-plastered trees on Willow Ridge.
The road along Willow Creek passes under this cliff band at the south end of Indian Graves Ridge.
Oddjob pats a very friendly horse grazing beside the road along Willow Creek.

Photo courtesy of Zosia Zgolak

Total Distance: 8.4 kilometres
Round-Trip Time: 4 hours 56 minutes
Cumulative Elevation Gain: ~440 metres