BOU AVENUE
Mount Solomon
---
Wrapping our post-Christmas road trip, Zosia Zgolak and I hiked up Mount Solomon just west of Hinton, Alberta on 2 January 2021. The trail going up Mount Solomon is maintained by staff from nearby Black Cat Guest Ranch and is described on their website. The trailhead is also located just outside the ranch gate.

From Highway 40, turn south onto Range Road 260A (look for a sign to "Brule") 132 kilometres east of Grande Cache or 5.7 kilometres west of the junction with Highway 16. Make an immediate right turn and drive 11 kilometres to the turnoff for Black Cat Guest Ranch. Turn right and drive 2.7 kilometres to the trailhead which is just to the right of the ranch gate.

From the trailhead, Zosia and I followed signs for trail number 18 labelled "top of mt. solomon". The trail is pretty flat for the first few kilometres, and at times, it felt like we were going more downhill than uphill. Almost three kilometres from the trailhead, we reached a junction at a viewpoint with a bench, and from here, we finally began to climb in earnest up the mountain's southeast ridge. Although the trail was covered with snow in some places, travel was easy, and we had no serious issues hiking up to the summit. The wind was howling on this day, and while we were mostly sheltered by trees on the way up, we felt the full brunt of the wind on the semi-open summit. As such, we lingered only long enough to snap our requisite photos and sign the summit register.

On our way down, Zosia and I opted to take a shortcut trail which is numbered 18a. Shaving off nearly two kilometres, this trail takes a more direct line down the mountain, but it is steeper and can be dangerously icy in some places. Fortunately, we were able to descend the shortcut trail without any mishaps, and we eventually regained trail 18 near the valley bottom.

Trail number 5, labelled "solomon's grave", piqued our curiosity during our hike in, and since we had some extra time and energy, Zosia and I decided to check it out after descending from Mount Solomon. Of course, we had no clue as to how far we had to go to reach the grave site, but the flat trail was easy enough to walk on. As we would eventually find out, the grave site is actually located halfway up a forested knoll just northwest of Mount Solomon, and visiting it added an extra six kilometres of uninspiring walking to our round-trip distance. The trail itself is rather mundane and is perhaps best done on a mountain bike or skis. Worst of all, the grave site is unremarkable and would be easily missed if it were not for the presence of some plastic flowers and tattered signage. A partially chewed up sign tacked to a nearby tree provided enough information for subsequent online research, and I would later learn that the grave is the final resting place of a native hunting guide named Solomon Caraconté. Solomon was apparently killed by a falling tree branch while riding on horseback in the area some time in the mid-1930s, and the mountain and nearby creek are named in his honour. Unimpressed by the grave site, Zosia and I climbed to the top of the knoll hoping to find something more interesting like a spirit house or a scenic viewpoint, but there is nothing but scrubby trees up there. Disappointed, we simply turned around and trudged back the way we came.
| | |
| --- | --- |
| | The hike to Mount Solomon begins with a fairly flat walk through forest. |
| | The trails here are signed and maintained by staff from Black Cat Guest Ranch. |
| | Zosia takes a break on a bench near a trail junction. |
| | The trail briefly follows a cut line. |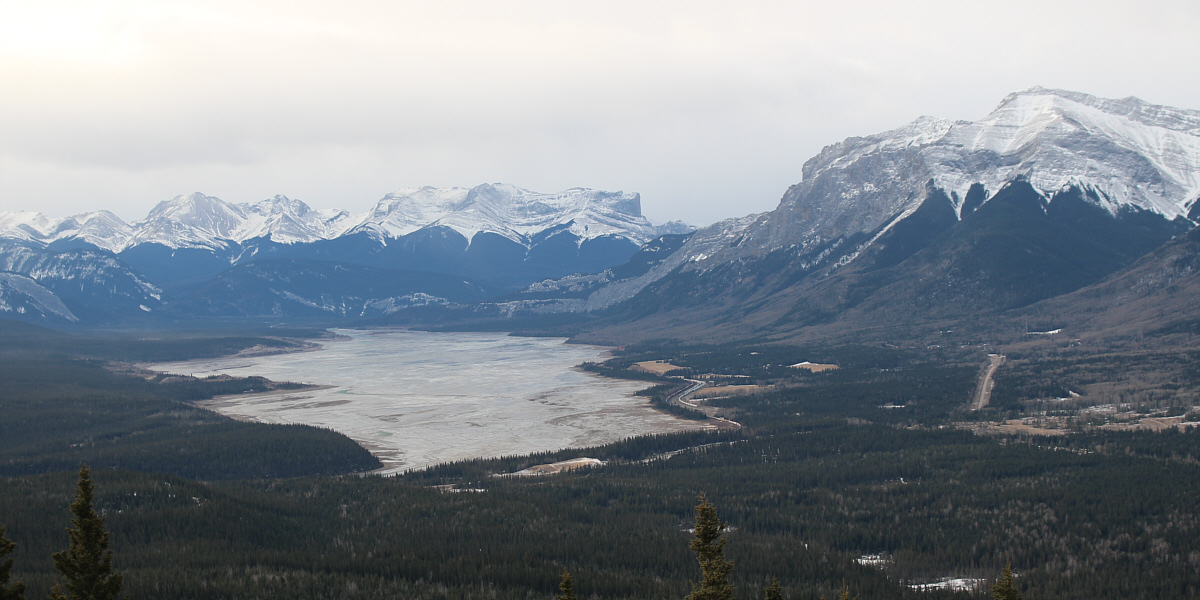 A break in the trees grants this view of Brule Lake and distinctive Roche Miette (centre).
The top of the mountain is barely visible through the trees.

Sonny and Zosia reach the summit of Mount Solomon (1590 metres).

Sonny enjoys the views from a bench just below the summit.

Photo courtesy of Zosia Zgolak

Zosia decides to take a shortcut trail (18a) to descend the mountain.

The shortcut trail is quite steep in a few places.

Photo courtesy of Zosia Zgolak

The walk to find Solomon's Grave is long and boring.
Some plastic flowers and tattered signs mark Solomon's Grave.
Total Distance: 17.6 kilometres
Round-Trip Time: 6 hours 25 minutes
Cumulative Elevation Gain: 696 metres