BOU AVENUE
Paulina Peak, Lava Cast Forest And Painted Hills
---
Zosia Zgolak and I enjoyed a relaxing day visiting several attractions in central Oregon on 19 August 2022. We first traveled to Newberry National Volcanic Monument with intentions to hike Paulina Peak, but surprisingly, the good gravel road that runs all the way to the summit was open on this day. As such, we simply drove to the summit parking lot (vault toilets here) and only had to scramble up a few boulders to tag the highest point. When we had our fill of scenic views, we drove back down the mountain and stopped for a brief visit to Paulina Creek Falls. Newberry National Volcanic Monument is usually accessed via Paulina Lake Road (County Road 21) after turning east from Highway 97, 9.3 kilometres north of the McDonald's in the city of La Pine or 35.0 kilometres south of the Southwest Reed Market Road interchange in the city of Bend.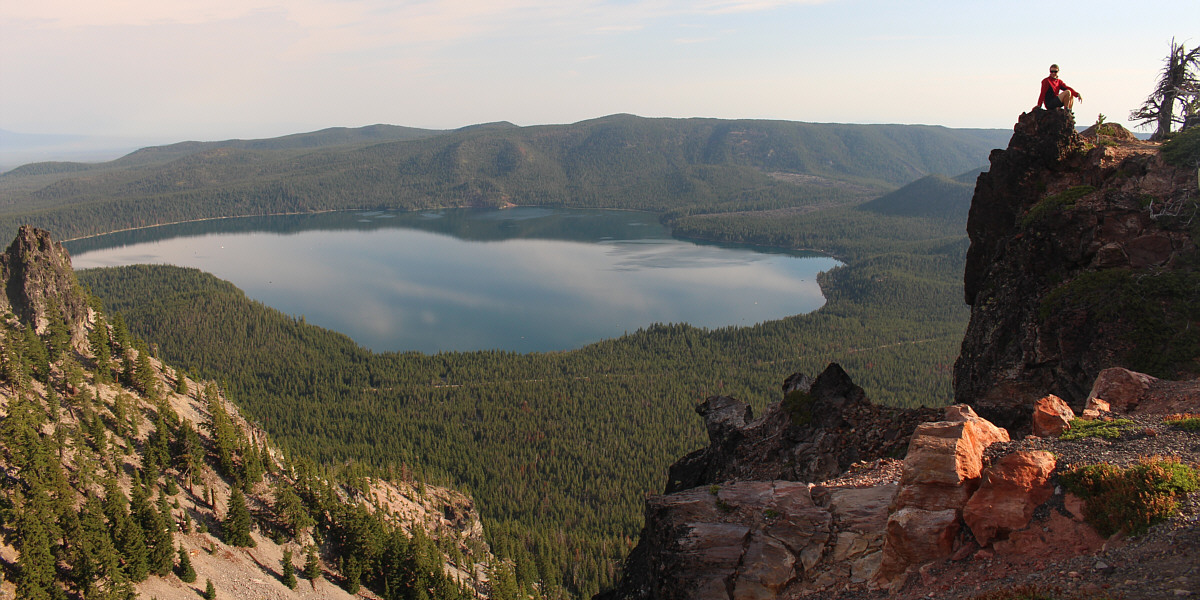 Zosia sits on a rock outcrop high above Paulina Lake.
| | |
| --- | --- |
| | Sonny and Zosia reach the summit of Paulina Peak (2426 metres) after a strenuous climb from the parking lot (bottom right). |
| | This viewpoint near the top of Paulina Peak grants views of Paulina Lake, Little Crater, Central Pumice Cone, East Lake, and Big Obsidian Flow. All are located within Newberry Crater. |
| | Zosia checks out Paulina Creek Falls. |
Our next stop was the Lava Cast Forest, a short interpretive loop trail to the north of the Newberry Crater. The main attraction here are the numerous holes or casts that were created when ancient tree trunks were enveloped by encroaching lava. For some inexplicable reason, Zosia and I actually took a rather roundabout and rough road to get to the trailhead, but the usual driving approach is via Lava Cast Forest Road (forestry road #9720) which is accessed from Highway 97 at Exit 153.
Sonny points out the lava cast of some ancient tree trunk.

Photo courtesy of Zosia Zgolak

Zosia reads an interpretive sign along the mostly paved trail at Lava Cast Forest. On the horizon are the Paulina Mountains of Newberry Crater.
Zosia stoops in what appears to be a horizontal cast.

Photo courtesy of Zosia Zgolak
After our visit to Lava Cast Forest, Zosia and I spent a few hours in and around Bend before driving out late in the day to the Painted Hills Unit of John Day Fossil Beds National Monument. In waning daylight, we hiked Painted Hills Overlook Trail, Red Scar Knoll Trail, and Painted Cove Trail--all are short easy hikes. This concluded a wonderful day of leisurely exploration in central Oregon, but I feel that there are still many more attractions to discover here.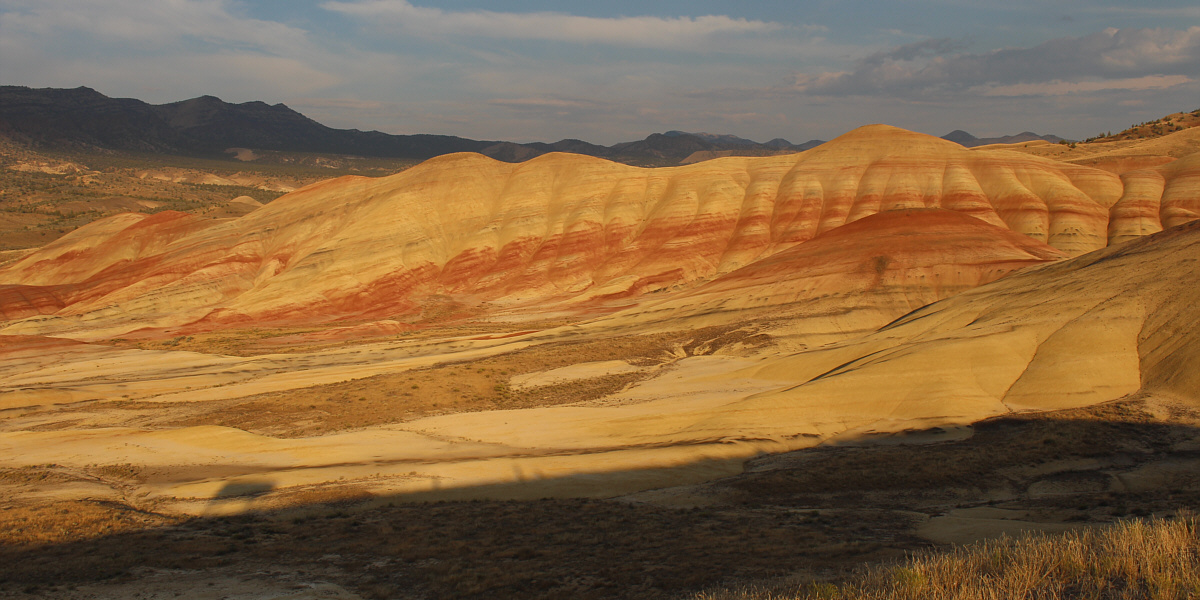 The Painted Hills are dazzling to see late in the day.
Zosia hikes the Overlook Trail to get a different perspective of the Painted Hills.
The last rays of sunshine for the day light up Red Scar Knoll.
Zosia stands in front of Red Scar Knoll.
The colours along Painted Cove Trail look somewhat muted after the sun disappears.
A spur trail leads to this viewpoint above Painted Cove Trail. The lake in the distance is on private land.

Photo courtesy of Zosia Zgolak

Zosia follows a boardwalk back to the parking area for Painted Cove Trail.