BOU AVENUE
Canyon Mountain South End
---
On 28 February 2011, I snowshoed up to the south end of Canyon Mountain (also known as Grey Mountain) near Whitehorse, Yukon Territory. My work had sent me to partake in Whitehorse's annual Sourdough Rendezvous that weekend, and I had brought snowshoes along with hopes of maybe bagging a local peak. As the weekend progressed though, my busy schedule made it difficult to get away for any extended period of time, and worst of all, the weather was rather unpleasant with an overcast sky, bitterly cold temperatures, and a very nasty north wind. Luckily, an opportunity finally presented itself to me on the 28th. While the rest of my colleagues flew out of Whitehorse that morning, my flight was not scheduled to leave until later in the afternoon. Furthermore, after I drove them to the airport, my colleagues left me their rental car which was not due to be returned until just before my flight. Though the temperatures and the wind had not improved much, at least the cloud cover had disappeared overnight. A sunny sky seems to be a great motivator regardless of other weather conditions!

Having previously researched the route up Canyon Mountain, I drove up the access road as far as a plowed parking area. Although I could have driven a bit further, the road beyond is not maintained, and I did not want to risk getting the rental car stuck in deep snow. Unfortunately, this would add significant distance and elevation gain to my trip, and I already had doubts about making the summit even before I began marching up the road in my snowshoes. Travel along the road was generally easy, and with the wind at my back and the sun in my face, I felt quite comfortable despite the frigid temperatures. Like my recent trip up Mount Baker, I was yearning for my cross-country skis, but at least this service road has decent views along the way. About 3.5 kilometres from the parking area, I turned up a narrower and less-traveled road which provides a slightly more direct route up to the ridge crest. I eventually reached a high point just north of Canyon Mountain's south end. Though the summit looked tantalizingly close, I estimated that I was still at least a good hour away, and hiking into the teeth of the freezing wind would have slowed me down even further. Running out of time, I settled on briefly visiting Canyon Mountain's south end before taking a shortcut back to the road and returning to the car. As it turned out, my flight out of Whitehorse was delayed by an hour, but I have no regrets about turning around prematurely given the fact that I still had to return the rental car on time. My delayed departure was also the start of a long and surreal trip home which involved missed, oversold and cancelled flights and an impromptu one-night stay at a hotel in Vancouver, British Columbia.

| | |
| --- | --- |
| | Canyon Mountain is visible from the parking area at the end of the maintained section of the road. |
| | There are a couple of antennas near Canyon Mountain's south end (right). |
| | Golden Horn Mountain is probably the most prominent landmark near Whitehorse. |
| | Snowdrifts cover this section of the road. |
| | This is the less-traveled road that branches off from the main road. |
| | This is the view of Canyon Mountain's south end from Sonny's high point (1330 metres). |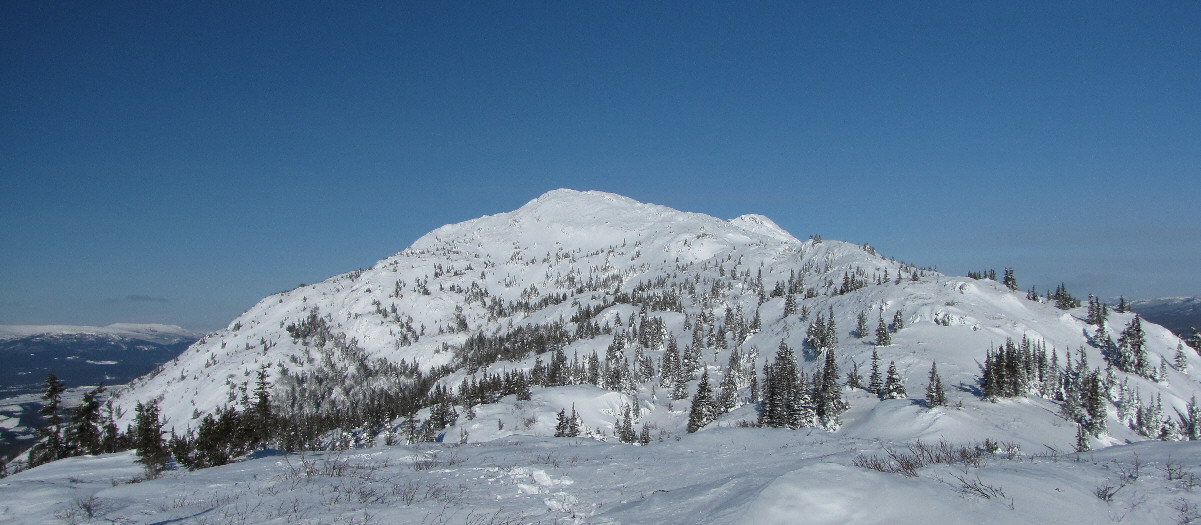 This is the main summit block of Canyon Mountain as seen from Sonny's high point.
The view to the southwest includes Chadburn Lake (lower right) and Golden Horn Mountain (left on horizon).
Looking east, Cantlie Lake is barely visible at lower right. The peaks in the distance are unnamed.
Antennas and buildings clutter the view north from Canyon Mountain's south end. On the horizon at right is Cap Mountain.
The city of Whitehorse is visible to the northwest. The city's airport is also visible at far left.
Here are Sonny's up-tracks at the turnoff from the main road.
Sonny grimaces at the cold weather.
Total Distance: 9.8 kilometres
Round-Trip Time: 3 hours 17 minutes
Net Elevation Gain: 457 metres