BOU AVENUE
Lone Mountain
---
I had plans for a big day of hiking near Las Vegas, Nevada on 18 December 2011, but those plans were quashed when Kelly Bou and I woke up to a light but steady rain outside our hotel. We decided to go shopping at the Premium Outlet Mall instead, and sure enough, the sky started to clear as we arrived at the mall. Anyway, I needed to find some new hiking shoes as well as a protective cover for the new iPhone 4S that Kelly recently bought for me. After a couple of hours of shopping, I found a nice iPhone cover/belt clip, but I had a tougher time finding a good pair of hiking shoes. While Kelly wanted to hang out at the Premium Outlet Mall for a bit longer, I decided to go and find one of the REI stores in Las Vegas. I had the address of an REI store on Rampart Boulevard, but for some inexplicable reason, I could not find it when I drove out there. I kept heading north on Rampart Boulevard, and after awhile I suddenly spotted Lone Mountain off to the west.

Lone Mountain is a lowly but rugged peak entirely within the Las Vegas city limits, and climbing it is not a particularly demanding endeavour (according to Summitpost.com though, there are actually technical routes as difficult as 5.8 on this puny mountain--believe it or not!). As such, the mountain is very popular with locals and their dogs/children. With the sky having cleared up, I could not resist detouring to make a quick ascent of the peak. Wearing just light hiking shoes, jeans and a cotton T-shirt, I virtually ran up and down this peak via the "tourist" trail on the northwest side (round-trip time of 30 minutes). Though I did not have my regular camera with me, I was still able to snap some respectable photographs with my iPhone (I was not even aware of the camera's zoom capabilities at the time). I never did find the REI store, but after bagging Lone Mountain, I did not really care and simply headed back to the Premium Outlet Mall to extract Kelly from the insane Christmas shopping crowds.

| | |
| --- | --- |
| | Lone Mountain's west face rises from the parking area. |
| | The "tourist" trail is pretty obvious. |
| | The north ridge has a nub that can be ascended as well. |
| | A few people can be seen at the summit. |
| | Sonny takes a self-portrait on the 1018-metre summit of Lone Mountain. |
| | The community of Summerlin dominates most of the southern view. |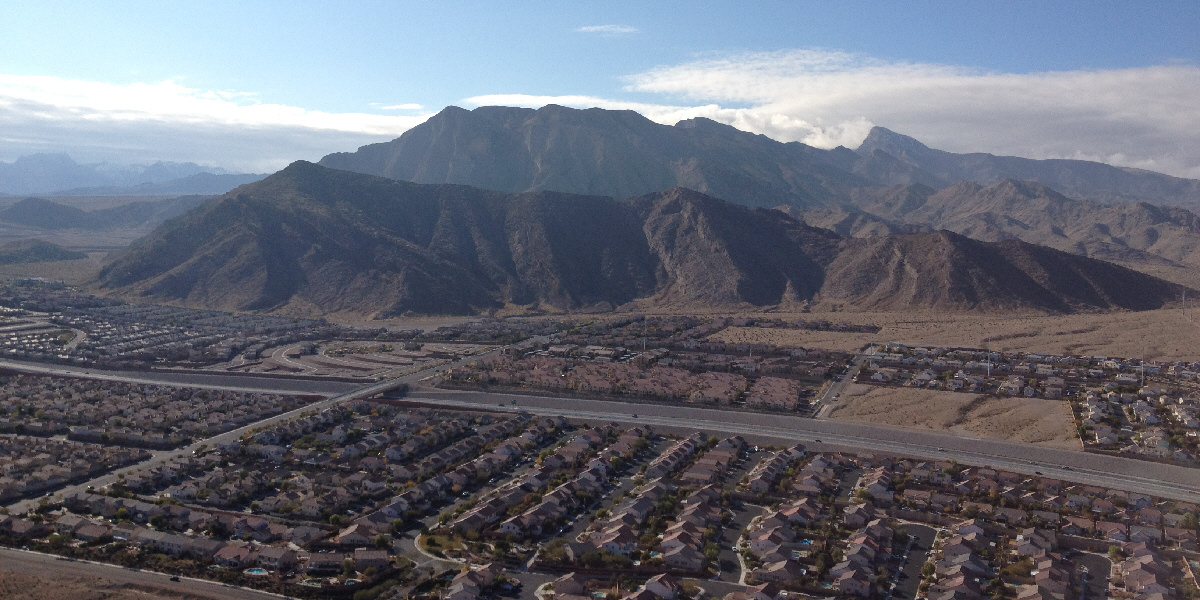 Cheyenne Mountain (unofficial name) is a few blocks to the west.
| | |
| --- | --- |
| | To the northwest, the Spring Mountains are obscured by clouds. |
| | Gass Peak is to the left on the horizon in this view to the northeast. |
| | Most of the major boulevards in Las Vegas run straight and long. |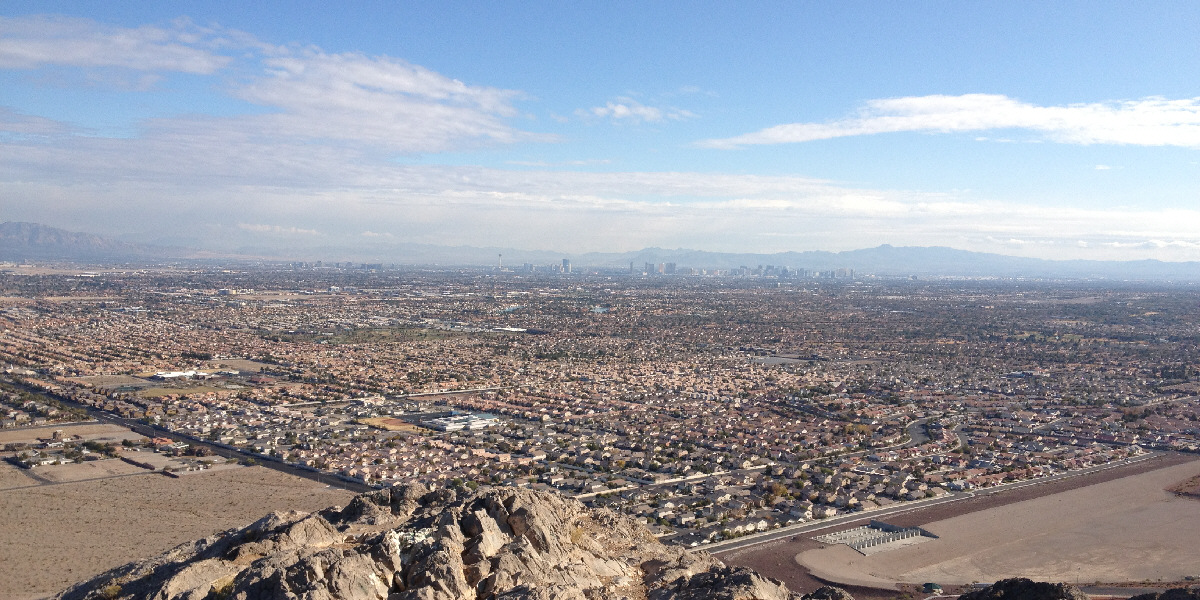 Here is the quintessential view of Las Vegas from the top of Lone Mountain.
I would eventually return on New Year's Eve 2019 to ascend Lone Mountain in the dark.