BOU AVENUE
Wynn Mountain
---
Feeling less enthusiastic about camping for a second weekend in a row, I decided to do just a day trip to Montana's Glacier National Park on 15 June 2013. Joining me were Rafal (Raff) Kazmierczak and So Nakagawa. After a late night out, I actually slept in and missed my appointed meeting time with the two gentlemen. I had brief thoughts of calling Raff and telling him to head out without me, but instead, I left him a message saying that I would be a little late. I quickly fed my cats, changed, and grabbed all my gear before hopping in my car and driving to the south end of Calgary. I ended up being about 25 minutes late, but Raff and So were gracious enough to cut me some slack. We promptly piled into Raff's SUV and made a brief stop at McDonald's (I needed breakfast) before hitting the road.

On the way to Montana, we discussed possible objectives to climb, and because I knew that many of the bigger peaks were still snowbound, I suggested that we try Wynn Mountain in the Many Glacier region of the park. Wynn Mountain was appealing for numerous reasons. The trailhead is closer to the border crossing and easy to get to, the approach is on an excellent trail, and the ascent route up the southwest ridge is described by J. Gordon Edwards (author of A Climber's Guide to Glacier National Park) as mostly Class 2 or 3. Most of all, I was certain that the route would be snow-free on this day which meant that I could leave my ice axe and crampons in the car!

We had a bit of a delay at the border crossing when the US Customs officials detained So, a Japanese citizen, and made him cough up $6 USD for an I-94W visa waiver. Once they were convinced that So did not intend on staying permanently in the US, we were allowed to continue our journey to the trailhead at Many Glacier.

The approach hike for Wynn Mountain was easy but somewhat long; it took us about 80 minutes to reach the bridge over Canyon Creek. On the far side of the bridge, we left the main trail and thrashed up the forested slope to climber's left of a tributary feeding into Canyon Creek. This slope was very steep, and though we encountered the odd beaten path here and there, the bushwhacking was sufficiently nasty to leave a bad taste in my mouth. It took us about 35 minutes to reach tree line, and from there, we only had to contend with about 45 minutes of wicked scree bashing to gain the southwest ridge of Wynn Mountain. In contrast, the rest of the ascent up the ridge was largely pleasant hiking, and we gained the very broad but scenic summit ridge in another hour and then reached the true summit after an additional 5-minute walk.

After spending over 50 minutes at the summit, we retraced our steps for the descent. My weak ankle started to bother me, and I found it hard to keep up with So and Raff. To their credit, they waited for me at key junctures to make sure I did not get off-track especially while descending the forested slope. The hike out along the approach trail was again easy but still took me nearly 75 minutes (a little less for the others).

On the drive home, we were stopped again at the border. This time, the Canada Customs official did a quick search of Raff's SUV trunk. He even remembered me from the previous weekend and asked if this was a regular run for me, perhaps implying that I had other "business" besides hiking in Glacier National Park. In any case, the smell of sweaty gear probably prompted the official to cut short his search, and we were soon allowed to go on our way. Subsequently, we stopped for burgers at the Dairy Queen in Cardston (next time I think we will stop at the A&W in Fort MacLeod instead) before settling into a long but uneventful drive back to Calgary.

I want to thank both Raff and So for their patience and good company and especially Raff for driving and playing Yolanda Be Cool's We No Speak Americano in his car!

Be sure to check out So's trip report here.
| | |
| --- | --- |
| | So is interrogated in the US Customs office. |
| | Raff and So hike up Canyon Creek valley. The route for Wynn Mountain is the skyline ridge at left. |
| | The route for Wynn Mountain departs the trail shortly beyond this bridge over Canyon Creek. |
| | So begins bushwhacking up the slope. |
| | The bushwhack route climbs alongside this tributary to the open ridge visible in the distance. |
| | Raff begins to break out of the forest. |
| | So admires one of the many limber pines at tree line. |
| | Views of the head of Canyon Creek valley open up above tree line. |
| | So and Raff head to climber's left of the upcoming cliff bands. |
| | Raff climbs up some unpleasant rubble. In the distance are Mount Henkel (snowy top) and Altyn Peak (far right). |
| | So and Raff stop for a break with Allen Mountain in the background. |
| | So and Raff continue up the ridge. |
| | Raff and So circumvent some minor cliff bands. |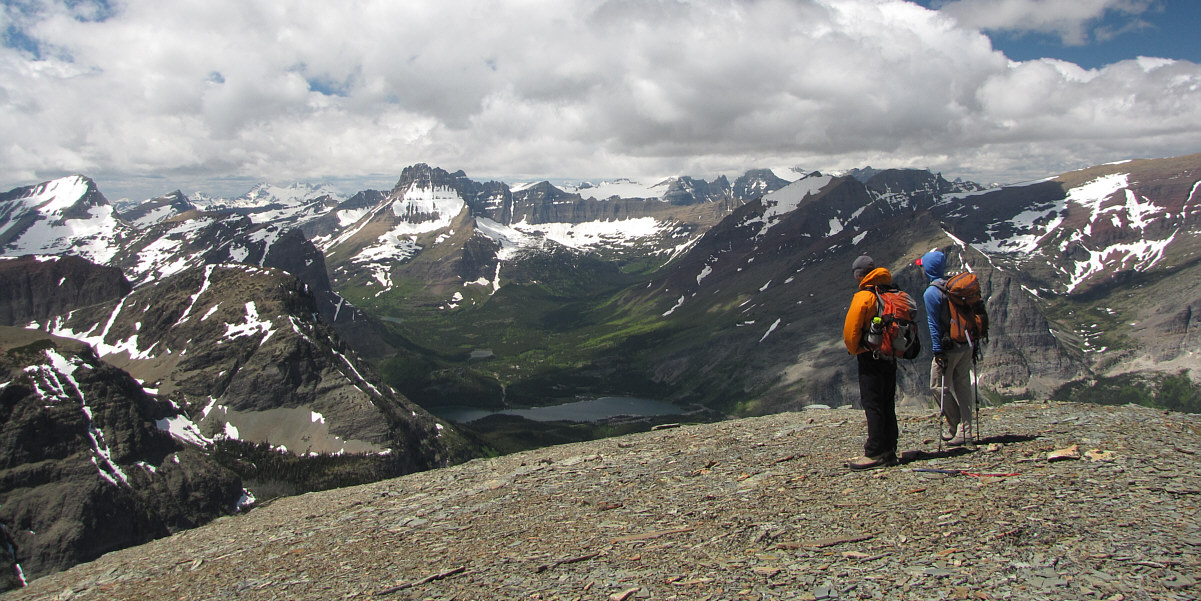 Raff and So pause to admire the views to the northwest.
So and Raff head for the true summit of Wynn Mountain.
So, Raff, and Sonny stand near the 2564-metre summit of Wynn Mountain.
So enjoys his lunch out of the wind.
Reddish Apikuni Mountain (left) and aptly-named Yellow Mountain (right) make a nice contrast to the blue waters of Lake Sherburne.
A couple of notable peaks to the south include Little Chief Mountain (left) and Mount Stimson.
Despite clouds shrouding its summit, Mount Siyeh still looks impressive above Cracker Lake.
To the west is Mount Grinnell. At distant left is Longfellow Peak.
Mount Wilbur is the most prominent peak to the northwest. Also visible at far left is Vulture Peak.
Raff begins descending after he snaps a few more photographs of Allen Mountain.
So pauses before the big plunge down the ridge.
The peak to the left of Mount Siyeh is simply known as Cracker.
Here is one last look at Wynn Mountain from the approach trail. The true summit is not visible in the photograph.
Total Distance: ~14.5 kilometres
Round-Trip Time: 8 hours 24 minutes
Net Elevation Gain: 1055 metres