BOU AVENUE
Mount Backus
---
Inspired by a recent attempt by Dave McMurray, Bob Spirko invited me to join him and Dinah Kruze for a snowshoe ascent of lowly Mount Backus in Alberta's Castle Crown Wilderness on 15 March 2014. Linda Breton had published a trip report for Mount Backus a few years back, and given the tribulations she encountered on her ascent, I was less than enthused about following in her footsteps. With dangerous avalanche conditions persisting in the mountains though, the relatively safe southwest ridge of Mount Backus seemed like a wise choice for a snowshoe trip.

Using McMurray's report, Bob had plotted a waypoint for our starting location, but because of abundant snow on the shoulders of the highway, we had trouble finding a good place to park my car. We also checked out the road to the east that runs halfway up the southeast side of Mount Backus. Breton had used this road for a quick descent, but as she had pointed out in her report, this easier access route entails trespassing across private land. We were disinclined to do so, and besides, going up this way would have made for a stupidly short trip. We eventually settled on parking in a plowed section of the shoulder a few hundred metres west of Bob's waypoint, but with all things being equal, it probably did not really matter where we started along that stretch of the highway.

After climbing over a couple of fences, we donned our snowshoes and headed up through the trees. We climbed over a low intervening ridge before settling into a steady ascent up the main southwest ridge. The snow pack on this side of the mountain was highly variable, and we encountered everything from bare ground to hardened crusts and deep powder. Travel was frustrating at times due to the inconsistency of the snow. It took us about two hours to muddle our way up to the windswept summit although it felt a lot longer.

Because of a cold wind, we only stayed long enough to snap some photographs before retreating to the shelter of some trees below the summit. We had a quick bite to eat here before retracing our steps back down the mountain. Our descent was perhaps even more strenuous than our ascent as many of the sections of snow that were supportive earlier in the day began to soften up. A few of the holes that we sank into were quite deep and provided glimpses of rather nasty deadfall underneath. I suspect that the bushwhacking along this route when the snow disappears is probably just as aggravating. Suddenly, trespassing across private land does not sound so bad after all.

Check out Bob's trip report here.

| | |
| --- | --- |
| | Bob and Dinah hop over a snow bank by the side of the highway. |
| | The snow appears to be quite supportive here. |
| | Views start to open up as Dinah climbs up an open slope. In the distance is Table Mountain. |
| | Dinah and Bob tramp up a steeper section of the ridge. |
| | The bare summit of Mount Backus comes into view. |
| | Dinah takes the final steps to the summit. |
| | Dinah and Bob gather around the cairn on the 1818-metre summit of Mount Backus. |
| | Sonny, Dinah and Bob pose for a group photo on the summit. |
| | To the southeast is Victoria Peak. |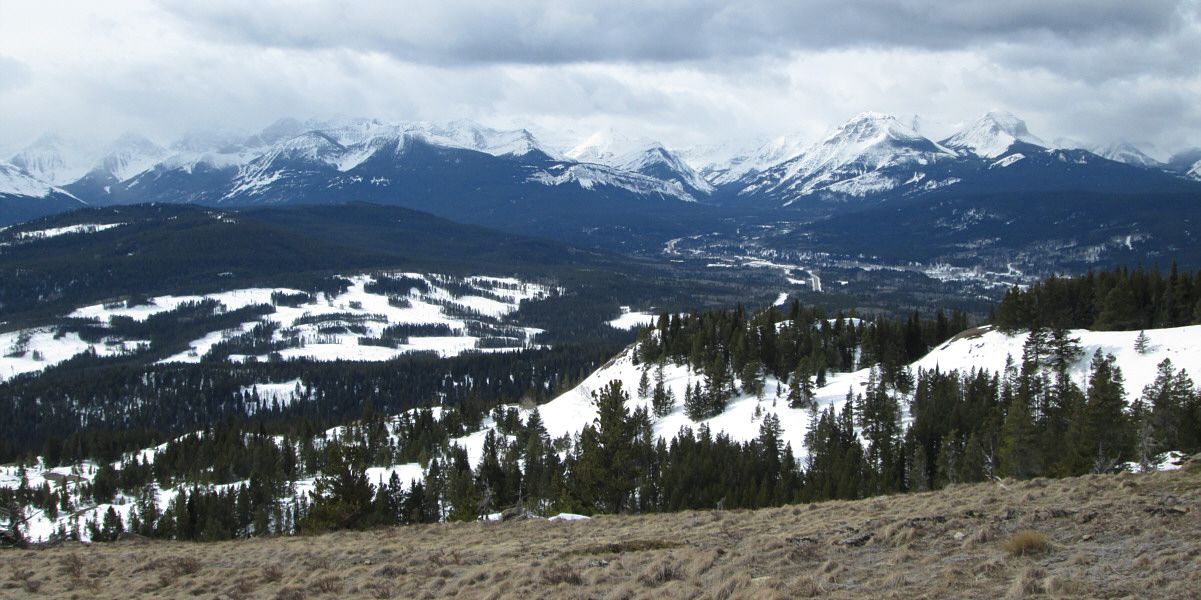 Clouds partially obscure many of the peaks to the southwest.
The most prominent mountain to the north is Centre Peak (left).
Bob descends a bare patch of ground on snowshoes.
Dinah looks on as Bob points out the location of the nearest public bathroom.
The return trip is fraught with a lot of sinking and flopping.
Bob and Dinah continue to muddle their way down the slope.
This photo illustrates the snow depth in the area and hints at the nasty deadfall underlying the snow.
Dinah is up to her neck in snow!
Total Distance: ~5.2 kilometres
Round-Trip Time: 4 hours 5 minutes
Net Elevation Gain: 367 metres