BOU AVENUE
Ironstone Lookout
---
On 6 June 2015, Bob Spirko invited me to join him and Dinah Kruze for a hike up to Ironstone Lookout situated on the high point of Willoughby Ridge near Coleman, Alberta. This is normally an uncomplicated hike up a fire road, but we seem to have a knack for making things complicated. On our drive in, we stopped just before the bridge over York Creek and ran into a hiker on his way out. Bob casually asked him for the way to the lookout, but the hiker's directions were more confusing than helpful. As a result, we wasted nearly half an hour walking around in circles near the bridge before we finally got on the right track. The lengthy hike along York Creek was rather dull and uninspiring, and more than once, I pined for my mountain bike or, better yet, an ATV. The views did not improve much after we turned onto the gated fire road, but some of the monotony of the ascent was alleviated when we reached "Sarah's Bench", a rather gaudily-painted wooden plank supposedly named in honour of a former lookout keeper. The name was provided to us by Fred, a telecommunications maintenance person who just happened to be passing by on his ATV when we arrived at the bench. After a lengthy chat with Fred, we resumed our hike up the road and eventually reached Ironstone Lookout without any problems. We had another lengthy chat with the lookout keeper and his girlfriend before settling down to eat lunch. On our way out, I suggested that we check out a slightly lower high point to the north which is where some telecommunications equipment is situated. From this lower high point, we thought we could continue north along Willoughby Ridge and maybe get back down to York Creek along an alternate road. This road looked well-traveled, and we followed it for some distance until it perplexingly dead-ended at an overgrown cutline. Loath to backtrack to the high point, we hiked uphill for a short way along the cutline before turning north again along Willoughby Ridge. The prospect of bushwhacking along the ridge held little appeal though, and instead, we thrashed our way downhill making a beeline for "Sarah's Bench". Upon regaining the fire road, we marched uneventfully back to our start at the bridge over York Creek. Ironically, I felt much more energetic when we were muddling through the bush than hiking along the road which was just as dull and uninspiring the second time around.

Be sure to check out Bob's trip report here.

| | |
| --- | --- |
| | Bob and Dinah head up the road along York Creek. |
| | While Dinah checks her feet for ticks, Bob chats with Fred, a telecommunications maintenance guy. |
| | Fred took this photo of Bob, Dinah and Sonny sitting on "Sarah's Bench". |
| | "Sarah's Bench" is covered with love! |
| | The telecommunications equipment can be seen on the open ridge above. |
| | A clearing in the forest affords this grand view of peaks along the Continental Divide. At right is Mount Coulthard, and at distant left is Mount Darrah. |
| | Bob and Dinah hike past the remnants of a forest fire near the top. |
| | Dinah arrives at Ironstone Lookout which coincidentally is also the high point (2071 metres) of Willoughby Ridge. |
| | The lookout keeper (centre) invites Dinah and Bob to take a look at the view from his front porch. |
| | Dinah, Bob and Sonny pose on the helipad of Ironstone Lookout. Crowsnest Mountain is visible in the distance. |
| | Turtle Mountain's west face remains unblemished (Frank Slide is on the other side). |
| | Bluff Mountain lies to the northeast. |
| | Willoughby Ridge stretches away to the north. Crowsnest Mountain, Gould Dome and Ma Butte (McGillivray Ridge) are all visible across the horizon. |
| | The view to the northwest includes Phillipps Peak and Mount Tecumseh. |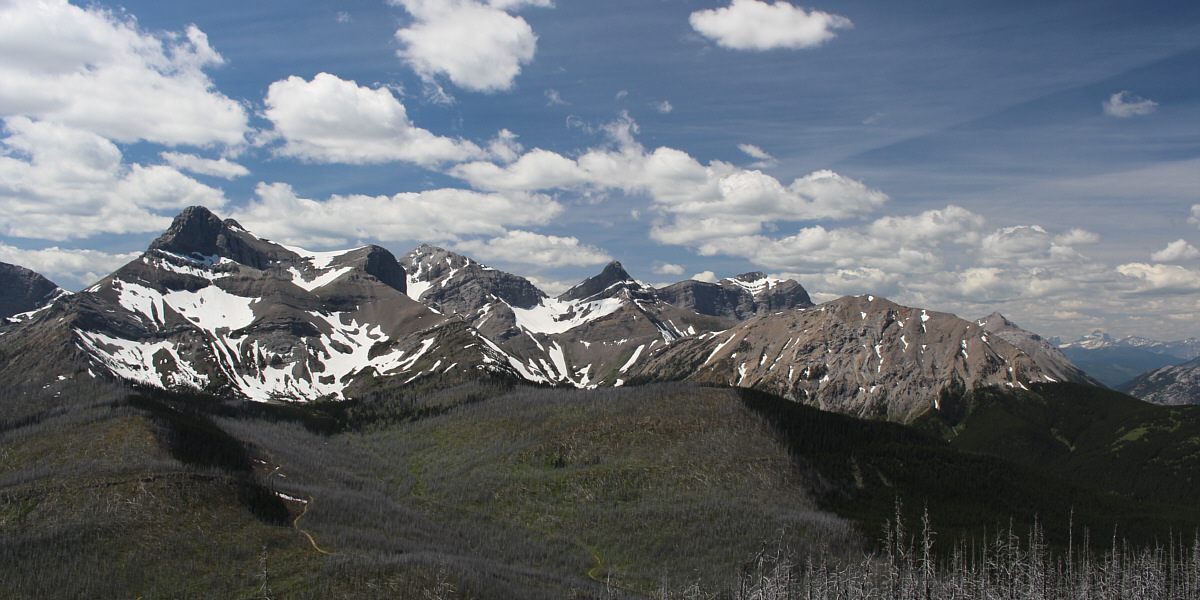 From L to R are Mount Coulthard, Andy Good Peak, Mount Parrish, Chinook Peak and Mount McLaren.
| | |
| --- | --- |
| | Dinah and Bob enjoy the views to the south while eating lunch on a concrete slab. |
| | Bob and Dinah continue north to the next high point along Willoughby Ridge. |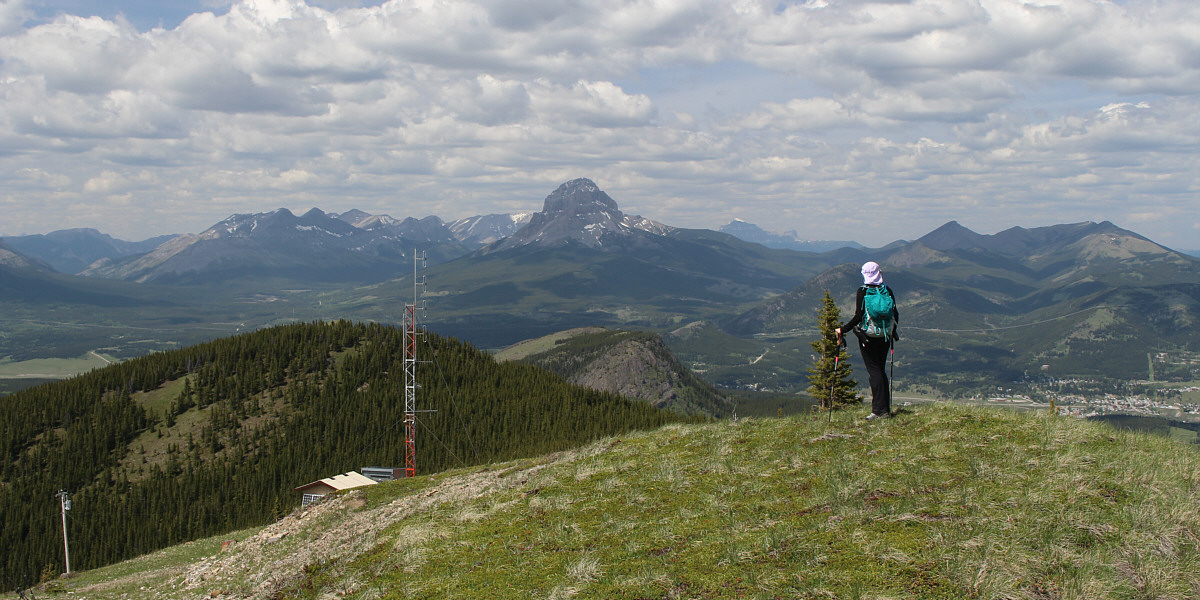 Dinah checks out the view from the next high point north of Ironstone Lookout.
Here is a look back at Ironstone Lookout.
Total Distance: ~16.5 kilometres
Round-Trip Time: 6 hours 5 minutes
Net Elevation Gain: 622 metres