BOU AVENUE
Mesquite Mountains
---
On 20 October 2015, Shin Goto, Dinah Kruze, Bob Spirko and I headed into a somewhat remote corner of California's Mojave Desert to hike up the high point of a collection of ridges known as Mesquite Mountains. Starting from a pullout beside the gravel Kingston Road, we marched eastward across the desert flats aiming for a north-south trending ridge in the distance. Other than having to avoid cacti and other prickly vegetation along the way, the hiking was easy, but I found it to be monotonous after awhile. I perked up a bit once we started climbing up the ridge. An avoidable Class 3 crack just before the high point provides an opportunity for some hands-on fun, but sadly, it is much too short-lived. After stopping for lunch, we essentially returned the same way we came. Again, the long walk across the desert flats was less than inspiring, and we each ended up with our fair share of scratches on our arms before we returned to the pullout. Adding insult to injury, we later stopped in Primm, Nevada so that Dinah could pick up her favourite Philly cheesesteak sandwich in the world only to find that the food vendor had permanently closed. What a bummer!

Be sure to check out Bob's trip report.

| | |
| --- | --- |
| | The high point of Mesquite Mountains is at centre on the horizon over 8.5 kilometres away. |
| | Dinah stands beside a large barrel cactus. |
| | The group hikes along one of several washes along the way to the high point of Mesquite Mountains. |
| | This prickly barrel cactus would likely be a big tourist attraction in a less remote area! |
| | The group heads for the slope at far right. The high point is on the long dark band of rock at left. |
| | Here is the high point as seen from the crest of the south ridge. |
| | The group approaches the high point of Mesquite Mountains. |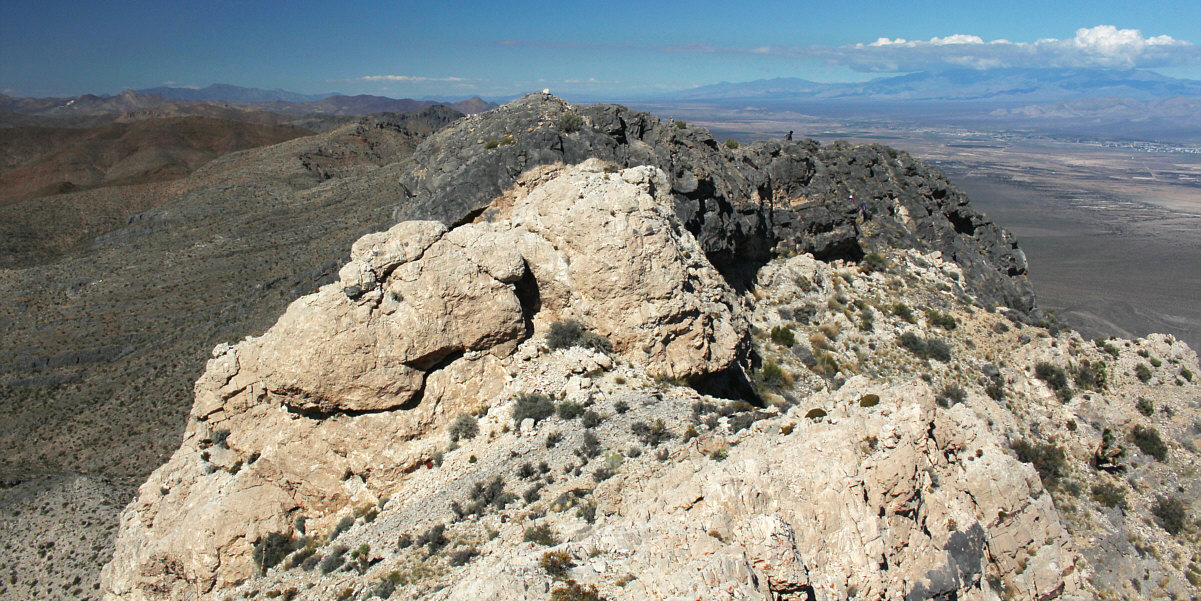 The Class 3 crack is just left of centre in the white rock. Shin, Dinah and Bob can be seen scrambling up an easier alternate route in the dark rock.
| | |
| --- | --- |
| | Bob, Dinah, Sonny and Shin stand on the high point of Mesquite Mountains (1574 metres). |
| | The register is still in good shape. |
| | The view to the west of the long approach is not encouraging. |
| | Clouds hover over Kingston Peak to the northwest. |
| | Clouds cover most of the Spring Mountains to the north. The community of Sandy Valley can be seen just across the California-Nevada border. |
| | To the northeast is Mesquite Lake (dry lake). |
| | Here is an example of pancake prickly pear cactus. |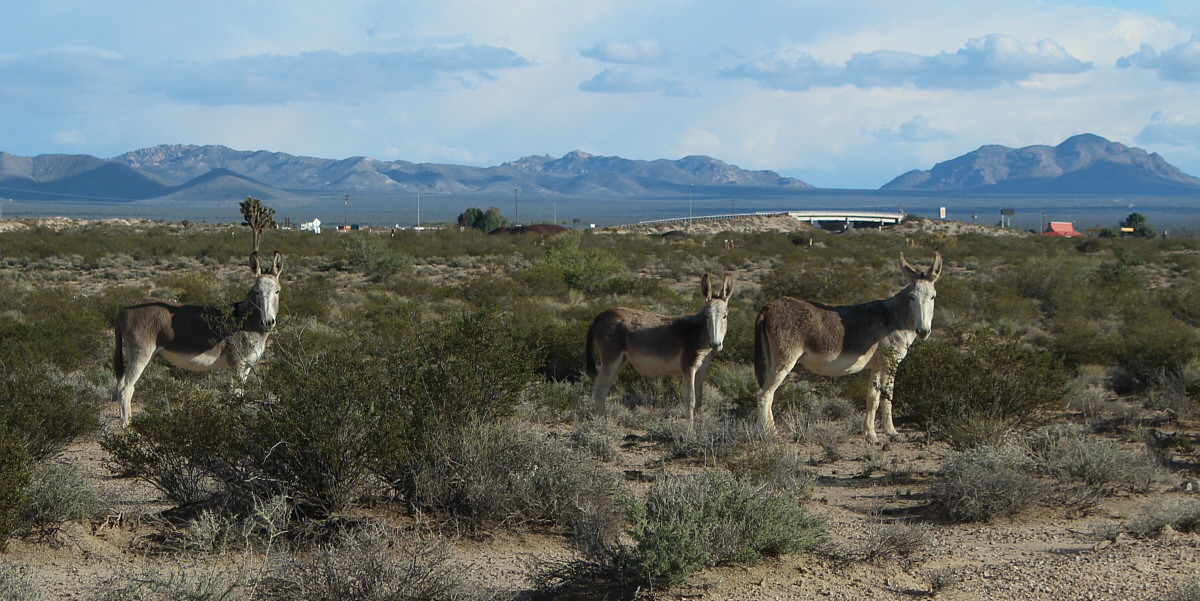 A family of wild donkeys forage not far from the highway.
Total Distance: 17.2 kilometres
Round-Trip Time: 6 hours 2 minutes
Net Elevation Gain: 498 metres